From Mid Hill GI/AH-006, we followed the lanes to McGregor's Corner, the B94 through Clogh and the A44 up to Armoy. We were again in mobile 'phone contact with Colin GI0RQK, who told us that he had actually parked to the south of the summit, not up in Ballycastle as we had expected. This was good news, as this approach was much shorter - although punishingly steep. During the 'phone call, it became apparent that Colin was already on the summit! We had some catching up to do. Jimmy monitored 2m in the hope of a bonus chaser unique from Colin, but never did find him.

At D105339, the lane running north from the B15 was actually signpost 'Knocklayd'. We followed this all the way to the farmyard at D110350, where permission to park and access the hill was granted. This is one of the things I just love about SOTA in GI. Permission to park on, and access private farmland is always granted, immediately and with a smile.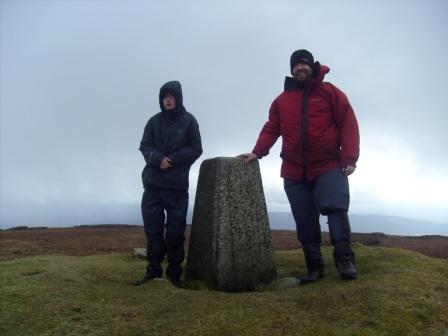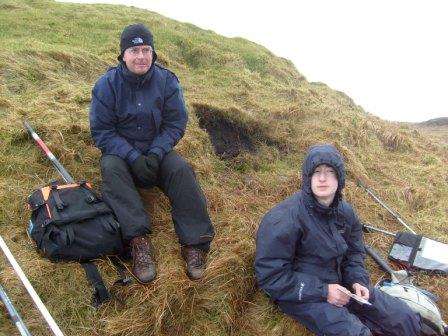 We climbed over a fence to get into the hill, and then the real work commenced. It was straight, steeply up. This was 1000 feet of ascent crammed into three-quarters of a mile. I found it tough, and needed several sitting-down breathers. I thought my calves and thighs were going to burst open! Jimmy, who had not enjoyed Mid Hill GI/AH-006 earlier, expressed how much he was enjoying this ascent in comparison, and repeatedly skipped far ahead of me. Eventually, I lost sight of Jimmy as his charitable threshold was reached and he lost interest in keeping a watchful eye over his poor old dad. As I crested the summit, I saw the large mound with trig point atop, similar to Trostan GI/AH-001. A strong cold wind was at my back, so I assumed that Colin and Jimmy were on the other side of the mound shelter, and hence why there was no sight of them.

They were. It was good to see Colin again, and we spent twenty minutes or so catching up before I even considered playing radio. I was amazed that Colin had remained on summit for the three hours since we spoke on the 'phone, just to meet up with us! He had long since made his SOTA contacts, and was, by his own admission "a wee bit cold"! Jimmy and I drank the entire litre flask of mulligatawny soup, said goodbye to Colin who was commencing his descent, and got ready to activate. This constituted me putting my rucksack back on and standing up; we were going for a 2m FM only activation, wanting at least one more summit for the day after this one, in spite of the fact that it was already approaching 4pm. We enjoyed the pleasing views out over Ballycastle to the North Atlantic Ocean and Rathlin Island.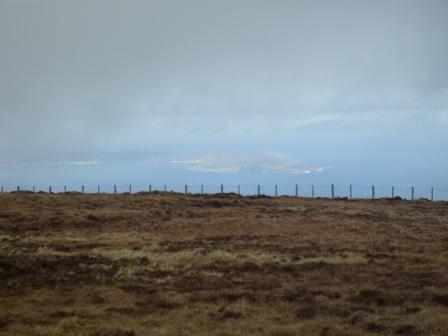 I made four contacts, and Jimmy made five, both a mixture of QSOs into GI and GM. The last couple of contacts were slow in coming, and we wondered if it would have been more efficient after all to have gone straight for HF. However, when Jimmy closed at 1606 UTC, we didn't have any packing away to do. It was all on our backs and ready to go.

The last summit we did jointly with Colin GI0RQK was Cross Slieve GI/AH-011 back in 2005. That was also the occasion of Colin's completion of all GI/AH region summits and he was the first to achieve this. Here on Knocklayd GI/AH-002, I became the second to completely activate GI/AH, but Jimmy would have to wait a little longer, having not been a licensed amateur in Easter 2005.

We dropped gingerly and leggedly down the steep grassy slope back to the farm, both of us using zigzagging to ease the pressure on our legs whenever practicable. Down at the farmyard, the farmer wanted to chat and ask us if any of his sheep had strayed onto the upper flanks of the mountain. In the car, Jimmy and I munched on some Granola bars, so it was around twenty minutes after completing the descent before we actually started driving again. By now, we were accepting of the fact that we couldn't get two more summits in, so resigned to the fact that tomorrow would begin with another drive north, before a long drive south. Normally, I would not consider starting another summit at 6pm, but we had done Slieveanorra GI/AH-003 before and knew it to be safe, straightforward, and suitable for a torchlit descent if necessary. That is where we headed next. Thanks to the following stations, all worked on 2m FM with 2.5 watts:
| | | | |
| --- | --- | --- | --- |
| GI4SRQ | Armagh | George | T, J |
| GI0RQK/M | Stroan | Colin | J |
| MI3VIN | Loughgall | Everett | T, J |
| GM7OIN | Ayr | John | T, J |
| MM1DWU | Girvan | George | T, J |