Mwdwl-eithin, GW/NW-047 - 532m ASL - SH 917 540 - OS Explorer 264 - 2 SOTA points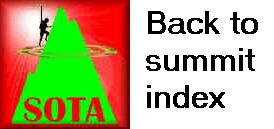 Following Foel Goch GW/NW-039 on Sunday 1st December 2013, we made the short drive down the A5 and then north up the A543. We easily found the entrance to the quarry, where we parked ahead of a walk to the summit of Mwdwl-eithin GW/NW-047. This was never a favourite of mine from the past, although it was one of Richard's. On this occasion, I found myself enjoying the walk and making reasonably quick progress even after the farm track disappeared and was replaced by heather-hopping and bog-trotting.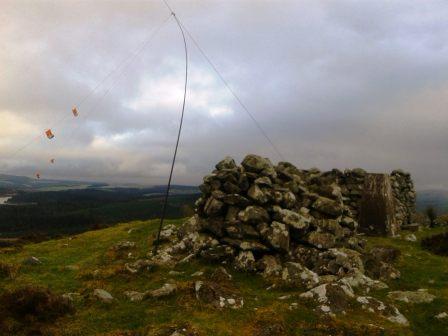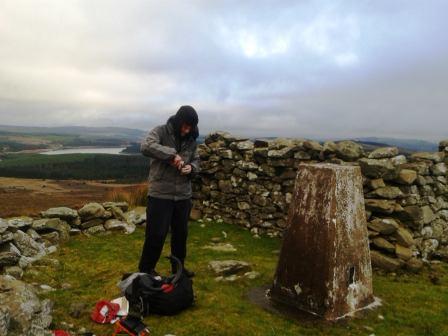 Underfoot conditions remained unideal, albeit far from prohibitive, after crossing the fence and angling right towards the summit. Richard and I then picked our own routes up the final mound to the substantial summit shelter and other bits of walls. Of course it was now Richard's turn to have first dabs on the operating spot, and surprise surprise, he selected one of the several nicely sheltered positions amongst the summit structures. Kicking myself for my naivety, I sloped off towards a small collection of rocks down by a fence.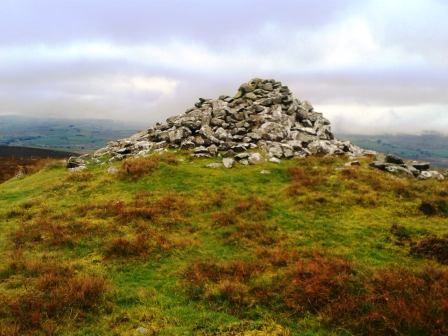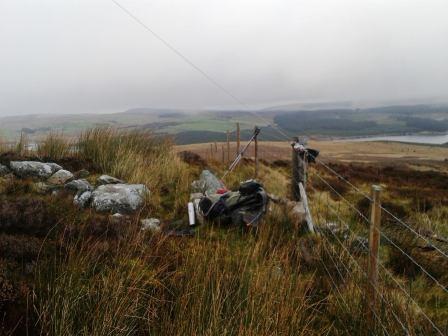 My activation kicked off with two consecutive S2S QSOs - Mike 2E0YYY/P on Gun G/SP-013 and Steve GM1INK/P on Larriston Fell GM/SS-161. Then I cracked on with the 12m CW stuff, which was, as expected, dominated by North American chasers at this time. I finished with 37 QSOs on 12m, which were 6 on SSB and 31 on CW. The NA count was 26 - so a sizeable majority of the QSO total. Two nice bits of DX came when my CW CQ calls were answered by KP3W (Puerto Rico) and ZS6UT (South Africa). I finished the rest of my luncheon flask of mulligatawny soup. But it was unnecessary as I already had a warm glow inside from all the DX!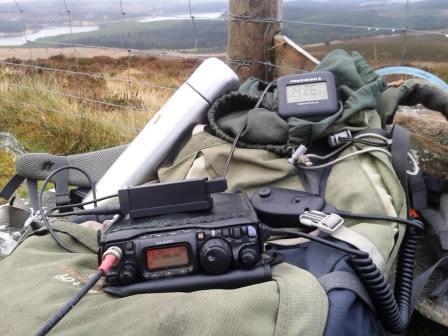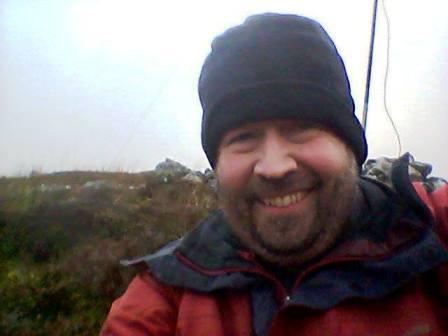 But it was soon time to go. Little more than one hour of daylight remained, and visibility was not great. Periodic checking of map and compass, combined with maintaining a minimum level of concentration enabled an uneventful return to the car in the quarry. Darkness then fell as we were changing footwear and removing coats. Disaster then struck as I copped for a flat tyre only a short distance up the A543! The delay from this "slight inconvenience" meant that we were a bit late getting back to Macclesfield, but both agreed it had still be a very enjoyable day's walking.
| | | |
| --- | --- | --- |
| 2E0YYY/P on Gun G/SP-013 | 12m | SSB |
| GM1INK/P on Larriston Fell GM/SS-161 | 12m | SSB |
| YO3ND | 12m | CW |
| N4EX | 12m | CW |
| VE2JCW | 12m | CW |
| AD5A | 12m | CW |
| N0TU | 12m | CW |
| K0NO | 12m | CW |
| W0GN | 12m | CW |
| VE2JFM | 12m | CW |
| WA2FBN | 12m | CW |
| W4JKC | 12m | CW |
| K0ARS | 12m | CW |
| ND0C | 12m | CW |
| W4DOW | 12m | CW |
| W5IZ | 12m | CW |
| K5MV | 12m | CW |
| KF9AF | 12m | CW |
| W7RV | 12m | CW |
| K5XK | 12m | CW |
| KP3W | 12m | CW |
| ZS6UT | 12m | CW |
| W5ODS | 12m | CW |
| K0LAF | 12m | CW |
| KV2S | 12m | CW |
| M0PNN | 12m | CW |
| WB4TDH | 12m | CW |
| NE4TN | 12m | CW |
| W5ADD | 12m | CW |
| G6LUZ | 12m | SSB |
| AE4FZ | 12m | SSB |
| N1EU | 12m | SSB |
| SV2OXS | 12m | SSB |
| SV2OXW | 12m | SSB |
| GI4ONL | 12m | CW |
| MW0IDX | 12m | CW |
| WB0WQS | 12m | CW |