Mynydd Enlli, GW/NW-072 - 167m ASL - SH 122 219 - OS Explorer 253 - 1 SOTA point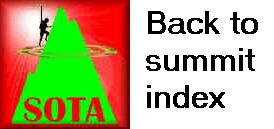 And here it was. Sunday 27th September 2009, and after a pleasing early morning activation of Mynydd Rhiw GW/NW-064, Jimmy was directing me via Aberdaron to the car park above Porth Meudwy slipway. We walked down the quarter mile path that leads to the secluded cove with great anticipation. At the slipway was a chap perched on a metal trailer, and several couples all waiting for the sailing.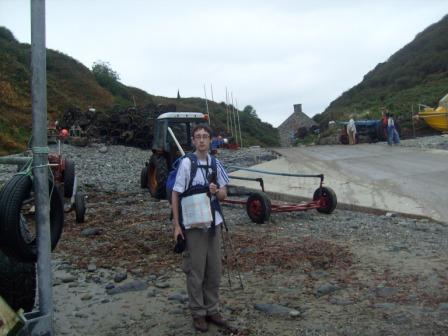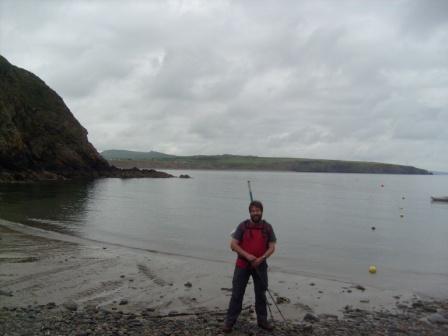 Things had changed since we last did this four years ago. That time, we had to board a small dinghy to get out to the foot ferry, then clamber over the side of that. Now, the metal trailer drags the ferry onto the slipway, and then a stairway is mechanically positioned at the back of the boat. Much easier, and presumably, much more acceptable for the risk-assessment/health & safety folks.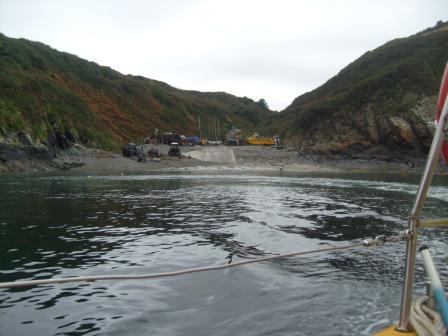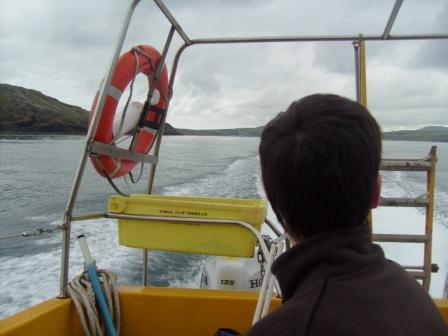 The other main change was that the ferry is now a yellow catamaran. This zoomed across the water at great speed, making the crossing only 12 minutes on a calm day like it was. This meant that we were ashore on Bardsey just after 11.30am, and the boatman told us he would be back at 4.30pm. Result! We would have nearly five hours ashore; we had only anticipated 3.5 to 4 hours on the island.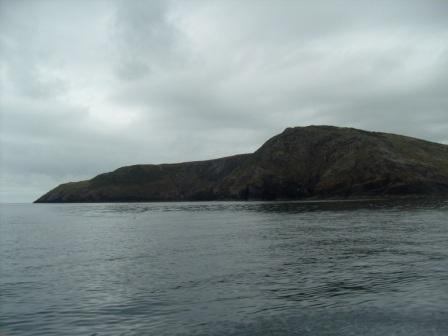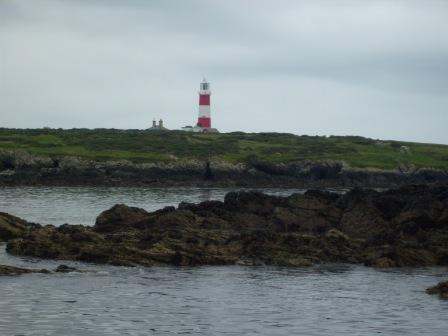 Immediately, Jimmy and I were marching up the track towards the other end of the island. As soon as we reached it, we turned right and joined the good paths that zigzag up the flanks of Mynydd Enlli. Jimmy set up his 2m beam right at the summit, while I found a suitable grassy patch for my aerials.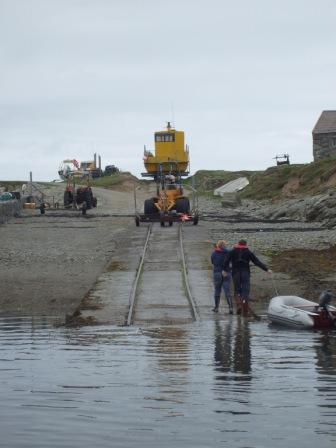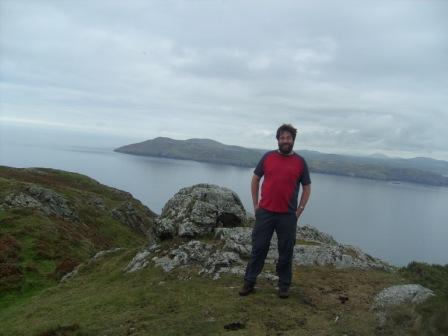 First, I set up both the 80m and 40m dipoles on the same pole. 40m CW was good, producing 15 QSOs in short order. 80m CW was disappointing, netting only three G stations. Signals both ways were good, but it seemed everyone was glued to the F1 Grand Prix. On 80m SSB, I was hoping to catch Carolyn G6WRW to give her the chaser unique she yearned, but only Frank G3RMD answered. Again, signals between Frank and myself were good, but he was the only contact. I monitored 3.610 SSB while sharing a lunch of Baxter's Highlanders Broth with Jimmy, but no further calls were received.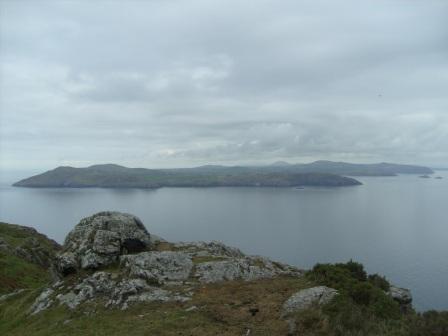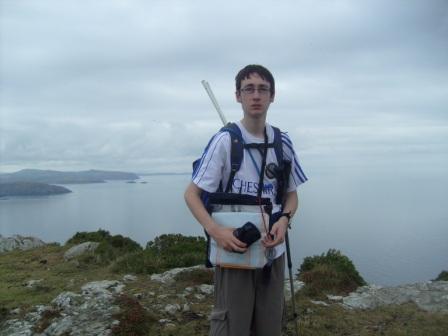 Geoff 2W0BTR/P was now on Tarren y Gesail GW/NW-033, and having worked him S2S on the other 'Tarren' earlier, I tail-ended Jimmy to work him again, and so record the second of two phone QSOs on this activation.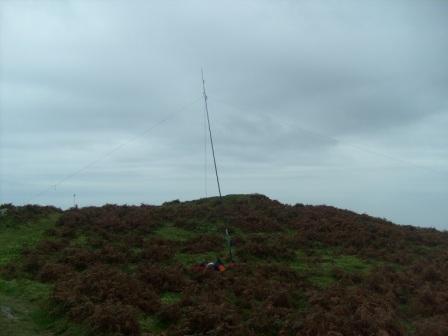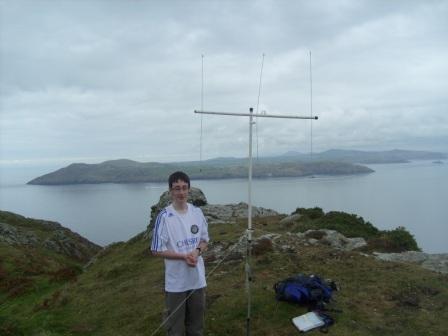 But now it was time to do what I was really looking forward to doing, and that was spend time on 20m CW using the Magic Moggy. What would the 20m DX vertical do in its optimum timeframe of late afternoon, surrounded by sea? I only had the one pole with me, so the 40m and 80m needed to be packed away first. I now had a really enjoyable 80 minutes of almost non-stop operating, while devouring the stunning views from atop the steep eastern face of Mynydd Enlli / Bardsey Island. 42 QSOs on 20m CW took my activation tally to 62 contacts, including a couple into the USA. Jimmy finished on a hard-won 11 after persevering with 2m FM throughout.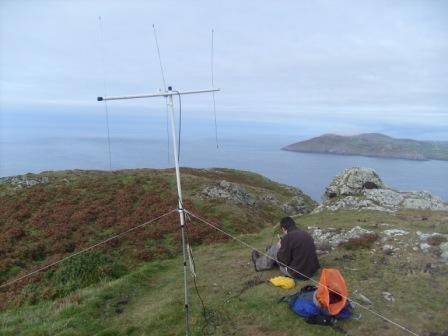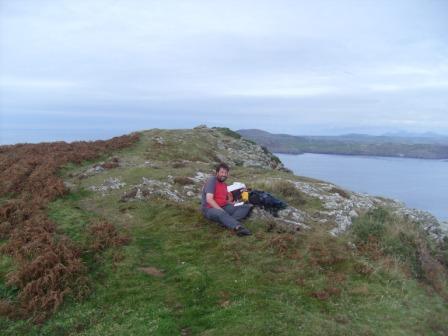 We had operated right up until the last possible moment, so a hasty pack-up and speedy descent was then required. Jimmy and I were the last to return to the catamaran, which then zoomed back over to Porth Meudwy where we landed at around 4.50pm.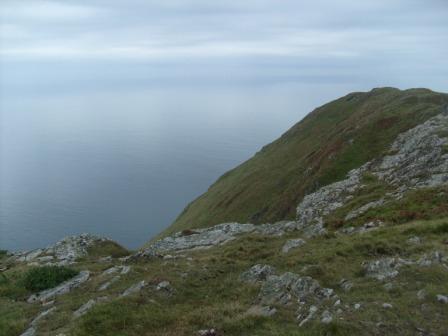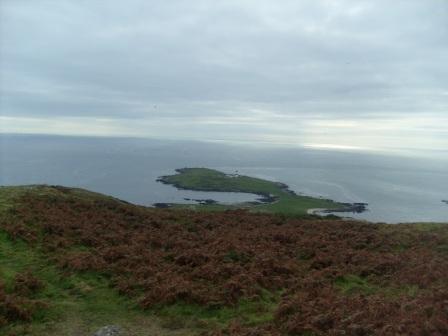 The drive back over to Cheshire began with us recounting all the Lleyn Peninsular Marilyns as we passed them, and then getting the gas pedal down on the A55. Mission accomplished, and now Jimmy had the same activator uniques as me in each of GM, GI and GW. Just G/DC to catch up with, and then we could start reeling Gerald and Paul back in. And Richard. And Steve... Thanks to all callers:
| | | | |
| --- | --- | --- | --- |
| MW3DLA | 2m | FM | J |
| HA3OD | 40m | CW | T |
| PA1AT | 40m | CW | T |
| G3WPF | 40m | CW | T |
| DL3JPN | 40m | CW | T |
| ON4ON | 40m | CW | T |
| F6ENO | 40m | CW | T |
| G1GST | 2m | FM | J |
| DF5WA | 40m | CW | T |
| DL6KVA | 40m | CW | T |
| DL5WC | 40m | CW | T |
| G3HQT | 40m | CW | T |
| HB9AGH | 40m | CW | T |
| SP3GVX | 40m | CW | T |
| G4ELZ | 40m | CW | T |
| EI2CL | 40m | CW | T |
| GW8CQH/M | 2m | FM | J |
| 2W0CYM | 2m | FM | J |
| G3WPF | 80m | CW | T |
| G4ELZ | 80m | CW | T |
| G4WSX | 40m | CW | T |
| GW1SXN | 2m | FM | J |
| G3RMD | 80m | SSB | T |
| G3RMD | 80m | CW | T |
| MW3DAO | 2m | FM | J |
| MW0BEA | 2m | FM | J |
| 2W0BTR/P on Tarren y Gesail NW-033 | 2m | FM | J, T |
| MW0CUA/M | 2m | FM | J |
| OK1MGW | 20m | CW | T |
| OM1DM | 20m | CW | T |
| US8IB | 20m | CW | T |
| RN1TA | 20m | CW | T |
| RV9CPB | 20m | CW | T |
| YT7EC | 20m | CW | T |
| OK1AOU | 20m | CW | T |
| OK1PR | 20m | CW | T |
| OK1APR | 20m | CW | T |
| UR5KO | 20m | CW | T |
| RX3RA | 20m | CW | T |
| W5IZ | 20m | CW | T |
| SM0OGQ | 20m | CW | T |
| HA5CW | 20m | CW | T |
| SM0GNS | 20m | CW | T |
| HA5MA | 20m | CW | T |
| S51WX | 20m | CW | T |
| Z35M | 20m | CW | T |
| RW1CM | 20m | CW | T |
| RA3TU | 20m | CW | T |
| F5MQW | 20m | CW | T |
| SP2AVE | 20m | CW | T |
| RX9WN | 20m | CW | T |
| RV3QH | 20m | CW | T |
| UA1ABO | 20m | CW | T |
| 9A2NA | 20m | CW | T |
| I1ZL | 20m | CW | T |
| K2SHZ | 20m | CW | T |
| GW1INK/P on Foel Cwmcerwyn MW-011 | 2m | FM | J |
| F6DLM | 20m | CW | T |
| LZ3FT | 20m | CW | T |
| I0NNY | 20m | CW | T |
| LZ1PJ | 20m | CW | T |
| MW3UWZ | 2m | FM | J |
| UA9CBR | 20m | CW | T |
| UA9CED | 20m | CW | T |
| OH3GZ | 20m | CW | T |
| I3XMQ | 20m | CW | T |
| LY3BY | 20m | CW | T |
| S53AP | 20m | CW | T |
| S51NP | 20m | CW | T |
| UA4NCE | 20m | CW | T |
| OH2BPO | 20m | CW | T |
| RK3ER | 20m | CW | T |