Mynydd Carn-y-cefn, GW/SW-014 - 550m ASL - SO 187 085 - OS Explorer 166 / OL13 - 2 SOTA points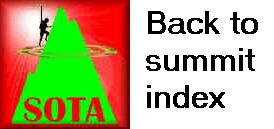 South Wales SOTA Trip - Day 2 - Monday 25th May 2015
I was up early and warming the soup in the members' kitchen of the youth hostel. Jimmy and Liam eventually joined me and we chomped through some Nutri-Grain bars for a quick and easy breakfast. Jimmy then directed me down through Brynmawr and up to the West Monmouthshire Golf Club car park at SO184105. Adjacent to the entrance to the car park was a stony track running initially alongside the golf course, and this was the first part of the walk.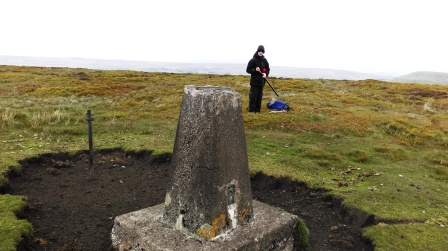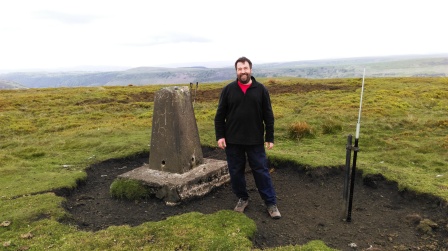 The winding and steadily ascending stony track is marked as a "road used as a public path" on the OS 1:25000 map, though I wouldn't have fancied driving my car along it! Once the hill rounded off and we were on the plateau, it was about another half kilometre to the trig point. Again I struggled to collect my Challenge multiplier, so Jimmy encouraged his local 2m FM contacts to listen for me on 10m SSB. Again, Frank G3RMD obliged. Moving over to 40m was much more fruitful. Jimmy qualified easily with plenty of VHF contacts.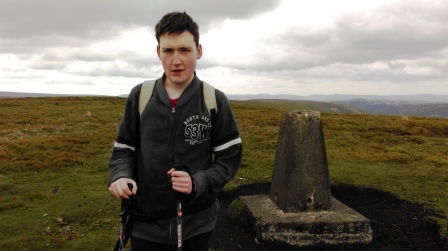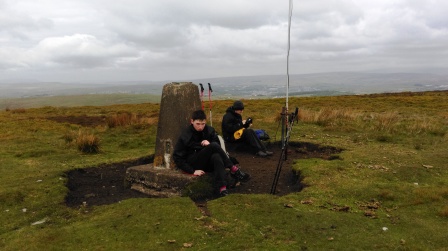 We descended and took a fair old drive west for an attempt on Cefn yr Ystrad GW/SW-008.
| | | | | |
| --- | --- | --- | --- | --- |
| Time | Call | Band | Mode | Op |
| 08:44z | G0LGS | 144MHz | FM | J |
| 08:45z | MW0ZVR | 144MHz | FM | J |
| 08:46z | G3RMD | 144MHz | FM | J |
| 08:46z | G0RQL | 144MHz | FM | J |
| 08:48z | 2E0MDJ | 144MHz | FM | J |
| 08:48z | G3TJE | 144MHz | FM | J |
| 08:59z | G3RMD | 28MHz | CW | T |
| 09:09z | ON4FI | 7MHz | CW | T |
| 09:10z | G4FGJ | 7MHz | CW | T |
| 09:10z | DK1WI | 7MHz | CW | T |
| 09:11z | DL2HWI | 7MHz | CW | T |
| 09:12z | G4APO | 7MHz | CW | T |
| 09:13z | G0EVV | 7MHz | CW | T |
| 09:13z | DL5AWI | 7MHz | CW | T |
| 09:14z | DL2EF | 7MHz | CW | T |
| 09:15z | PA0B | 7MHz | CW | T |
| 09:15z | M0IML | 7MHz | CW | T |
| 09:18z | G7BGA | 7MHz | SSB | T |
| 09:18z | G7AFM | 7MHz | SSB | T |
| 09:19z | G0FEX | 7MHz | SSB | T |
| 09:22z | MM3PDM/M | 7MHz | SSB | T |
| 09:23z | G0VWP | 7MHz | SSB | T |
| 09:24z | G0GWY | 7MHz | SSB | T |
| 09:24z | DL7UCW | 7MHz | SSB | T |
| 09:25z | G4DUE | 7MHz | SSB | T |
| 09:26z | G0FVH | 7MHz | SSB | T |
| 09:27z | G0RQL | 7MHz | SSB | T |
| 09:28z | G4ZRP | 7MHz | SSB | T |
| 09:29z | M0HEM | 7MHz | SSB | T |
| 09:29z | G6LKB | 7MHz | SSB | T |
| 09:30z | G0BFJ | 7MHz | SSB | T |
| 09:31z | MW0TBI/P | 7MHz | SSB | T |
| 09:31z | G0ABY | 7MHz | SSB | T |
| 09:34z | GW0IRT | 144MHz | FM | J |
| 09:35z | MW0PJJ | 144MHz | FM | J |
| 09:36z | G3YIP | 144MHz | FM | J |