Cefn yr Ystrad, GW/SW-008 - 617m ASL - SO 087 137 - OS Explorer OL12+OL13 - 4 SOTA points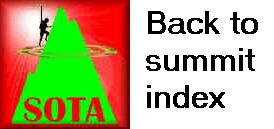 South Wales SOTA Trip - Day 2 (part 2) - Monday 25th May 2015
From Mynydd Carn-y-cefn GW/SW-014, Jimmy directed me west along the A465, into the village of Talybont and out and the long cul-de-sac country lane to the parking spot for Tor y Foel GW/SW-013 at SO109188. This was after establishing that the marked public road to the quarry at SO099148 (over 500m ASL) was no longer open to traffic. This meant a much long walk-in with much more ascent. Nonetheless, it was a pleasantly challenging strenous route for a good work-out. We parked instead at Pen Rhiw-calch 394m ASL at SO101176 after a scary (for me) but doable (practically and legally) drive along a public byway.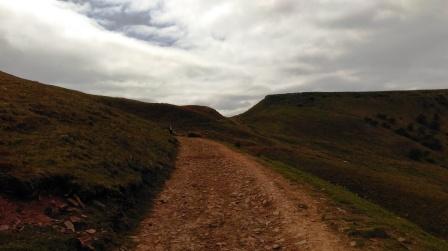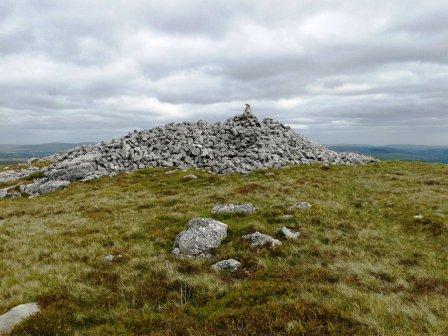 We walked up the Pen Bwlch Glasgwm path and out onto the higher fells. When approaching the distinctive cairn pictured above, it felt like we were homing in on the summit, but Jimmy knew otherwise. After passing by this false summit, the view opened out. "Where are we heading for?" I asked Jimmy. "That one over there" he replied, pointing out a speck on the distance horizon. Eek.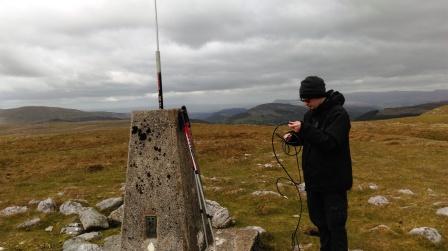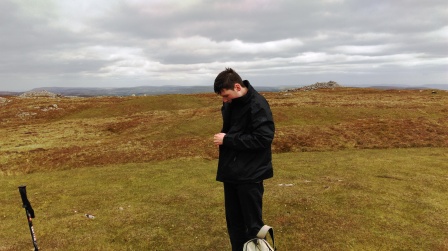 Actually, this section now wasn't as far as it looked to the naked eye, especially with much of the ascent already behind us. I continued to follow Jimmy, trusting his research and navigation as usual. It was pleasing to reach the trig point after a rather long walk, which itself was our second of the day. It reminded myself that the long walk needed to be reversed too, to get back to the car! For now though, it was all about amateur radio and SOTA - Summits On The Air.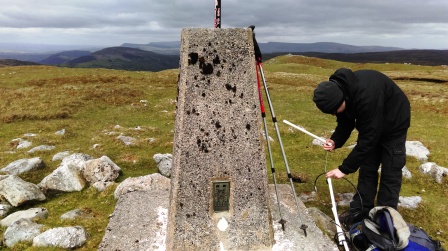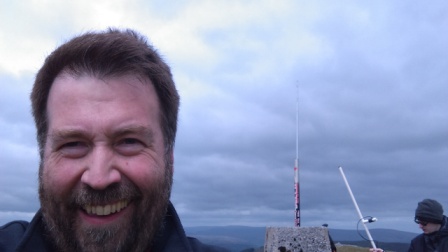 The 10m band was still not open, so I was thankful that Frank G3RMD again answered the call to secure me the unique summit multiplier. Moving over to 40m again made things much more straightforward. Jimmy had no difficulties in getting plenty of interest on 2m FM. The highlight of the descent walk was a magnificent view over the Talybont Reservoir. Back at the youth hostel, we tucked into an evening meal of soup, followed by fish & chips, followed by pudding, accompanied by some fine bottles of locally brewed real ale.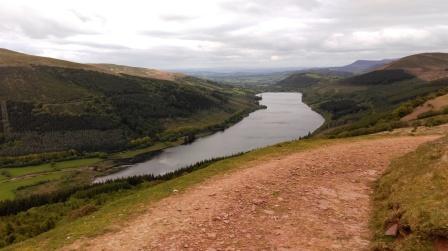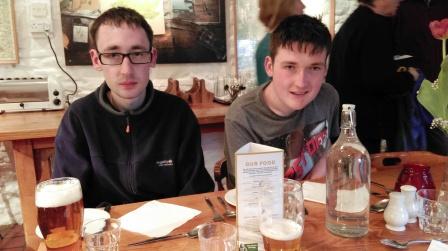 Shortly, it was to bed for a fairly early night ahead of another big walk tomorrow - Waun Rydd GW/SW-004.
| | | | | | |
| --- | --- | --- | --- | --- | --- |
| Time | Call | Band | Mode | S2S | Op |
| 13:48z | G0LGS | 144MHz | FM | | J |
| 13:49z | GW6OVD | 144MHz | FM | | J |
| 13:50z | 2E0MDJ | 144MHz | FM | | J |
| 13:51z | MW0HDF/P | 144MHz | FM | | J |
| 13:54z | MW0HJV/P | 144MHz | FM | | J |
| 13:55z | G3RMD | 144MHz | FM | | J |
| 13:55z | MW0YCC/P | 144MHz | FM | GW/SW-003 | J |
| 13:56z | G3RMD | 28MHz | CW | | T |
| 13:57z | MW6MMI/P | 144MHz | FM | GW/SW-003 | J |
| 13:58z | MW0PJJ | 144MHz | FM | | J |
| 13:59z | G0RQL | 144MHz | FM | | J |
| 14:00z | DL5AWI | 7MHz | CW | | T |
| 14:01z | M0MPM | 7MHz | CW | | T |
| 14:01z | 2W0JMK/M | 144MHz | FM | | J |
| 14:04z | DF3MC/P | 7MHz | CW | DL/AL-087 | T |
| 14:06z | F6FTB | 7MHz | CW | | T |
| 14:07z | EB2CZF | 7MHz | CW | | T |
| 14:07z | DL1FU | 7MHz | CW | | T |