Mynydd Cwmcelli, GW/NW-052 - 469m ASL - SH 804 099 - OS Explorer OL23 - 1 SOTA point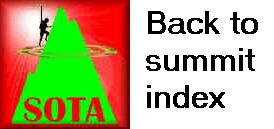 I had to agree with Jimmy. This summit looked really quick and easy on the map. And it possibly should have been quicker and easier than we made it! After Cyrniau Nod GW/NW-034 on Sunday 17th April 2011, Jimmy directed me a long drive down to the A470. It was somewhat unnerving driving around after 4.30pm in the afternoon and seeing signs for things like Tywyn and Barmouth. These were 1970s family holiday destinations for us, and gave a perspective of how far away from home we were so late in the day.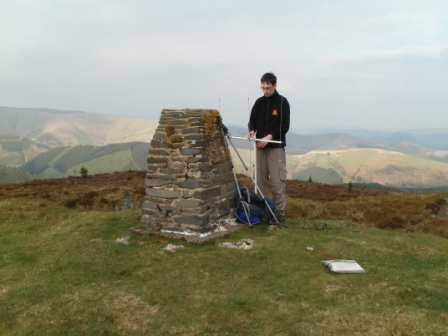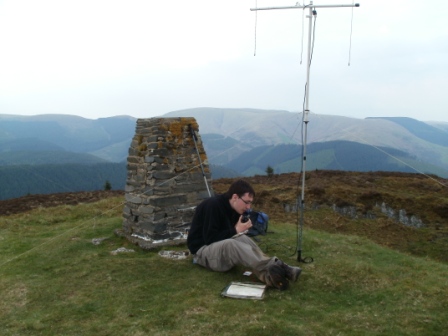 We parked in a small lay-by at SH803105, before walking along the wide forest track opposite. Jimmy soon directed me down a right fork on a much more uneven and muddy track. Of more concern was the seemingly vertical wall of hill filling the gap and the end of the forest ride. As the path bent around to the left, it began to climb, so plenty of height gain was made on easy terrain. This brought us to the south-east end of the hill at SH807097, and an impossibly steep looking path going straight up it! Jimmy made straight for this path and I followed. We were soon regretting this approach with Jimmy getting stuck halfway up it and me not doing much better further down.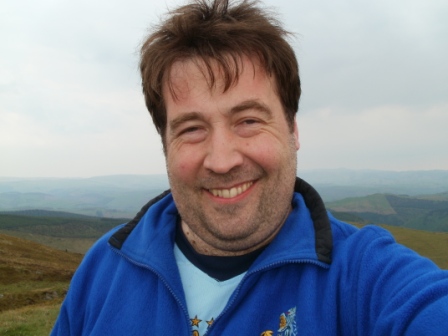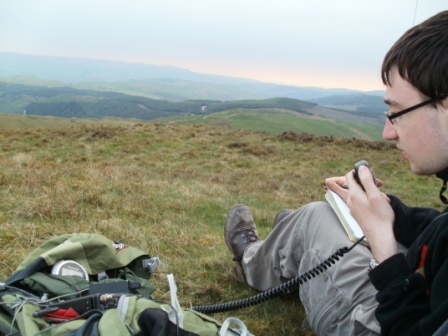 After working his way to some vegetation to the side of his path, Jimmy managed to scramble up the rest of the way. I demanded he stay put and offer me some moral support as I endeavoured to join him. My solution was to go onto the grass on the right hand side of the track, cut diagonally upwards, then scramble up some vegetation to where the hill rounded. Made note-to-self to check carefully for 'visitors' at some point!

Of course, this was all unnecessary. We don't normally get into scrapes like this, but Jimmy had not researched this one in detail, it not being part of our original plans. But if we had continued past the steep end to the Bwlch, there would have been a decent path doubling back and onto the summit ridge. Anyway, the hard work had been done, and we ambled towards the trig point which was now in sight. This time I had taken 40m, because it offered the best back-up for the very real opportunity that Jimmy would fail on 2m from here. And indeed he did, gaining only a very marginal conversation on a VHF repeater. In the meantime, I made 26 QSOs on good old 7.032MHz CW, prepping a few friends to QSY to SSB for Jimmy later. The SSB frequencies were very busy when we surveyed them, but a slot was found and used on 7.169MHz SSB. Jimmy made his four contacts, and no-one else called, so that was that.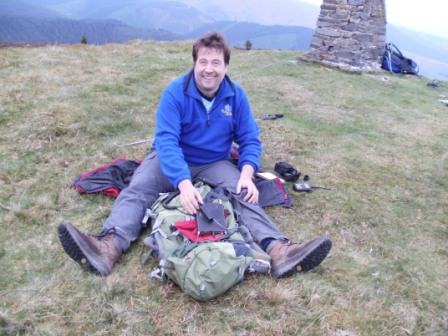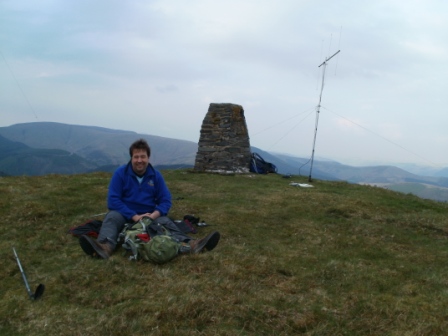 We took the better route off the summit before returning down the forest rides to the car. I checked the oil and water under the bonnet first of all, as I noticed that the engine fan had clicked into operation just before parking up. The levels were fine, and we set off. Good progress was made towards Welshpool, but every pub we stopped at claimed to have finished serving food for the evening. By 8.55am, we were between Welshpool and Oswestry, hungry, and concerned for our stomachs after yet another pub had given us the knockback. If any of them had simply offered to make us a sandwich to accompany our beers, we would have stayed!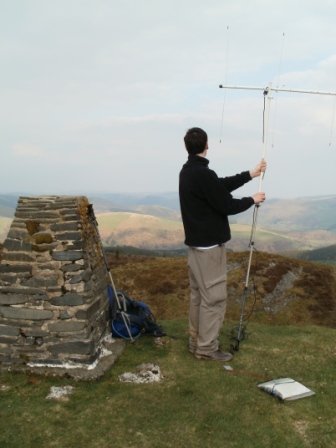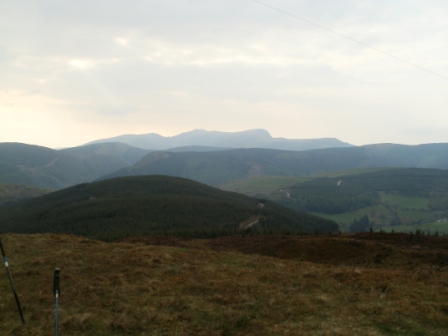 We tried the Four Crosses, at, er well, Four Crosses. "Food served until 9pm on Saturdays" claimed the board outside. JImmy and I burst into the bar at 8.58pm and asked the question. Result. The landlady was lovely and didn't rush us into our choices. Not that it took us long, for we both plumped for the homemade chicken & mushroom pie. This was superb, filled to capacity with huge chucks of chicken and great big mushrooms, and served with peas, carrots, chips and gravy. To accompany the food, Jimmy and I sunk a couple of pints each of Hot Chocolate Ale, a special beer made with chocolate and chilli flavours. Like the food, it was superb.

This pub is recommended if you're in the area activating NWs or WBs. Great friendly service as well as the quality of the food and beer. We will be back. So, two long sunny days in Wales, three activations, six points, two new uniques and rather a lot of walking! Thanks to all callers on this one:
| | | | |
| --- | --- | --- | --- |
| OE7PHI | 40m | CW | T |
| DL5WC | 40m | CW | T |
| OK1CZ | 40m | CW | T |
| DL6KVA | 40m | CW | T |
| OE6WIG | 40m | CW | T |
| DL4FDM | 40m | CW | T |
| F5SQA | 40m | CW | T |
| 9A7W | 40m | CW | T |
| S57EA | 40m | CW | T |
| G4SSH | 40m | CW | T |
| GM0AXY | 40m | CW | T |
| M0JHA | 40m | CW | T |
| M/HA5CW/P | 40m | CW | T |
| DF5WA | 40m | CW | T |
| F6ENI | 40m | CW | T |
| LA1ENA | 40m | CW | T |
| OE6GND | 40m | CW | T |
| HB9MKV | 40m | CW | T |
| ON4CT | 40m | CW | T |
| F5JKK | 40m | CW | T |
| HA7UG | 40m | CW | T |
| G4CMZ | 40m | CW | T |
| G3WPF | 40m | CW | T |
| G3TJE | 40m | CW | T |
| LY5G | 40m | CW | T |
| DL3HXX | 40m | CW | T |
| G0TRB | 40m | SSB | J |
| G4CMZ | 40m | SSB | J |
| G0BPU | 40m | SSB | J |
| MW0IDX | 40m | SSB | J |