Moel Hebog, GW/NW-014 - 782m ASL - SH 565 469 - OS Explorer OL17/OL18 - 6 SOTA points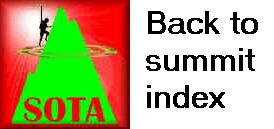 Mission failed already on the first day - Monday 28th August 2017. Not that a drive out to Snowdonia, a successful ascent and activation of Moel Hebog GW/NW-014, check in at Snowdon Ranger YHA and good food and amazing beer (Welsh Pale Ale) at the Cwellyn Arms can genuinely be classed as a "failure". But already we had been unable to realise Jimmy's intended schedule. We were later than usual setting off, and I was really slow on the hills on this first day. We descended to the saddle with Moel Ddu GW/NW-045 and it was already 5.30pm. Persisting with the second summit from that situation would have been ridiculous. So we scrapped it and went for a wash and some refreshments instead. The responsibility for my lethargy lay with myself and my work schedule over the previous three days. Gigs in Manchester, Ayr and Blackpool, 560 miles of driving and less sleep than I'd like, plus a further 120 miles driving to Snowdonia, and the energy tank was on empty.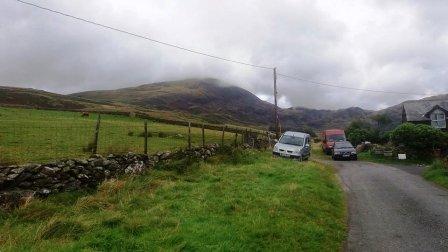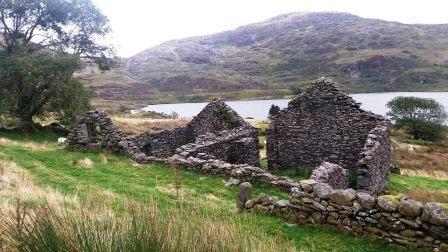 We began the walk from close to Llyn Cwmystradllyn reservoir, and parked on a grass verge beside the lane. Of course, this start point was chosen as we were intending to take in the adjacent Moel Ddu GW/NW-045 in the same walk, but as explained above, this was not achieved. We walked initially along a bridleway parallel to the side of the reservoir and past some old ruined buildings. Then it was time to angle left and make our way up the grassy fields. This was a much less steep prospect than the traditional route from Beddgelert, but my tired body still felt the strain!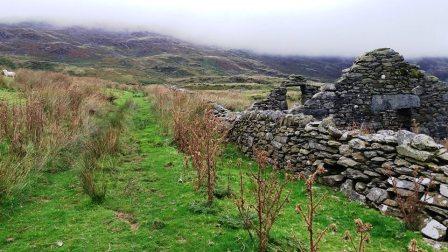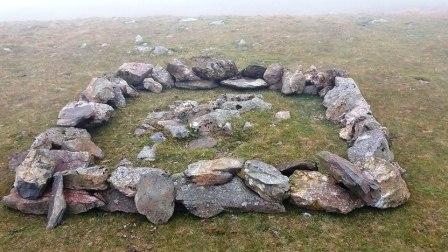 Further up, the gradient began to steadily ease, and we angled right towards the summit. We were now inside the cloud and there were no views. It was all rather spooky, and a little bit chilly. I had carried HF gear to the summit, but couldn't be bothered to use it, opting instead for an easy VHF handheld activation - and of course my lunch of soup from the flask!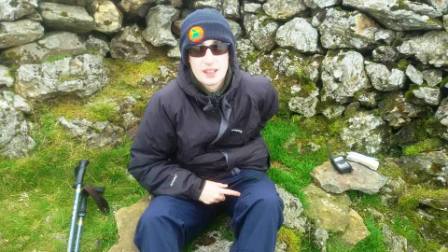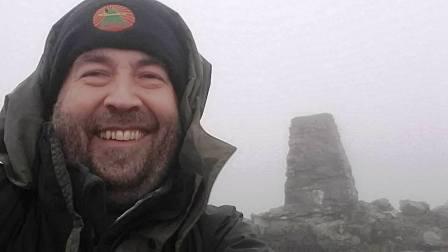 We both qualified easily, Jimmy making nine contacts, while I logged six QSOs in my logbook. We got badly separated early in the descent and lost each other in the mist. Fortunately we established communication on our VHF handheld radios and compared notes with each other. As it turned out, we were both going the correct way, just Jimmy, typically, had strode out some distance ahead of me!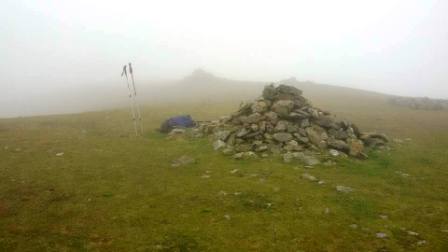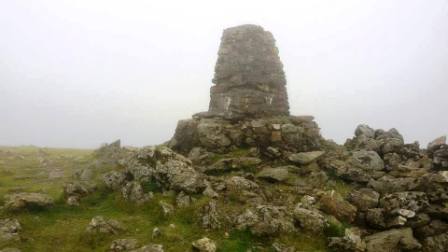 After descending to the car, we headed to Snowdon Ranger Youth Hostel, where we checked in and went for a shower and change. We then headed up to the Cwellyn Arms for an evening meal, which was very enjoyable. The following day was our most ambitious expedition of the trip - our remaining two summits on the chain known as the Glyders - Elidir Fawr GW/NW-005 and Y Garn GW/NW-004.
| | | | | | |
| --- | --- | --- | --- | --- | --- |
| Time | Call | Band | Mode | S2S | Op |
| 13:44z | GW4BZD | 144MHz | FM | | MW0HGY/P |
| 13:46z | GW0HGC | 144MHz | FM | | MW0HGY/P |
| 13:49z | GW4VPX/P | 144MHz | FM | GW/MW-015 | MW0HGY/P, MW1EYP/P |
| 13:51z | GW6TKK | 144MHz | FM | | MW0HGY/P |
| 13:53z | 2W0RZL | 144MHz | FM | | MW0HGY/P, MW1EYP/P |
| 13:55z | GW4ZPL | 144MHz | FM | | MW0HGY/P |
| 14:00z | MW6PVG/P | 144MHz | FM | | MW0HGY/P |
| 14:06z | MW6LBI/P | 144MHz | FM | | MW1EYP/P |
| 14:11z | GW8NZN/M | 144MHz | FM | | MW1EYP/P |
| 14:35z | GW8NZN/P | 144MHz | FM | GW/NW-054 | MW0HGY/P, MW1EYP/P |
| 14:39z | 2W0HOH | 144MHz | FM | | MW0HGY/P, MW1EYP/P |