Y Garn, GW/NW-004 - 947m ASL - SH 631 596 - OS Explorer OL17 - 8 SOTA points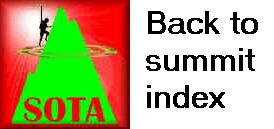 This was the second summit on Tuesday 29th August 2017, after Elidir Fawr GW/NW-005. After the exertions of climbing high out of the Ogwen Valley to reach that first summit, it was now an easy and pleasant ridgeline traverse across to Y Garn. The clouds lifted regularly to give us plenty of opportunity for good views - and photo opportunities.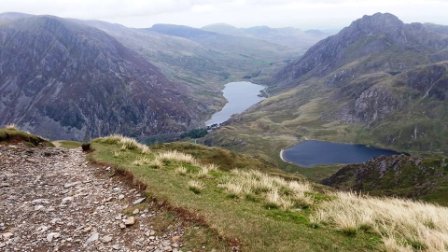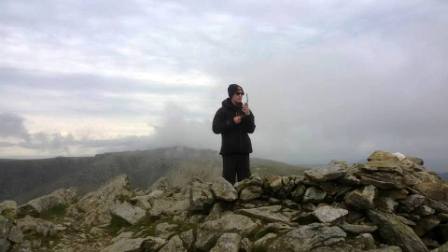 We had just brought our handheld VHF radios with us, saving on the payload for a major expedition. However, these were more than sufficient to achieve the requisite four contacts to qualify the SOTA activations, and we managed to make seven QSOs each.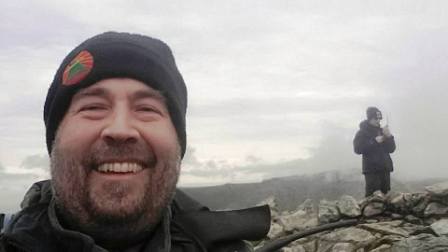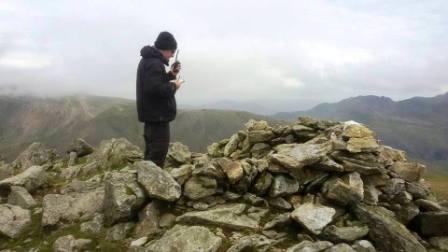 The triangulation point on Y Garn was not the customary pillar, but merely a circular metal plate, fixed in the ground within the tiny summit shelter. I didn't want to hang around too long up here though; I well recalled how long it took us to descent from Glyder Fawr GW/NW-003 last year, and I was a little apprehensive about the potential exposure on our planned descent route.
So who thought it was a good idea to descend Y Garn GW/NW-004 the direct way rather than via the Devil's Kitchen then? Just about everyone according to Jimmy - Gerald WML, Caroline ZCB, Roger IDX et al. Well you're all wrong. I came down that way based upon all that reassuring advice - and my new walking trousers have hardly any "seat" left in them from all the shuffling down on my backside on steep loose paths that were outwith the tolerance of my vertigo! Sure Devil's Kitchen is not a 'pleasant' descent - but I can cope with it without suffering trauma!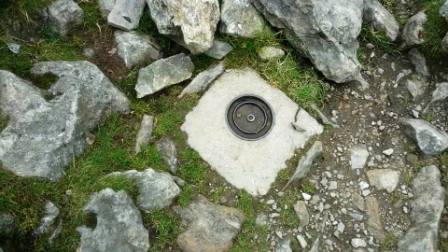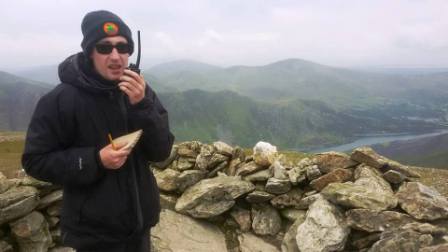 Sure enough, the steepness of the descent, coupled with the looseness of the scree path, completely got the better of my legs in several places, and I ended up shuffling down on my backside. All the same, we made it down to more comfortable walking territory in decent time, and much earlier than last year's effort! The only downside was that once back at the car, we then had an hour's drive back to Snowdon Ranger YHA.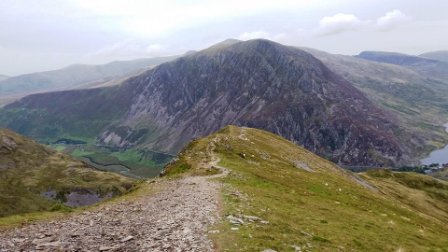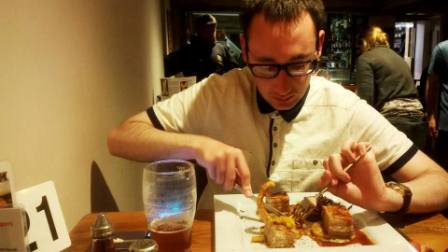 It was back up to the Cwellyn Arms for dinner and beer, which was again extremely good. The Welsh Pale Ale at the Cwellyn is the discovery of the Century. The following day we would ahead for Moel-ddu GW/NW-045. We also had a nice surprise when our friend Simon G4TJC turned up at the pub.
| | | | | |
| --- | --- | --- | --- | --- |
| Time | Call | Band | Mode | Op |
| 14:58z | GW3GUX | 144MHz | FM | MW0HGY/P |
| 14:59z | MW0VCC/P | 144MHz | FM | MW0HGY/P, MW1EYP/P |
| 15:01z | GW3XRM | 144MHz | FM | MW0HGY/P |
| 15:02z | MW0KZP | 144MHz | FM | MW0HGY/P |
| 15:05z | GW0PLP | 144MHz | FM | MW0HGY/P |
| 15:06z | GW6TKK | 144MHz | FM | MW0HGY/P |
| 15:07z | GW4DXP/P | 144MHz | FM | MW0HGY/P, MW1EYP/P |
| 15:12z | GW3GUX | 433MHz | FM | MW1EYP/P |
| 15:16z | GW3XRM | 433MHz | FM | MW1EYP/P |
| 15:19z | MW0VCC/P | 433MHz | FM | MW1EYP/P |
| 15:21z | G4DQB/M | 144MHz | FM | MW1EYP/P |
| 15:22z | G7PAJ/M | 144MHz | FM | MW1EYP/P |