Mullaghmore, GI/SM-005 - 550m ASL - C 738 008 - OSNI Discoverer 8 - 4 SOTA points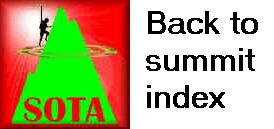 Originally, we weren't going to do a UK Activity Contest VHF activation on this trip, but it was a Tuesday, 4th July 2017, and the weather had already shunted the planned morning activation of Mullaghaneany GI/SM-003, into the afternoon. It made sense therefore to now seek an evening meal somewhere local, then head to the summit in our plans that Jimmy said could be suitable for an evening activation if required. We now headed for the Ponderosa, Ireland's highest pub at 946 feet ASL, located on the Glenshane Pass. After a nice meal and beer in there, we continued on to Mullaghmore GI/SM-005, a few miles west of Maghera, for an evening expedition.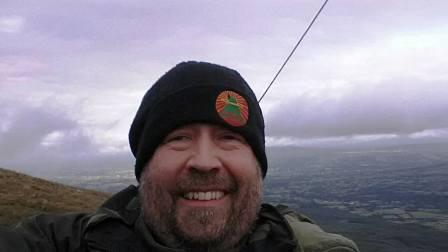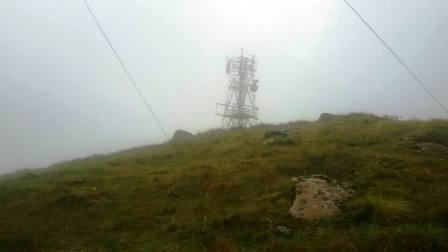 Jimmy had identified this one as a possible nightime walk due to it have the entire route on a metalled road. You couldn't drive on it; there was a very sturdy locked gate at the foot of the track. We parked into one side of the very wide track opening just before this gate, and climbed over. We had heard of previous activators bringing a set of stepladders along to negotiate this particular obstacle, but we just about got over. It did make a mental note though, that getting back over it later might be a tad more difficult. The large lock casing, onto which you could plant your foot - was on the side facing the road, with no such assistance on the track side.
The walk up the track was pleasant enough and easy. I seem to recall it took around 25 minutes. We passed slightly beyond the summit and transmitter mast installation, and used the slight shelter afforded by the steep grassy slope, dropping quickly away on the south-east side. Conveniently, we figured this would also be the best take-off direction for any chance of VHF contacts.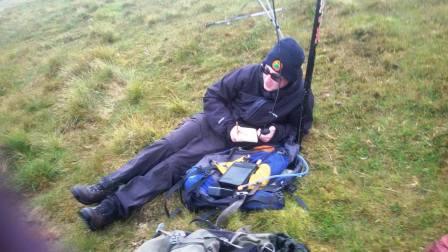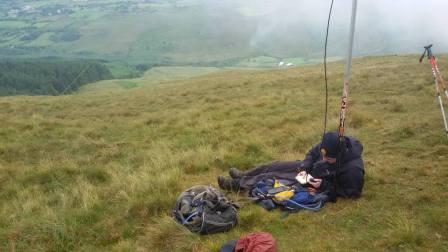 The operation was successful. Jimmy made some contacts in the 2m FMAC, then we both got enough to qualify our activations, as well as submit entries to the 2m UKAC. Not competitive entries of course, but winning was never a feasible prospect from this position! We called it a day shortly after 10pm local, preferring the possibility of making it to a pub before last orders than spending another hour searching round for a handful of QSOs! Alas, it was already after 11pm by the time we found a pub. But the door was open, so in we wandered - and got served - result! The following day would be allocated for just one summit - Mullaghash GI/SM-008.
| | | | | |
| --- | --- | --- | --- | --- |
| Time | Call | Band | Mode | Op |
| 18:57z | MI0TGO/P | 144MHz | FM | MI0HGY/P, MI1EYP/P |
| 18:58z | MI0GDO | 144MHz | FM | MI0HGY/P, MI1EYP/P |
| 18:59z | MI3CXM | 144MHz | FM | MI0HGY/P, MI1EYP/P |
| 19:06z | GI6ATZ | 144MHz | SSB | MI0HGY/P, MI1EYP/P |
| 19:08z | GD6ICR | 144MHz | SSB | MI1EYP/P |
| 19:08z | MI0JPD | 144MHz | FM | MI0HGY/P |
| 19:12z | GI4SNA | 144MHz | SSB | MI0HGY/P, MI1EYP/P |
| 19:16z | MI0RRE | 144MHz | FM | MI0HGY/P |
| 19:22z | GM3WMX | 144MHz | SSB | MI1EYP/P |
| 19:36z | G4RRA | 144MHz | SSB | MI1EYP/P |
| 19:54z | G4CZP/P | 144MHz | SSB | MI1EYP/P |
| 20:03z | M0MLZ/P | 144MHz | SSB | MI1EYP/P |
| 20:18z | MI0WWB | 144MHz | FM | MI0HGY/P, MI1EYP/P |
| 20:21z | GI0SRM | 144MHz | FM | MI1EYP/P |
| 20:24z | GI0HHV | 144MHz | FM | MI1EYP/P |
| 20:30z | G1YBB/P | 144MHz | SSB | MI1EYP/P |