Moelfre, GW/NW-041 - 589m ASL - SH 626 245 - OS Explorer OL18 - 2 SOTA points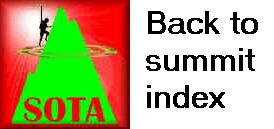 It was another beautiful sunny morning as we emerged Snowdon Ranger YHA on Thursday 26th July 2019. Our original plan was to combine this summit with Y Llethr GW/NW-017, but early into our walk, we realised that was unrealistic. We were both pretty tired now after a strenuous few days of hillwalking, and the speed and stamina required for such a "double" was not there.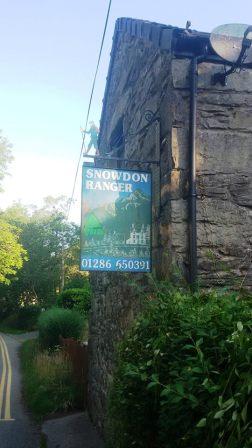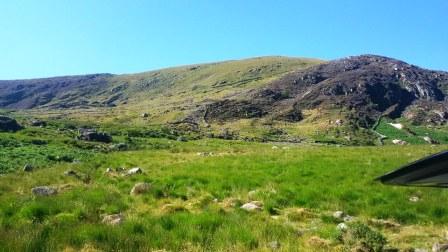 It was a smashing day to enjoy a single simple hillwalk though, and have time to enjoy lounging around on the summit playing radio. We parked close to the start of the bridleway at SH 631 258. We then walked south on this bridleway until intercepting the crest of the ridge, due East of Moelfre itself. This would have been the point to return to and then progress onto Y Llethr if we were persisting with Plan A - but we weren't, so we didn't!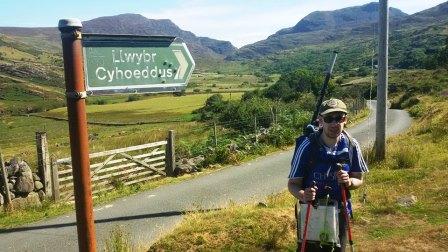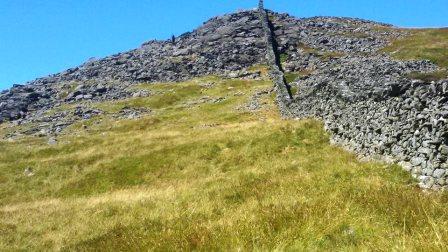 This hillwalk was significantly easier than all those of recent days, but the fatigue and tiredness caused by those recent days was being felt, by me for definite, and I'm pretty sure even by Jimmy too. Still, another one summit day meant we could relax, stroll at a nice leisurely pace, and again, have plenty of time to relax and rest at the summit.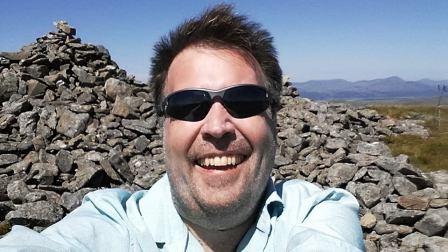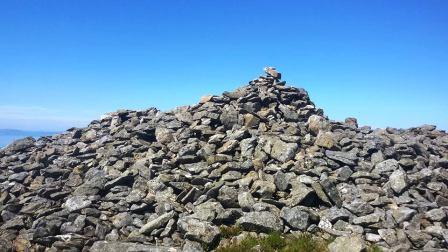 It was quite a bonanza for me with lots of QSOs on 20m CW. Jimmy recorded just five on 2m FM, but that was still a comfortable SOTA qualification of course. We had a new flavour of soup in the flask for lunch on this one - Baxters Fiery Fish Bisque - very nice!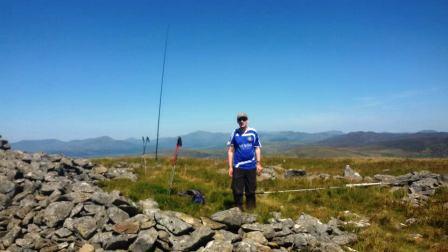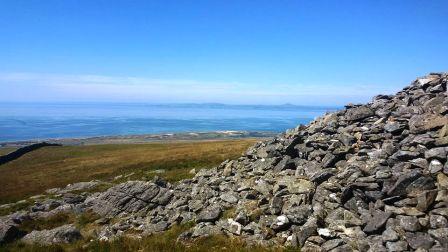 There were some nice sea views on this one, very pleasant as we were operating our radios. Later that evening we met Aled MW0UPH in the pub again, Aled has something else in common wih me as well as the hillwalking and amateur radio - he is a bass player! So we always have plenty to discuss!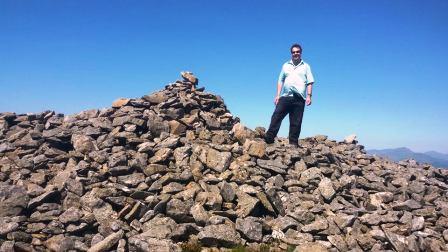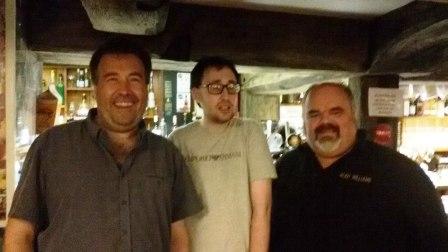 Another evening meal and couple of beers in the Cwellyn, ahead of our last night staying at Snowdon Ranger YHA. We decided we would revisit some very easy summits the following day on our way home, as opposed to attempting another new unique mountain. The first of these would be Holyhead Mountain GW/NW-069 on Anglesey.
| | | | | |
| --- | --- | --- | --- | --- |
| Time | Call | Band | Mode | Op |
| 12:08z | IK2LEY | 14MHz | CW | MW1EYP/P |
| 12:08z | SP9AMH | 14MHz | CW | MW1EYP/P |
| 12:09z | OK2PDT | 14MHz | CW | MW1EYP/P |
| 12:10z | HB9AGH | 14MHz | CW | MW1EYP/P |
| 12:10z | HB9JOE | 14MHz | CW | MW1EYP/P |
| 12:11z | SA4BLM | 14MHz | CW | MW1EYP/P |
| 12:16z | MW0UPH/M | 144MHz | FM | MW0HGY/P |
| 12:18z | MW3PZO | 144MHz | FM | MW0HGY/P |
| 12:21z | GW0JAI | 144MHz | FM | MW0HGY/P |
| 12:26z | DJ0AQ | 14MHz | CW | MW1EYP/P |
| 12:27z | GW0PLP | 144MHz | FM | MW0HGY/P |
| 12:33z | GW1MNC/M | 144MHz | FM | MW0HGY/P |
| 12:35z | EA2DT | 14MHz | CW | MW1EYP/P |
| 12:35z | DJ5AV | 14MHz | CW | MW1EYP/P |
| 12:36z | S52CU | 14MHz | CW | MW1EYP/P |
| 12:37z | SM6BZV | 14MHz | CW | MW1EYP/P |
| 12:40z | DL7JMJ | 14MHz | CW | MW1EYP/P |
| 12:43z | OH3GZ | 14MHz | CW | MW1EYP/P |
| 12:43z | F6EWB | 14MHz | CW | MW1EYP/P |
| 12:44z | DJ0AH | 14MHz | CW | MW1EYP/P |
| 12:45z | 9A1AA | 14MHz | CW | MW1EYP/P |
| 12:46z | F6GLZ | 14MHz | CW | MW1EYP/P |
| 12:47z | DL8KUD | 14MHz | CW | MW1EYP/P |
| 12:48z | ZB2CW | 14MHz | CW | MW1EYP/P |