Foel Cae'rberllan, GW/NW-057 - 380m ASL - SH 676 082 - OS Explorer OL23 - 1 SOTA point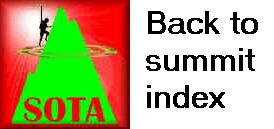 After the damp misery of the previous day on the Nantlle Ridge, thankfully we awoke to much more pleasant conditions on Tuesday 24th July 2018. We drove from Snowdon Ranger YHA to the car park at Castell y Bere on the West side of the hill. Aled MW0UPH surprised us by meeting us here! A public footpath led gently south from here, but then turned at right-angles to go directly - and punishingly steeply - straight uphill. This was exhausting stuff, and I insisted on sitting down for a rest halfway up!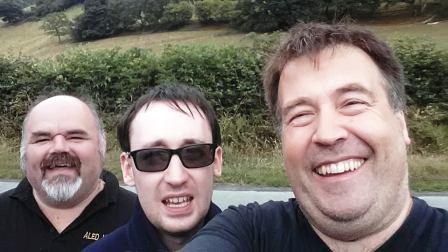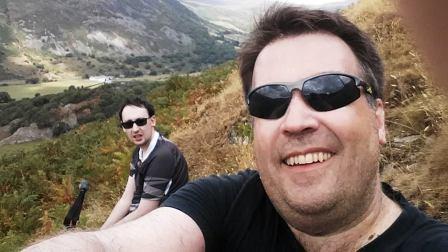 The approach once the brutally steep segment was passed, was not so bad, and could be almost enjoyable! I told Jimmy I was having another good rest at the summit - so therefore we might as well set all the VHF and HF antennas up and lounge around playing radio for a good while! It was warm and pleasant weather wise anyway, and the views from this lofty position were very enjoyable.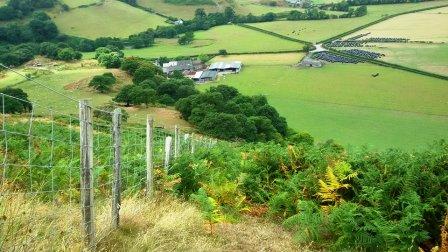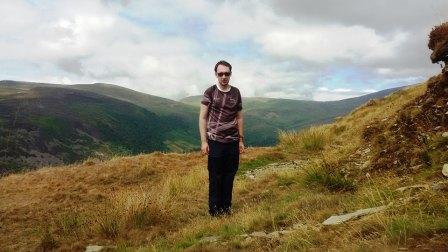 Jimmy M0HGY didn't do so well on VHF from this one, working only four QSOs - but three of them with Aled utilising his Foundation, Intermediate and Full licence callsigns! In order to give the activation more validity, he borrowed my station for a while to add some contacts on 20m SSB.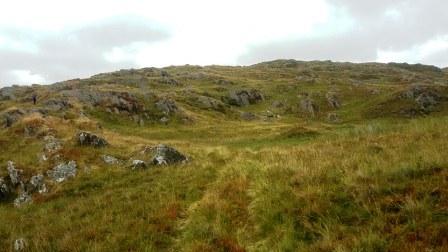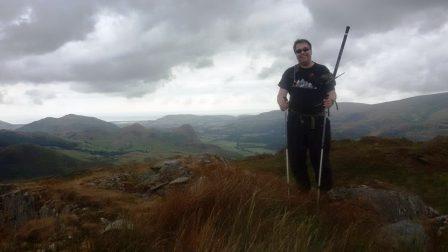 By contrast, it was very easy for me, and I made plenty of QSOs on 20m CW. We were interested to find a small TV-type aerial fixed in the ground, close to the summit.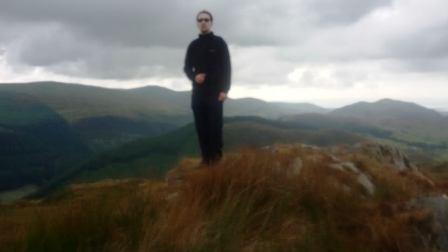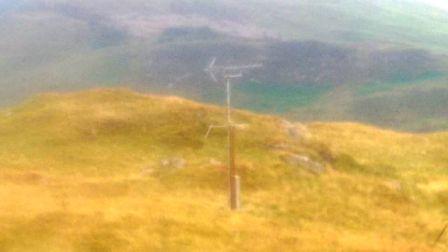 Soup of the day was Waitrose French onion and red wine, which was very nice. We descended the same way we had ascended. Suddenly the steep section did not seem so bad after all! When we got back to the car we met a chap with two young children. He asked if I had any coverage on my phone - which I didn't. It turns out they'd taken on a big route, but were now looking to get back to their campsite and were trying to arrange a lift or a taxi. It was on the way we were going, so I gave them a lift to it!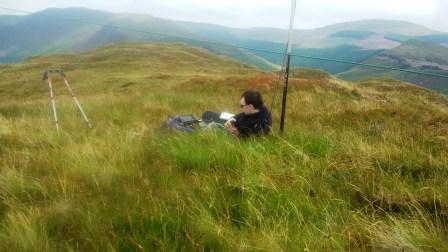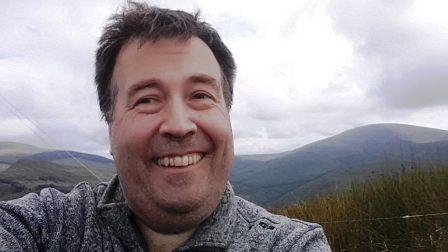 Snowdon Ranger youth hostel wasn't available for this one night of our Snowdonia trip, so we'd booked in at a place called Ty Seren in Dolgellau. This turned out to be a great option - we had a suite with a connecting door, effectively giving us each our own room with a shared bathroom.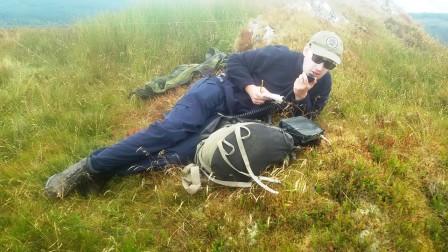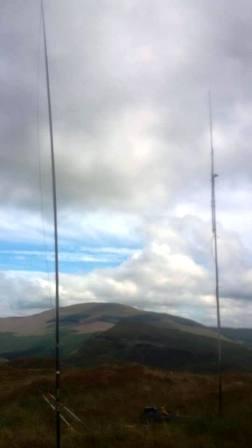 As we were staying in Dolgellau, we went out to the local curry house for our evening meal that night. The next day we would attempt another local steep one pointer - Gamallt GW/NW-065.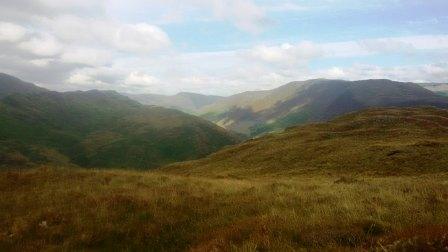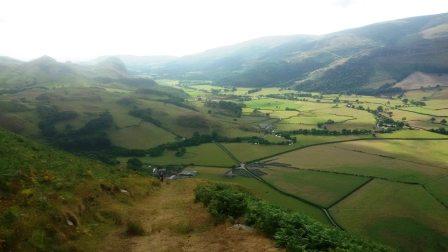 | | | | | |
| --- | --- | --- | --- | --- |
| Time | Call | Band | Mode | Op |
| 14:53z | IK2LEY | 14MHz | CW | MW1EYP/P |
| 14:55z | EA2LU | 14MHz | CW | MW1EYP/P |
| 14:55z | SA4BLM | 14MHz | CW | MW1EYP/P |
| 14:56z | EA2DT | 14MHz | CW | MW1EYP/P |
| 14:57z | K1ZZ | 14MHz | CW | MW1EYP/P |
| 14:59z | F6FTB/P | 14MHz | CW | MW1EYP/P |
| 15:00z | OK2PDT | 14MHz | CW | MW1EYP/P |
| 15:01z | DL6AP | 14MHz | CW | MW1EYP/P |
| 15:03z | DL1QC | 14MHz | CW | MW1EYP/P |
| 15:07z | LY2BNL | 14MHz | CW | MW1EYP/P |
| 15:08z | DJ5AV | 14MHz | CW | MW1EYP/P |
| 15:10z | DL5CX | 14MHz | CW | MW1EYP/P |
| 15:14z | MW0UPH/M | 144MHz | FM | MW0HGY/P, MW1EYP/P |
| 15:17z | MW6UPH/M | 433MHz | FM | MW0HGY/P, MW1EYP/P |
| 15:19z | 2W0UPH/M | 50MHz | FM | MW0HGY/P, MW1EYP/P |
| 15:19z | EA7JUR | 14MHz | SSB | MW0HGY/P |
| 15:29z | OH6GHI | 14MHz | SSB | MW0HGY/P |
| 15:32z | SA4BLM | 14MHz | SSB | MW0HGY/P |
| 15:34z | IK2LEY | 14MHz | SSB | MW0HGY/P |
| 15:40z | DK7FZ | 14MHz | CW | MW1EYP/P |
| 15:40z | GW6DGU | 144MHz | FM | MW0HGY/P |
| 15:42z | ON6QZ | 14MHz | CW | MW1EYP/P |
| 15:45z | DL5KW | 14MHz | CW | MW1EYP/P |
| 15:46z | OK1WAV | 14MHz | CW | MW1EYP/P |