Gamallt, GW/NW-065 - 288m ASL - SH 665 067 - OS Explorer OL23 - 1 SOTA point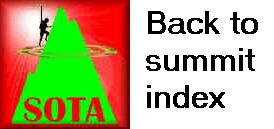 This day was a wonderful trip down memory lane for me - and my mum, once I'd shared the photos with her on Facebook! Wednesday 25th July 2018 commenced with a delicious cooked breakfast at Ty Seren in Dolgellau. We then had a lovely drive in very fine weather through the valley by the Tay-y-llyn Lake. I began to recount happy tales for family camping holidays here from my own childhood in the 1970s.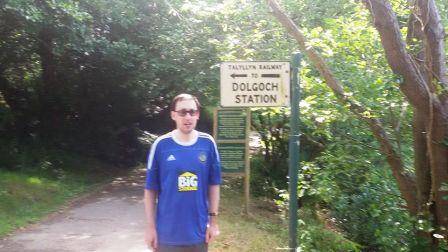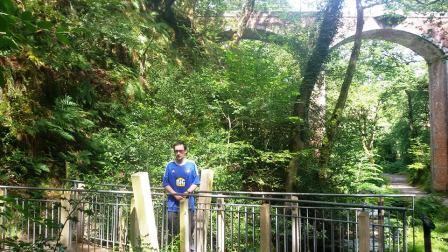 As we reached Dolgoch, Jimmy wasn't feeling too great, so I thought it would be a good idea to delay any thoughts of a SOTA summit, and spend a little time exploring Dolgoch Falls. This was a favourite from those family camping holidays of 40 years earlier, and I knew my mum would appreciate seeing the photos. She absolutely loved Dolgoch Falls, and it was a walk she used to take me and my brother on all those years ago.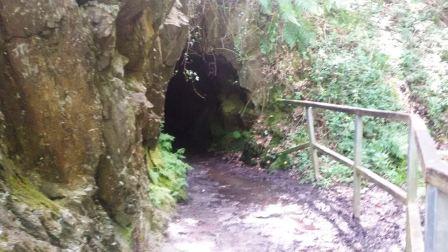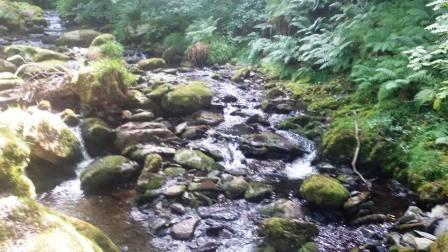 Well I enjoyed this more than you could imagine. It really did bring back some fantastic childhood memories, and I took lots of photos. I wanted to make a big Facebook album of photos and share them with my mum. The only issue with this was that my smartphone was an old relic of a Samsung S3 with a puny battery capacity. So I'd pretty much exhuasted that before even commencing that day's SOTA expedition, and with little opportunity to pump further charge into it!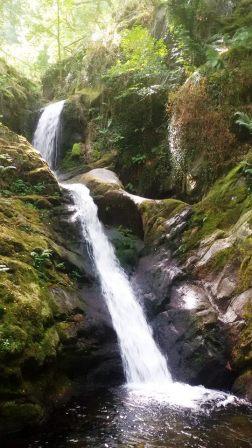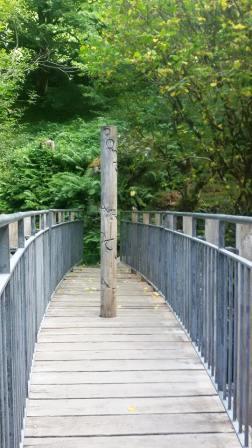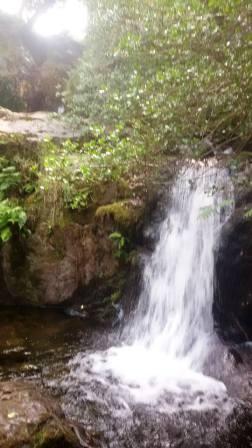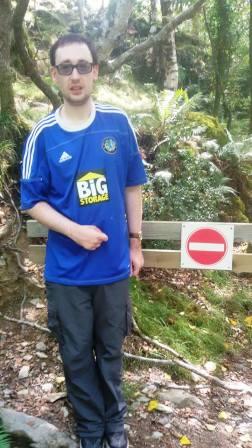 It was great fun climbing the sharp secluded valley up by the waterfalls, which were still as lovely as ever. We got to the top, and I recognised the point at which we would stop and turn back around on those family walks in the 70s.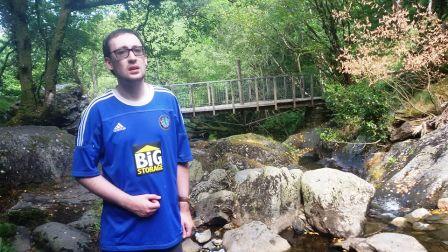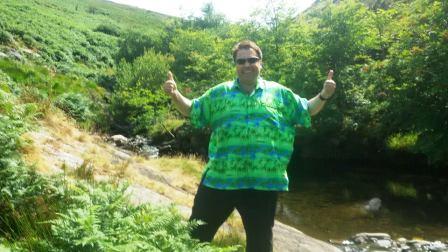 The weather was hot and sunny, so fantastic for photos, more of which were taken as we descended back down to Dolgoch.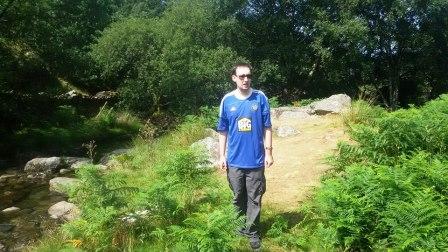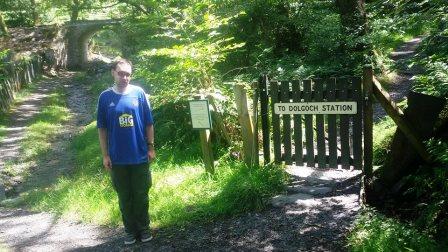 At Dolgoch station we hung around for a little while. I checked the timetable and noted I would have opportunity to photograph a steam train on the narrow guage Tal-y-llyn Railway if I remained in the vicinity a little longer. There was no way we were going to squeeze in any more than one summit activation in the day in any case, so there was no rush.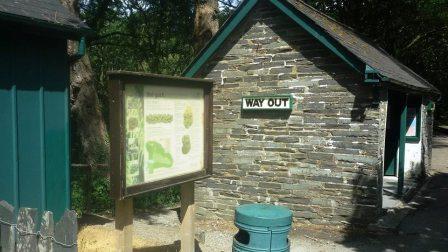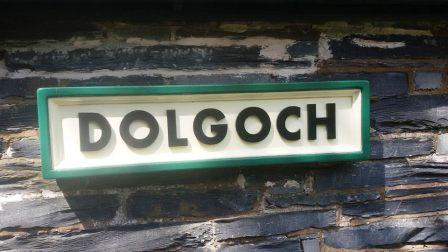 The steam train arrived exactly as per timetable, and I got some decent pictures.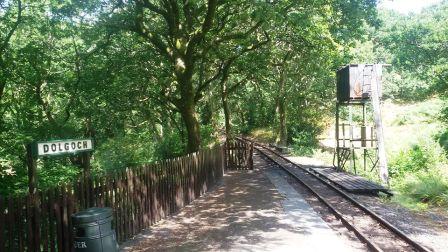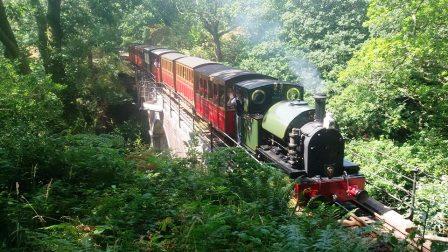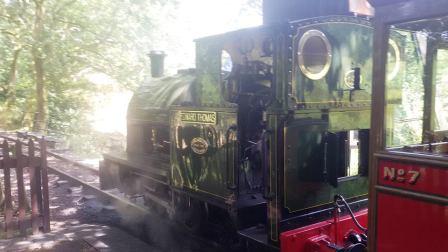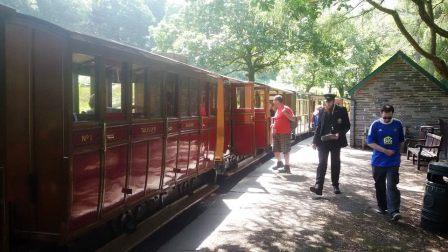 We paused we a little refreshment in the tearooms at the bottom of the falls, before driving down into Abergynolwyn, ready for our ascent of Gamallt, starting in the village itself. This was another brutally steep proposition, especially at the start. Once we'd attained the treeline on the ridge, things got worse, not better, as we were now hacking our way through head-high vegetation. This was really hard work! The Baxters Beef & Ale soup hardly touched the sides as we enjoyed our lunch on a very sunny summit!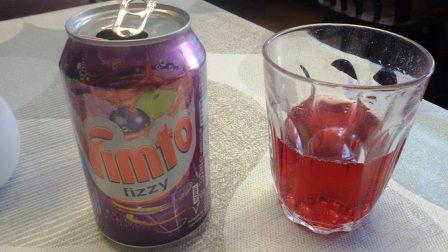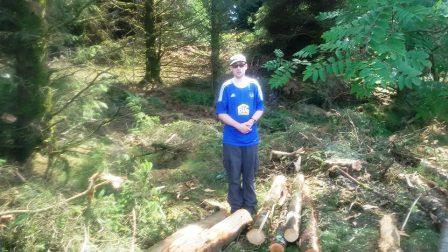 Jimmy found the nominal summit position and posed for the customary photograph - the only one my camera would allow me to take before it completely ran out of charge! I made plenty of contacts on 20m CW, but Jimmy struggled to his qualification, eventually doing so with a combination of 2m FM and 20m SSB. On VHF, we explained to Aled MW0UPH about the difficulties of the ascent route, and he kindly offered to meet us on the opposite side of the hill, thus offering us a much more digestible descent route, down to the byway at SH 656 064! I only wished we'd ascended that way!
It was back to Snowdon Ranger YHA that evening, where we were booked back in for another couple of nights, and therefore back to the Cwellyn Arms for food and drink. The next day we would activate Moelfre GW/NW-041.
| | | | | |
| --- | --- | --- | --- | --- |
| Time | Call | Band | Mode | Op |
| 14:47z | EA2DT | 14MHz | CW | MW1EYP/P |
| 14:48z | IK2LEY | 14MHz | CW | MW1EYP/P |
| 14:49z | EA2LU | 14MHz | CW | MW1EYP/P |
| 14:49z | OH3GZ | 14MHz | CW | MW1EYP/P |
| 14:50z | SA4BLM | 14MHz | CW | MW1EYP/P |
| 14:51z | DL1CR | 14MHz | CW | MW1EYP/P |
| 14:52z | S59DXX | 14MHz | CW | MW1EYP/P |
| 14:53z | S52CU | 14MHz | CW | MW1EYP/P |
| 14:55z | DL1HRY | 14MHz | CW | MW1EYP/P |
| 14:56z | SM7YIN | 14MHz | CW | MW1EYP/P |
| 14:57z | 2W0MRS/M | 144MHz | FM | MW0HGY/P |
| 14:58z | DJ5AV | 14MHz | CW | MW1EYP/P |
| 14:59z | SP9AMH | 14MHz | CW | MW1EYP/P |
| 15:05z | DL1KVS | 14MHz | SSB | MW0HGY/P |
| 15:06z | DL1CR/P | 14MHz | SSB | MW0HGY/P |
| 15:09z | MW0UPH/M | 144MHz | FM | MW0HGY/P, MW1EYP/P |
| 15:09z | GW6TKK | 144MHz | FM | MW0HGY/P, MW1EYP/P |