Great Rhos, GW/MW-002 - 660m ASL - SO 182 638 - OS Explorer 200 - 4 SOTA points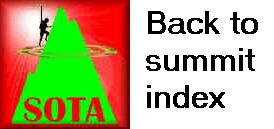 Mid Wales trip, Day 5 - Thursday 22nd August 2019
Just the one summit planned for this day - so sort of a "rest day" - relatively speaking - though it was one of the longer walks of the week, so maybe not! We drove out from Newbridge-on-Wye after breakfast and through Llandrindod Wells. At Llanfihangel Rhydithon we turned right by a church and drove up a long cul-de-sac lane uphill, parking near to its end. Beyond that, we started our walk from where the lane had become a track.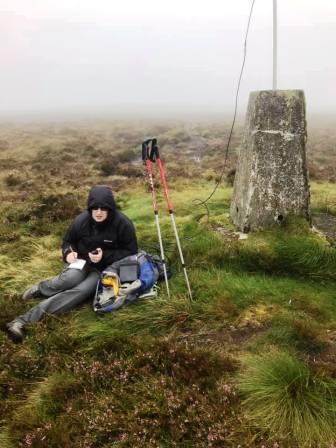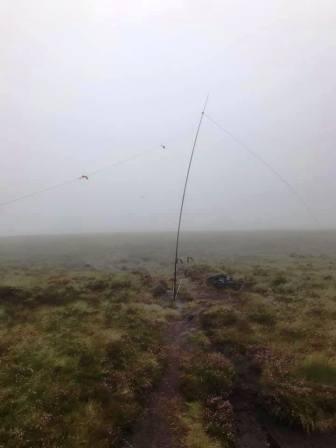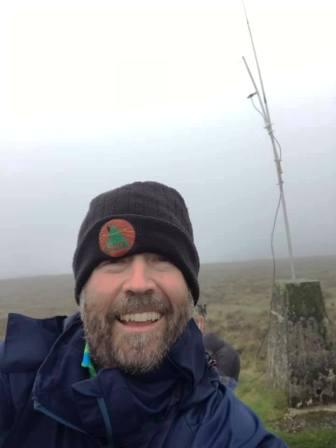 The track remained fairly level for a good while before gaining a bit more height as it swept left around the head of a deep valley. We passed around the corner of a field, through a gate and were then on a fairly boggy path the rest of the way to the trig point at the summit. Despite a better forecast, we were blighted by a persistent cold drizzle for a while, although it did eventually stop. Jimmy had already easily qualified on 2m FM before I even managed my opening contact on 40m FT8. In fact I only got to three QSOs using the datamode, and so retreated to good old CW where things suddenly became much easier.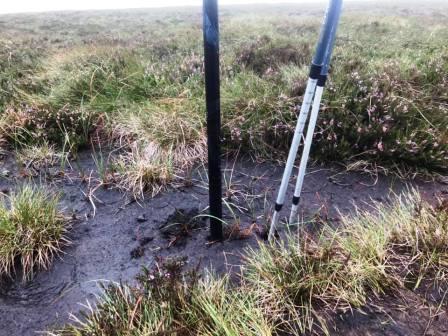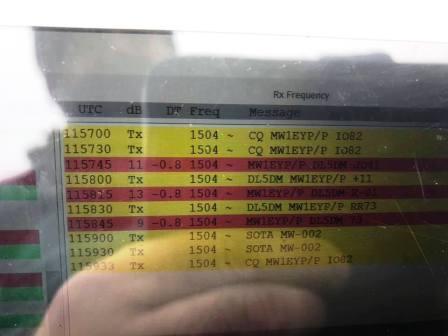 Eleven contacts were made on 40m CW, including three S2S before I did a rare stint on 40m SSB, adding a further six lines to the logbook. On the return walk, we paused for a rest at the point where the footpath skirts around the head of a valley, commanding excellent views. We had our flask of vegetable soup here, and took our time to relax, knowing that there were no further activations on the schedule for the day.
We were a bit earlier for our final night at the fantastic New Inn in Newbridge-on-Wye. Homemade beef madras with chips and rice was the evening meal, and it went down a treat - with the fabulous Dragon Ale of course. We had a four summit day planned for the "going home day", kicking off with Garreg Lwyd GW/MW-014, so we were both keen - and ready for another restful night's sleep - which we got.
| | | | | | |
| --- | --- | --- | --- | --- | --- |
| Time | Call | Band | Mode | S2S | Op |
| 11:42z | MW0OFA | 144MHz | FM | | MW0HGY/P |
| 11:44z | GW1OFA | 144MHz | FM | | MW0HGY/P |
| 11:45z | G4DQB/M | 144MHz | FM | | MW0HGY/P |
| 11:51z | M0JLA | 144MHz | FM | | MW0HGY/P |
| 11:52z | 2E0RYR | 144MHz | FM | | MW0HGY/P |
| 11:58z | DL5DM | 7MHz | FT8 | | MW1EYP/P |
| 12:01z | G8HMV | 144MHz | FM | | MW0HGY/P |
| 12:02z | G4PRJ | 7MHz | FT8 | | MW1EYP/P |
| 12:03z | GW4VPX | 144MHz | FM | | MW0HGY/P |
| 12:03z | PA0GVE | 7MHz | FT8 | | MW1EYP/P |
| 12:04z | IK2LEY | 7MHz | FT8 | | MW1EYP/P |
| 12:14z | HB9BCB/P | 7MHz | CW | HB/BE-105 | MW1EYP/P |
| 12:14z | ON7ZM | 7MHz | CW | | MW1EYP/P |
| 12:17z | F5GUU | 7MHz | CW | | MW1EYP/P |
| 12:17z | GW4VPX | 7MHz | CW | | MW1EYP/P |
| 12:19z | G4YMB | 7MHz | CW | | MW1EYP/P |
| 12:19z | EA2DT | 7MHz | CW | | MW1EYP/P |
| 12:22z | HB9BIN/P | 7MHz | CW | HB/UR-063 | MW1EYP/P |
| 12:22z | G4OBK | 7MHz | CW | | MW1EYP/P |
| 12:23z | DJ5AV | 7MHz | CW | | MW1EYP/P |
| 12:23z | S58MU/P | 7MHz | CW | S5/KS-012 | MW1EYP/P |
| 12:25z | G4TJC | 7MHz | CW | | MW1EYP/P |
| 12:38z | G0FEX | 7MHz | SSB | | MW1EYP/P |
| 12:40z | HB9DHA | 7MHz | SSB | | MW1EYP/P |
| 12:40z | EA2CKX | 7MHz | SSB | | MW1EYP/P |
| 12:41z | G4APO | 7MHz | SSB | | MW1EYP/P |
| 12:41z | ON7ZM | 7MHz | SSB | | MW1EYP/P |
| 12:42z | M0HOY | 7MHz | SSB | | MW1EYP/P |