Llan Ddu Fawr, GW/MW-005 - 594m ASL - SN 790 704 - OS Explorer 213 - 2 SOTA points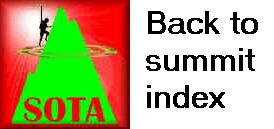 Sunday 30th August 2020 - Llan Ddu Fawr GW/MW-005 & Pen y Garn GW/MW-004
Our mission to complete activating every SOTA summit in Wales continued. Preferring not to book accommodation and stay overnight, this did mean several long daytrips from Macclesfield! This was another of those.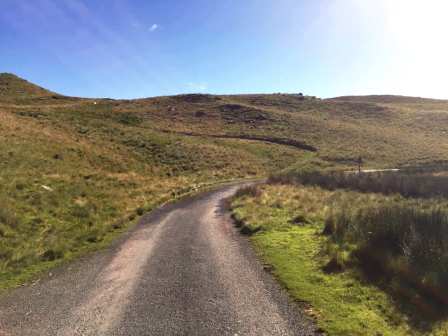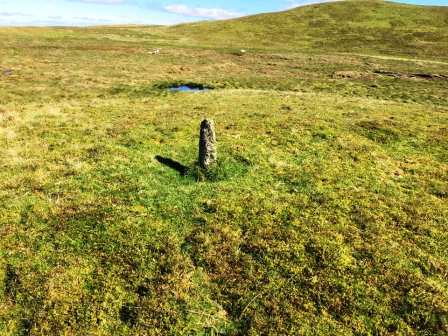 Jimmy directed me to the parking spot at SN784683. It was a beautiful clear and sunny morning, and an enjoyable walk in remote countryside lay ahead. The walk was pretty much featureless apart from a small stone marker as the summit loomed up ahead.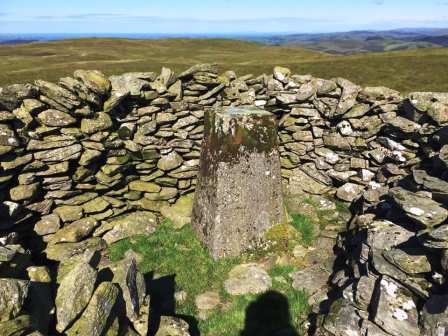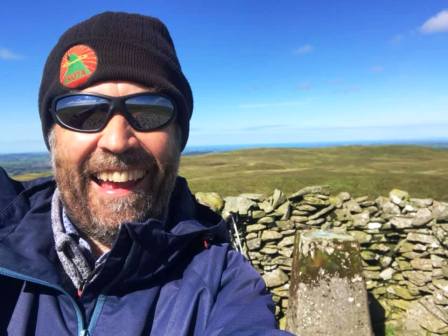 The trig point was not actually at the summit, but was one metre lower. It was in the activation zone however, and was enclosed by a stone shelter, so I stopped there to set up my antenna. Jimmy wandered off to take in the true summit where he set up his gear and activated on VHF.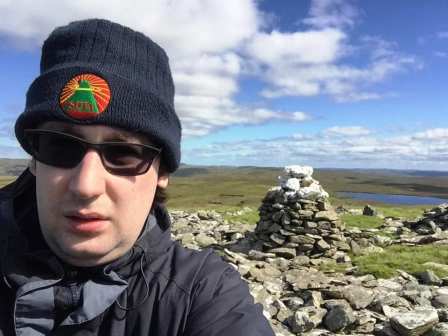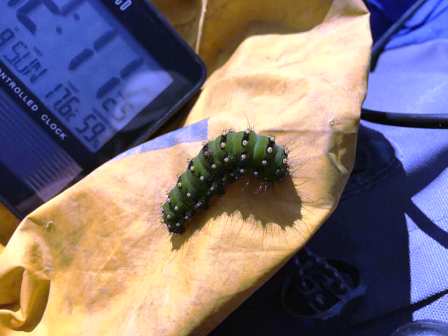 I operated on 20m using FT4, CW and SSB modes, with an occasional diversion onto 2m FM with my handheld.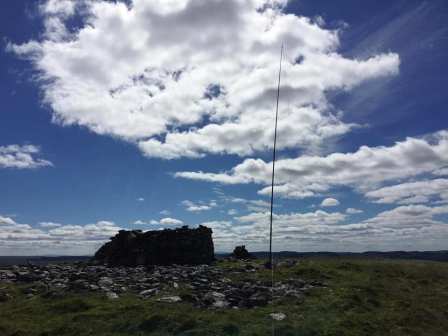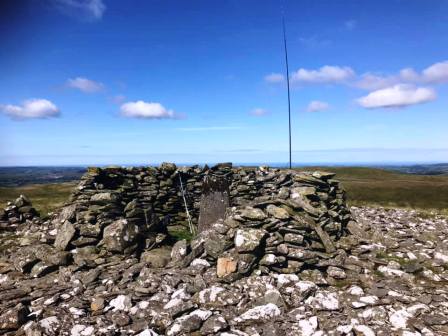 Although it was very comfortable, and a really lovely day, we did want to activate a second summit in the area before heading back home, so after sharing the flask of soup, we packed up and commenced our descent.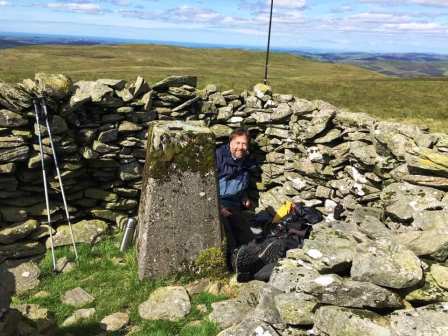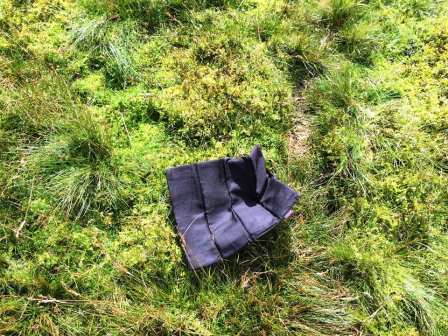 Two thirds of the way back to the car, Jimmy spotted my black foam seat mat that I had inadvertently dropped during the ascent. The other "entertainment" during the descent was provided by the large group of off-road scrambler bikers riding over the hill. The best bit of this was when one of them rode straight into a bog and got stuck, and the ensuing and lengthy struggle as they tried to wrestle the bike back out of the mud!
We now had a short drive over to Pen y Garn GW/MW-004.
| | | | | | |
| --- | --- | --- | --- | --- | --- |
| Time | Callsign | Band | Mode | S2S | Op |
| 10:45 | MW0OFA | 144MHz | FM | | MW0HGY/P |
| 10:46 | G1PHN | 144MHz | FM | | MW0HGY/P |
| 10:48 | GW3KCQ | 144MHz | FM | | MW0HGY/P |
| 10:55 | GW4VPX | 144MHz | FM | | MW1EYP/P, MW0HGY/P |
| 11:00 | MW3TMX/P | 144MHz | FM | GW/MW-035 | MW1EYP/P, MW0HGY/P |
| 11:13 | MW1CYR/P | 144MHz | FM | | MW0HGY/P |
| 11:19 | S54Z | 14MHz | FT4 | | MW1EYP/P |
| 11:20 | ON5GF | 14MHz | FT4 | | MW1EYP/P |
| 11:22 | S51A | 14MHz | FT4 | | MW1EYP/P |
| 11:24 | DL2KV | 14MHz | FT4 | | MW1EYP/P |
| 11:26 | S53X | 14MHz | FT4 | | MW1EYP/P |
| 11:27 | OE9KFV | 14MHz | FT4 | | MW1EYP/P |
| 11:28 | HB9DDZ | 14MHz | FT4 | | MW1EYP/P |
| 11:31 | DL7UM | 14MHz | FT4 | | MW1EYP/P |
| 11:43 | F5MDY | 14MHz | CW | | MW1EYP/P |
| 11:44 | EA2DT | 14MHz | CW | | MW1EYP/P |
| 11:44 | OK1FMJ | 14MHz | CW | | MW1EYP/P |
| 11:44 | OH3GZ | 14MHz | CW | | MW1EYP/P |
| 11:45 | HB9TWU | 14MHz | CW | | MW1EYP/P |
| 11:47 | EA2GM | 14MHz | CW | | MW1EYP/P |
| 11:48 | UF5A | 14MHz | CW | | MW1EYP/P |
| 11:48 | HB9DQL | 14MHz | CW | | MW1EYP/P |
| 11:51 | GW8OGI/P | 14MHz | CW | GW/NW-064 | MW1EYP/P |
| 11:52 | K4DY | 14MHz | CW | | MW1EYP/P |
| 11:54 | PA4O | 14MHz | CW | | MW1EYP/P |
| 11:55 | F5LKW | 14MHz | CW | | MW1EYP/P |
| 11:59 | SA4BLM | 14MHz | SSB | | MW1EYP/P |
| 12:00 | EA1DHB | 14MHz | SSB | | MW1EYP/P |
| 12:02 | LA5WNA | 14MHz | SSB | | MW1EYP/P |
| 12:04 | I1WKN | 14MHz | SSB | I/PM-163 | MW1EYP/P |