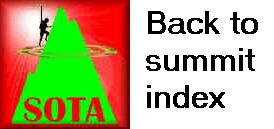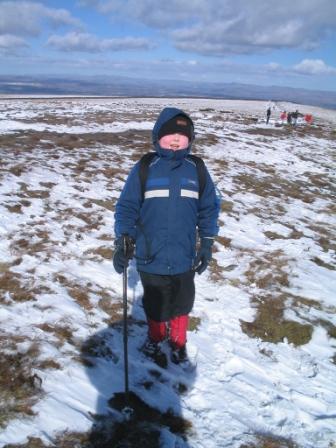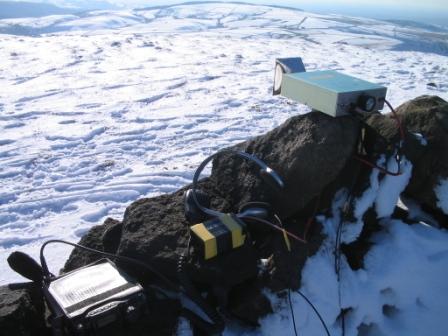 On Saturday, a further 10GHz experiment was combined with mine and Jimmy's activation of Shining Tor G/SP-004. This time, Richard took up a postion on The Cloud, and again, one-way contact was achieved and further adjustments were planned in order to get the communication flowing in the opposite direction as well! A kind of crossband duplex QSO ensued with me listening to Richard on 10GHz while I was talking to him on our 2m talkback frequency. Aside from the 10GHz stuff, which was ushered back into the rucksack as the biting icy wind blasted across the summit, Jimmy M3EYP and myself activated on 2m. This was also a sledging trip for Liam, so for him the fun started on the descent, where he was able to enjoy a series of Winter Olympic luge reruns. Many were sledging on every slope between Walker Barn and the Cat & Fiddle, so getting a parking place was difficult. We returned home via The Stanley Arms which was serving a fine pint of Marston Pedigree.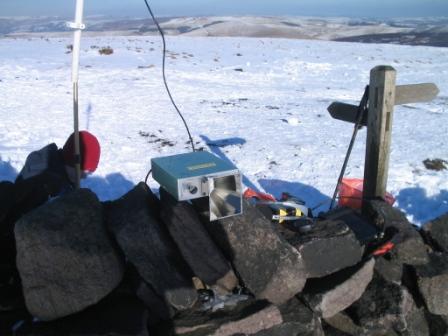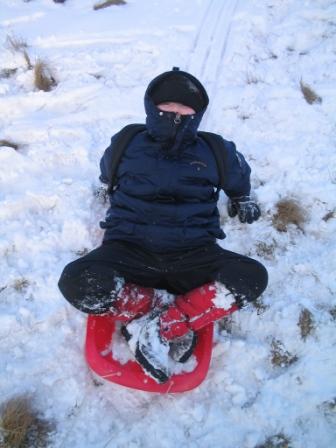 Thanks to the following stations, all worked on 2m FM with 2.5 watts:
| | | | |
| --- | --- | --- | --- |
| G3CWI/P | The Cloud SP-015 | Richard | T |
| G0AKF | Knutsford | Ken | J |
| 2E0BDF/P | Blackpool | Colin | J |
| M1DDD/P | Oliver Hill | Nick | J |
| G7ANV/M | Snake Pass | Steve | J |
| G0OXV | Ormskirk | Keith | T |
| GW7AAV | Connah's Quay | Steve | T |
| M3LHI | Brierfield | Zo | T |
| M3LVY | Middlewich | Andy | T |
| G0MMP | Prescott | Don | T |
| G4ZRP | Wirral | | T |
| G4JZF | Walsall | Graham | T |
| G0NES | Wythall | Don | T |
| M0COP | Church Stretton | Pete | T |
On Saturday 3rd June 2006, Marianne announced that she wanted to walk up Shining Tor with a picnic and a kite. Who was I to refuse? Great opportunity for some HF play I thought.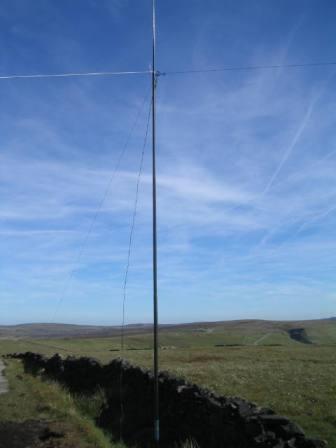 I made one contact on 2m FM on the VX-7R, and then concentrated on the FT-817 connected to 40m dipole. My own calls produced nothing, and Jimmy had left his mobile in the car, so SPOTlite was unavailable. So I joined the queue for GB4HAA, special event station for the Hampshire Air Ambulance, based at HMS Collingwood. I was acknowledged in a list compilation, and was about to take my turn when the antenna came down. I was about to rush it back up again when I realised that the problem was that one of the legs of the dipole had snapped off close to the feeder. So I wound it all back in and put it away, and made three more contacts on the handheld. Not that I needed them, having already activated G/SP-004 this year.
The kite was also bobbins, and appeared to have been strung incorrectly by Marianne, or possibly even have some parts missing, but we couldn't work it out. The picnic was nice though, especially when Marianne, to my surprise, produced two cans of Stella Artois from it and thrust one my way. Not my usual hilltop beverage, but who was I to refuse on this hot sunny afternoon (albeit very windy)?
Thanks to the following stations, worked on 2m FM with 2.5 watts:
| | | |
| --- | --- | --- |
| G8ALB | Birkenhead | Mal |
| 2E0GYO | Orton | Alan |
| G6KAR | Bolton | Brian |
| M0BIH | Stockport | Bob |
"I want to do the Southern Pennines" was the highly unanticipated remark from Liam as we all got up on the morning of Sunday 19th November 2006. Jimmy was already committed to a day's training activities with his ATC, while Marianne had a night-shift to sleep off. Surprised by Liam's comment, I asked him for more detail. "I want to walk up Shining Tor, Gun and The Cloud" he replied. Having not already thought of a suitable activity to fit between 10am and 4pm, and with the weather looking great, he got his wish. Shining Tor was tackled first, with the usual walk-in from just before the Cat & Fiddle pub. We reached the summit area which is now much less grubby with a large flagged area at the start of the path to Pym Chair which is also now flagged. I did not carry the FT-817 or SOTA Beam today. I have not been happy with the performance of the 2.3Ah battery recently, so I had completely run it down at home. I then connected the PSU for it to trickle charge, but having only done this the previous day, it was way off fully charged. I took my Yaesu VX-7R and Jimmy's Yaesu VX-110 out with me.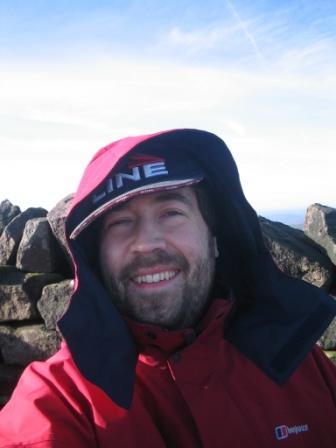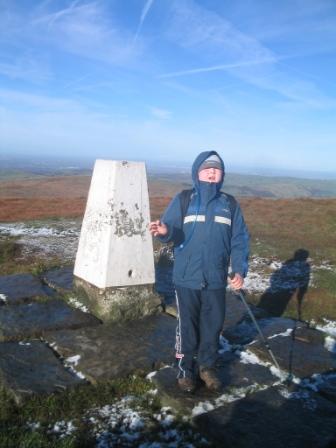 Despite handheld only operation, plenty of contacts were made from G/SP-004, although just the one on 70cms. The wind was cold, but sheltered behind the wall in the sunshine made it rather pleasant, and the views out across the Cheshire Plain were stunning. We enjoyed our first rations of the Spicy Chorizo Sausage & Tomato soup from the flask. After packing up, we returned to the car and set off for Gun G/SP-015. Many thanks to the following stations, all worked on 2m FM with 2.5 watts, except the first which was on 70cm:
| | | |
| --- | --- | --- |
| 2E0EDX | Blackpool | Ian |
| 2E0GYO | Orton | Alan |
| MW0IDX/P | Cyrn-y-Brain NW-043 | Roger |
| G1NVY | Prescott | Ken |
| M5JAO | Leek | Jim |
| G4HZW | Knutsford | Tony |
| G4ZRP | Wirral | Brian |
| M0SGB | Bury | Steve |
| G3ZUG | Handforth | Chris |
| M3XMC | Wigan | Mike |
| G8HXE/P | Gun SP-013 | Keith |