Slievekirk, GI/SM-018 - 370m ASL - C 451 082 - OSNI Discoverer 7 - 1 SOTA point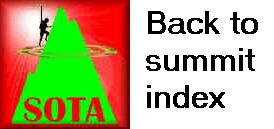 We actually arrived at our fourth and final summit of Thursday 6th August 2015, with potential time remaining to still add the originally planned fifth summit on afterwards. I asked Jimmy M0HGY how much additional driving would be involved. It turned out it would be rather a lot, so I decided it would be better to play safe, get back to the holiday cottage in good time, and go out for a nice evening meal with Marianne and Liam.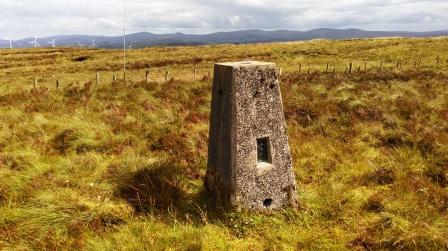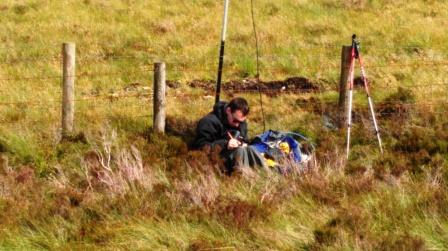 From Gortmonly Hill GI/SM-024, Jimmy directed me through mainly minor country lanes to the large works entrance by the road junction at C449089. This access road was blocked with a large barrier, and signs said that walkers' access was "at own risk". Those terms were acceptable to use, and we set off up the very wide and meandering stone/gravel track. As the road levelled off on the ridge, Jimmy pointed the way for us to cut across some boggy ground and up to a barbed wire fence which needed striding across at its lowest point.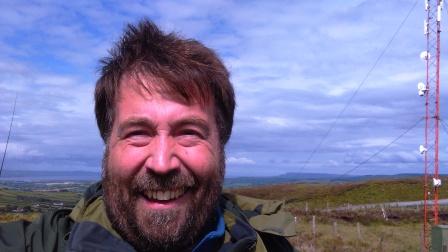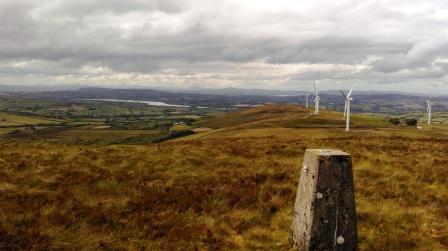 Jimmy got his customary one 2m FM QSO as this pattern continued. Sadly, I couldn't raise anything on 10m or 6m, with both bands seeming very very closed! It was finally time to deploy the "last resort" tactic, and Jimmy was despatched for a "bonus walk" with my VX7R tribander handheld. Jimmy would need to descend below 345m to remove himself from the AZ, but he continued to the hairpin bend of the access track at 310m ASL to be certain. I worked him on 6m FM - getting him a chaser point and hence a SOTA Complete for his efforts - and then he began to make his way back to the summit.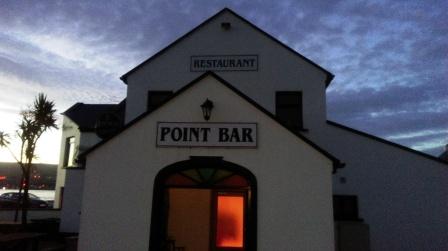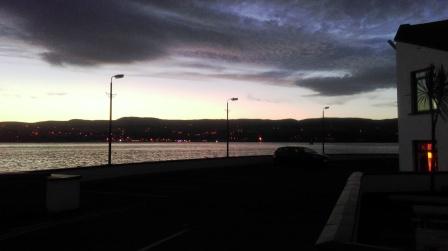 By the time Jimmy had returned, I had made several QSOs on 40m SSB and qualified the summit. I gave Jimmy my station to carry on the work on 7MHz, while I went across to dismantle his station to save a bit of overall time. We descended, made the final confirmed decision to head back to the cottage rather than a fifth summit, and got on the road. It turned out Marianne and Liam had been on the train for a day out in Portrush, and we were back at Bellarena station just in time to save them the walk back to Ballymultimber. We all went out for dinner again at the Point Bar, Magilligan Point. I thoroughly enjoyed my seafood chowder, and the house speciality - tobacco onions. The Guinness was enjoyed too!
Next to the pub was a Martello Tower, and opposite was Greencastle in County Donegal which sounded a lively and appealing place to visit. A ferry crossing was available from Magilligan Point to Greencastle, but we didn't get round to fitting a visit in on this holiday. Jimmy and I plotted another early start the following morning, and two summits - Benbradagh GI/SM-009 and Donald's Hill GI/SM-013.
| | | | | |
| --- | --- | --- | --- | --- |
| Time | Call | Band | Mode | Op |
| 14:31z | MI0GDO | 144MHz | FM | J |
| 14:56z | MI0HGY/M | 50MHz | FM | T |
| 14:57z | 2I0EYP/M | 50MHz | FM | T |
| 14:57z | MI3EYP/M | 50MHz | FM | T |
| 15:04z | G0FEX | 7MHz | SSB | T |
| 15:05z | G4AFI | 7MHz | SSB | T |
| 15:06z | G4WSB | 7MHz | SSB | T |
| 15:07z | ON5SWA | 7MHz | SSB | T |
| 15:08z | G7AFM | 7MHz | SSB | T |
| 15:09z | G0VWP | 7MHz | SSB | J |
| 15:10z | EA2CKX | 7MHz | SSB | J |
| 15:12z | G0HRT | 7MHz | SSB | J |