Stony Cove Pike, G/LD-018 - 763m ASL - NY 417 100 - OS Explorer OL7 / OL5 - 6 SOTA points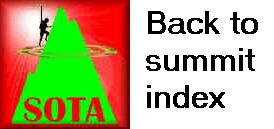 This is as good as SOTA gets. Finishing one activation, then walking to the next one without using transport or meeting a road. Even more satisfying, when the remote walking route is quicker than any alternative! From High Street G/LD-011, our earlier summit on Tuesday 22nd July 2008, we walked along the ridge in poor visibility until we reached Thornthwaite Beacon, a very high stone cairn. This then demanded a steep and taxing descent down to Threshthwaite Mouth, where I decreed it was lunchtime. Jimmy and I rested for ten minutes, munching on Ginsters Pepper Steak Slices.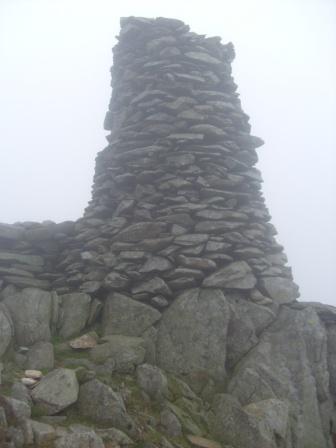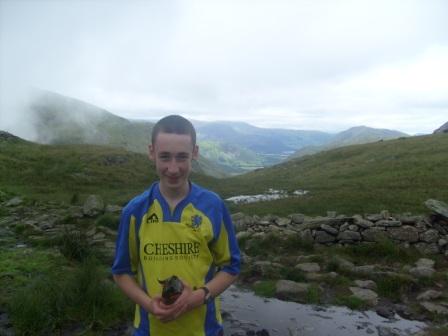 Trail magazine describe the next section as "a funky little scramble" onto Stony Cove Pike. If it was a scramble, it was very very mild. A few hands-down and pull-ups on some rocky steps, but not really a scramble - not in the eyes of a purist like G3WGV in any case! We reached the large cairn, but couldn't remember if this was the true summit or not. It was November 2003 that we were last here - a third of a lifetime ago for Jimmy! The OS Explorer OL5 1:25000 sheet seemed to indicate that the highest point was in the adjacent field. We pottered around for a bit, but from everywhere we tried, the cairn looked higher. Hence we decided that it was the summit after all, and got cracking with our second activation of the trip.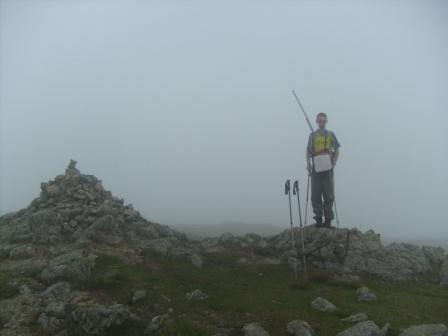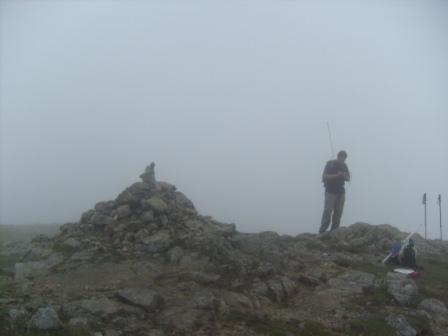 This time there were eleven callers. Just as I was about to switch off at 1536z, a voice was heard. It was Gary M3WFV in Southport. He just caught me in time and I worked him, and he was tail-ended by Dave G6LKB in Ulverston. This time I double-checked that there was no-one left to work, and we set off for Kirkstone Pass. It was nearly 5pm local, so we had made decent time, although I figured we would have to step up the pace tomorrow. We were now on a route that was familiar, although it was five years ago and in much better visibility last time. Although the cloudbase had been at 700m on the ascent to High Street G/LD-011, we were in the clag all the way down.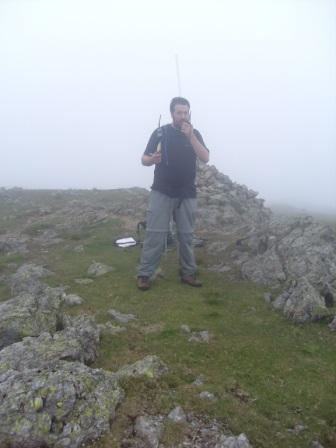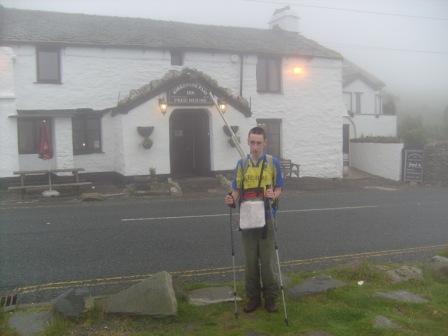 We met the A592, but could not see the pub. In fact we were only yards from it, a single meagre light over its front door twinkling dimly in the fog. We went in, checked in, and were looked after superbly by the owners and their attentive staff. After a shower and change in our comfortable en suite room, listening to BBC Radio Cumbria on the clock radio, we descended back to the bar. For dinner, it had to be the Steak & Ale pie, as that's what the writers of the Trail article had when they piloted the route! There were three very fine hand-pulled real ales on the bar, one of which was called "Red Screes". It was a very enjoyable evening, and we were joined in the bar by Stan, the landlord's British Bulldog, whose favourite pastimes were drinking water and lying down!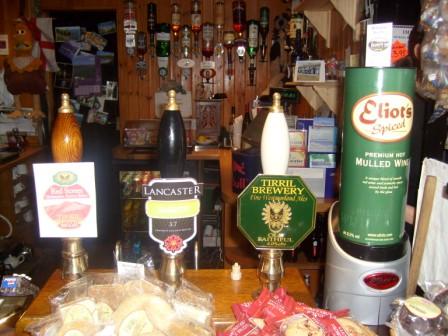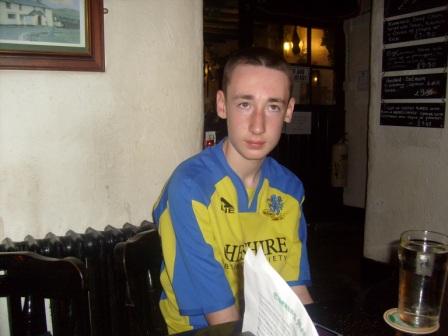 We went up to the room at about 9.30pm, with two DVDs offered to us by the bar staff. One was the Everest episode of Michael Palin's series, while the other was the Kirkstone Pass Inn episode of the Discovery Channel's "Haunted" series. Would it freak M3EYP out before bed? "What a load of old rubbish" he announced, before going to sleep. Many thanks to the following stations, all worked on 2m FM with 2.5 watts:
| | | | |
| --- | --- | --- | --- |
| G4BLH | Brierfield | Mike | T, J |
| G1OHH | Lancaster | Sue | T |
| GW0DSP | Connahs Quay | Mike | T |
| G0TDM | Penrith | John | T, J |
| G4WHA | Penrith | Geoff | J |
| G4RQJ | Walney Island | Rob | J |
| M3WFV | Southport | Gary | T |
| G6LKB | Ulverston | Dave | T |