High Street, G/LD-011 - 828m ASL - NY 440 110 - OS Explorer OL5 - 8 SOTA points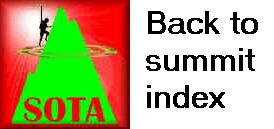 This was Liam's last year at primary school. Now what has that got to do with the price of cheese? Well, it meant it would be the last year that Jimmy and I would break up for summer a week earlier than Liam. It was our last chance to use this as an excuse to clear off to some 'proper' mountains and do some 'proper' hiking. And Marianne kindly agreed. Already, Jimmy was demanding that Stony Cove Pike G/LD-018, Scafell Pike G/LD-001 and Gummer's How G/LD-050 were inserted into the schedule. Why? Because I'd activated them and he hadn't. With those, his LD unique record would catch up with mine.

I rarely read Trail magazine, but it is a good read, so I tend to pick one up at the airport when we go on holiday, so I do get to read it once every two years or so! The last such occasion was February half-term when we went to Fuerteventura, and I bought the March issue of Trail from the WHS in the departure lounge area of Manchester Airport.

"Look at this" I called to Jimmy in the first half-hour of the flight. There was a featured route in Trail. It was a three day circuit starting at Haweswater, and taking in five SOTA summits - High Street G/LD-011, Stony Cove Pike G/LD-018, Red Screes G/LD-017, Fairfield G/LD-007 and St Sunday Crag G/LD-010. I initially thought it was six, because the third day, beginning with a ride on the Ullswater Steamer from Patterdale to Howtown, then passed over "High Raise" en route back towards High Street. However, this was not the SOTA High Raise as Jimmy pointed out. Nonetheless, I still figured we could reasonably bag Hallin Fell G/LD-043 near to Howtown to avoid a SOTA-less day.

I discussed the route with G/LD region manager John G3WGV, who seemed to think that the walk from Howtown to Haweswater was a "darned long way"! He suggested to me an alternative route direct from Patterdale, which gave the option to 'nip up' and activate Place Fell G/LD-027 early on that day. Hence the plot was hatched, and up went the alerts for those first three days. 2m FM it would be; no way was I carting the FT-817 and SLAB around with me - this looked a serious proposition.

The fourth day had to be Scafell Pike G/LD-001; we were supposed to be doing it last year on a long route from Honister Hause, but we were magnetised to the pair of Great Gable G/LD-005 and Kirk Fell G/LD-014 instead!

That left the fifth day to allocated. The closing summit of the trip had to be Gummer's How G/LD-050 - an easy 'wind-down' summit, and the last of Jimmy's "catch-ups". I quite fancied doing Loughrigg Fell G/LD-047 ahead of that, as it is the one and only SOTA summit left that I have climbed in my life, but not since I started participating in SOTA. Nearer to the time, we also added in Great Mell Fell G/LD-035 as an early morning plan. This one needed to be "sorted". We had activated it before - but only got one contact each on there due to static rain!

The pass-outs were not stamped and signed by Marianne until Monday 21st July 2008, but as soon as they were, I was on the blower. The first night away absolutely had to be at the Kirkstone Pass Inn. Fortunately, they had a room, which I booked. Patterdale Youth Hostel was full - booked out by a private group - for the second night, so I looked up some B&Bs. The first one I rang was the Old Water View, and we booked in there. For the other nights, I was just going to ring around the youth hostels at teatime each day. Excellent, the plan was coming together. We prepared our gear and rucksacks on the Monday evening, and eagerly anticipated Tuesday morning.
We didn't get up too early on the Tuesday morning. We weren't taking soup, so there wasn't that little job to do, but we were taking Liam - to school - that was part of the deal with Marianne. I wanted to be up there a bit earlier than that, so I booked Liam into the before-school breakfast club, which meant I could drop him off at 7.30am!

Jimmy wasn't ready for his breakfast as we passed Lymm Truck Stop, so we headed onto the M6 and aimed for the Westmorland Farm Shops (Tebay) services much further north. Here we enjoyed a bumper breakfast of sausage, bacon, eggs, beans, mushrooms, tomatoes, hash browns, black pudding, haggis, toast and tea. We exited the motorway at the next junction, and Jimmy called out the directions to Haweswater. We arrived at the remote cul-de-sac at around 10.45am, and baggsed the last slot in the car park. Soon, we were walking by Haweswater, with slightly heavier rucksacks, necessarily containing spare socks, shorts and shirts - we wouldn't be reunited with our car or suitcases for 54 hours!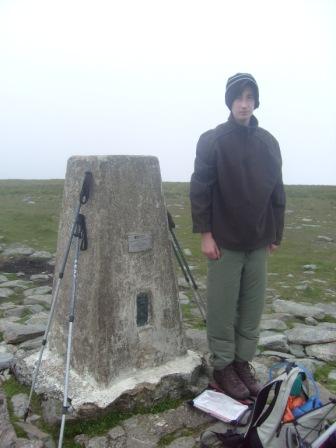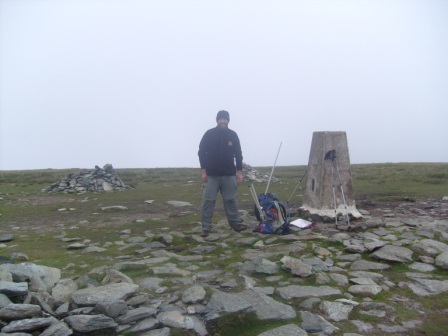 Several groups of people were looking upwards at Swine Crag, where England's last golden eagle was gliding around. We got a better view as we ascended the ridge towards Racecourse Hill. This was a good ridge with great views back over Haweswater. It became increasingly narrow and steep, but never exposed. Soon the fell opened out, and I was about to do some compass work as recommended by Julia Bradbury herself. we were now in cloud, the cloudbase being at around 700m, but the trig point was near, and we could see it easily.

On-air we went with Jimmy's Yaesu VX-110 and the RSS, making 8 contacts in 3 DXCCs. Everything went quiet, there were no other callers, so we packed up and continued along the ridge towards Thornthwaite Beacon and onto Stony Cove Pike G/LD-018. Many thanks to the following stations, all worked on 2m FM with 0.5 watts:
| | | | |
| --- | --- | --- | --- |
| GW0DSP | Connahs Quay | Mike | J |
| G4BLH | Brierfield | Mike | J, T |
| G4WHA/M | Penrith | Geoff | T |
| G1HIB | Lancaster | Mike | T |
| G0TDM/M | Penrith | John | J, T |
| GM4FUI/M | Claygate | Martin | J |