Winter - the hill, or the season? Both.
Wednesday 3rd April 2019 - Winter Hill G/SP-010
Recording session: Joe Longthorne band
Venue: The Music Factory UK studios, Blackpool
Well, it was work that involved me having a bass guitar hung from my left shoulder, and quite a few miles of driving, so just about justified the "SOTA on Tour" treatment. With the studio session due to commence at noon BST, I was thinking about giving the monster 30m GP antenna an outing ahead of the Big Day on Saturday. I had some final modifications to make to it, and had all the components with me - and enough time - or so I thought. That was before a large lorry shed its large load all over the anticlockwise carriageway of the M60 between the Trafford Centre and the M61 interchange, causing significant delays.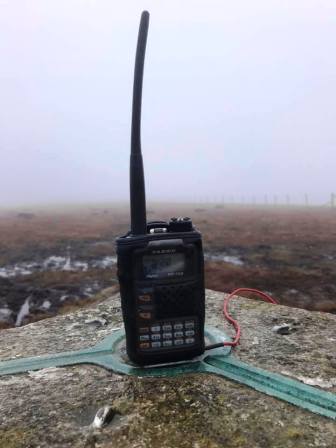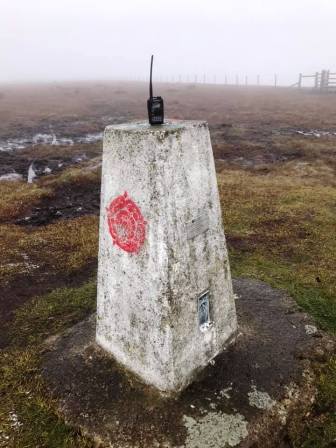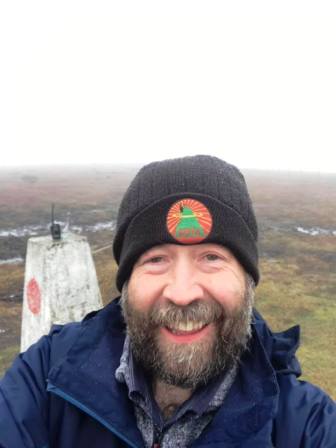 I still had time for an activation, but the time window had shrunk from large groundplane antenna modifying size, to 2m FM handheld rubber duck size. Still, as I often console myself with, this may be considered the very purest form of SOTA, and part of John G3WGV's original inspiration for the scheme! It was a cold and very foggy morning on Winter Hill G/SP-010 summit. From the trig point, you couldn't even see the most nearby masts, and there was no visual evidence whatsoever of the huge main mast, that normally dominates the eastern horizon from most of the North West of England!
Snow was falling throughout the activation. Winter-the-season was still lurking around in early April on Winter-the-Hill. I self-spotted for 144.6125MHz C4FM (Fusion), and while walking to the trig point, I heard a chaser call me asking if I was there! This was Roy G0SLR in Warrington, and was my one and only contact on the digital voice mode. Three more were added on "normal" (analogue) 2m FM before I completed my commute to Blackpool.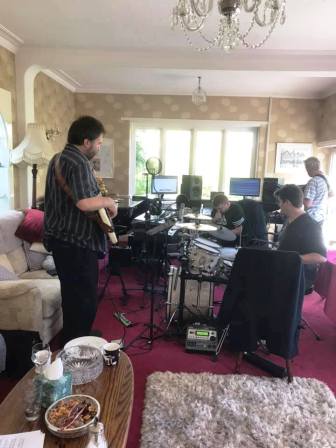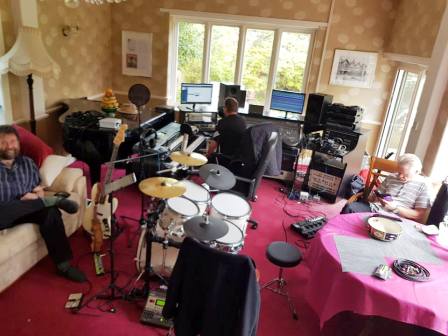 The band caught up with each other having last met up for the Hull gig back in early January. "Have you been up a mountain?" was the predictable question when I arrived of course! We laid down the tracks for three more songs for the upcoming album, and were done by 5pm. I briefly considered bagging another activation before heading home - but I couldn't be bothered. Shame on me.
| | | | |
| --- | --- | --- | --- |
| Time | Call | Band | Mode |
| 09:43z | G0SLR | 144MHz | FM |
| 09:45z | G3SAO | 144MHz | FM |
| 09:47z | G0KZH | 144MHz | FM |
| 09:49z | M0NZO | 144MHz | FM |
Saturday 25th May 2019 - The Cloud G/SP-015, Gun G/SP-013 & Winter Hill G/SP-010
Gig: Liam Read Band @ Swanload Festival
Venue: Swan With Two Necks, Macclesfield
Gig: Simon Faulkner Band
Venue: Rivington Hall, Bolton
Next, it was a swift pack down, load in the car, drop my mum home (she had been to see her grandson perform) and get on the road to Bolton. I had a wedding gig with the Simon Faulkner Band, so this had the usual fayre of Killers, Kaiser Chiefs, Pharrell Williams, Justin Timberlake etc. A very nice carvery supper too - so this was a good gig! Of course Rivington Hall is in the shadow of Rivington Pike. Well not at that time of day, but you get my drift. Rivington Pike is on Winter Hill G/SP-010, although a fair distance away from the actual summit.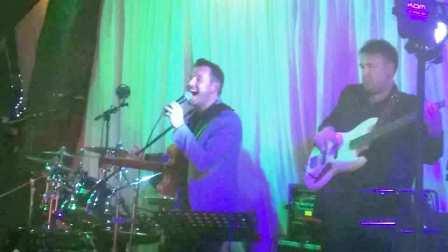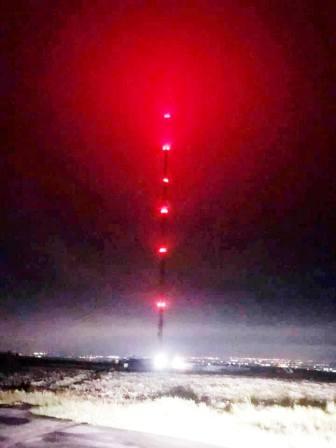 Liam had accompanied me on this gig, and shortly after midnight, we were packed down and loaded up. I fancied a cross midnight UTC "double bubble" (for the chasers, not for me) activation, and Liam was up for a little adventure too. I used the service road for most of the distance to the summit, meaning only a trivially short walk remained for the "final ascent".
It was 2352z by the time I was in position with my handheld switched on, so I needed to get a QSO quickly in order to be able to record an activation for the current UTC day. Unnervingly, there was no response to several CQ calls on S20. I found a QSO down on S10, and invited myself in. This resulted in a QSO and a big sigh of relief! When I called again on S20, this time I was answered, so like Gun G/SP-013 earlier, it was a two QSO activation!
| | | | |
| --- | --- | --- | --- |
| Time | Call | Band | Mode |
| 23:56z | 2E1FJP | 144MHz | FM |
| 23:59z | 2E0TLD | 144MHz | FM |
Sunday 26th May 2019 - Winter Hill G/SP-010 & Shining Tor G/SP-004
Gig: Joe Longthorne
Venue: Norton House Country Club, Sheffield
So, cross midnight UTC (1am BST), and time for a new activation of Winter Hill! 2E0TLD was the only station to benefit from "double bubble" by working me in both activations. A few more stations materialised on air though, and this time four QSOs resulted. I walked back down to where Liam was waiting in the car, and we set off home. Not long after a night's sleep, I was on the road again, this time to Sheffield, via, of course, Shining Tor G/SP-004.
| | | | |
| --- | --- | --- | --- |
| Time | Call | Band | Mode |
| 00:00z | 2E0TLD | 144MHz | FM |
| 00:05z | 2E0LDG | 144MHz | FM |
| 00:07z | G7GQF | 144MHz | FM |
| 00:08z | 2W0JYN | 144MHz | FM |