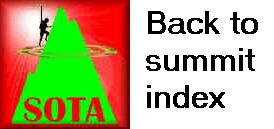 Friday 17th February 2012 - Day 3 (continued)
After driving down to Buttington Bridge for a few photos, Liam advised that Llanymynech was the next port of call. However, a late afternoon activation called!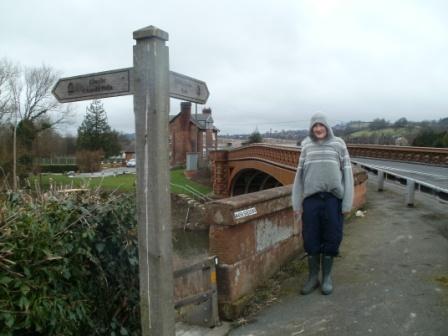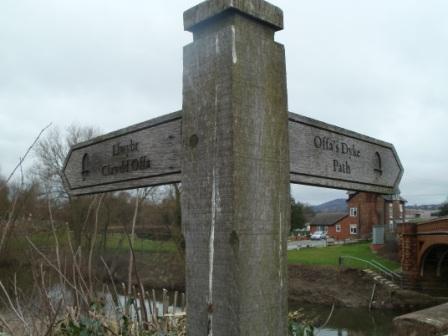 We drove down the A458 alongside the Welshpool and Llanfair Light Railway before turning right up the hill to Welshpool Golf Club, the home of Y Golfa GW/NW-061. I parked in the car park and went to speak to the head greenkeeper. This was to ask for permission to park while we went for a walk to the summit, and to ask where the summit was, because I had no map, no Jimmy and no idea! And I'm glad I did because we were sent off in more or less the opposite direction to what I had felt it might be!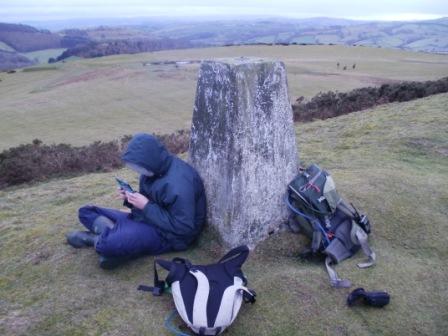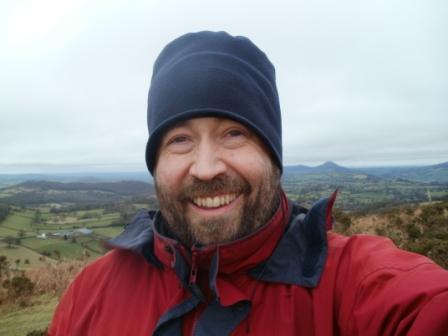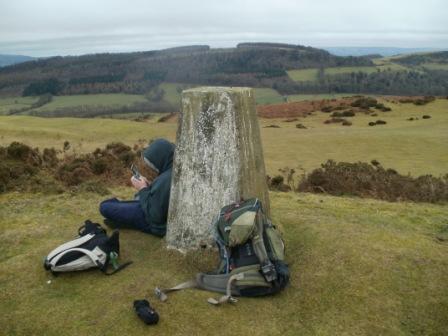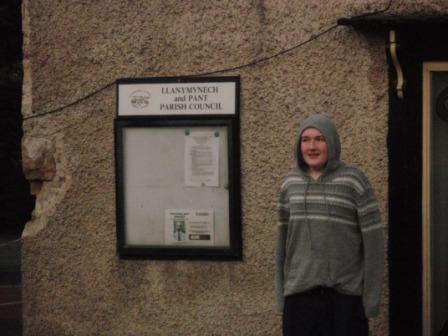 This was a longer walk to how I remembered it, yet still only a short walk. In contrast to Bradnor Hill G/WB-011 the previous afternoon, the course was quite busy with plenty of golfers out braving the cold and wind on this particularly exposed golf course. Liam baggsed himself the trig point as a backrest and shelter, so I huddled in beside him as best I could after erecting the dipole. 41 QSOs were made on 40m CW, and again there were no replies to my call on 2m FM. After descent, two more "official" Offa's Dyke Path stopping points were visited, in Llanymynech and Chirk Mill. In between, we also took a drive up to Chirk Castle for a look at that in the dusk.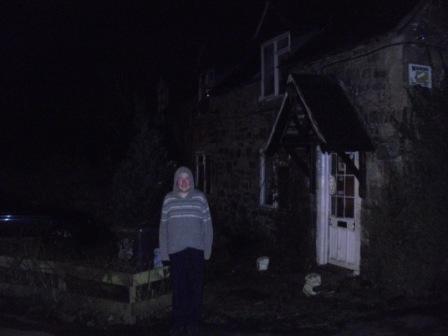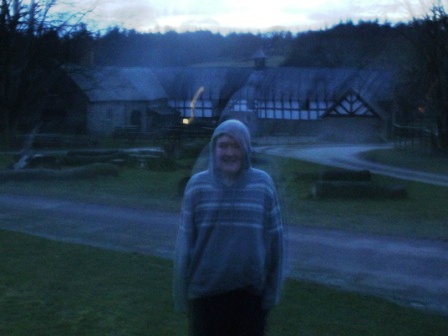 With darkness fallen, we decided to call it a day and drove into Chirk itself to seek out accommodation. We found a pub called The Stanton House Inn and after enquiring, were offered a twin room for £25, not including breakfast. Seemed OK, and we didn't fancy shopping around, so we took it. Oh dear. It was awful. The room was very basic and not particularly comfortable. Dirty cups and cutlery had been left behind in there. It was not en suite, with a shared bathroom situated next door on the landing. This bathroom didn't have a working light in it! And to use the telly, you needed to ask for the remote control from the bar "because people keep nicking them".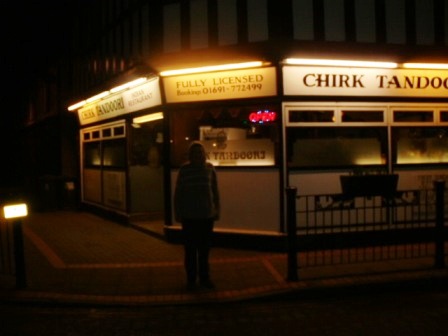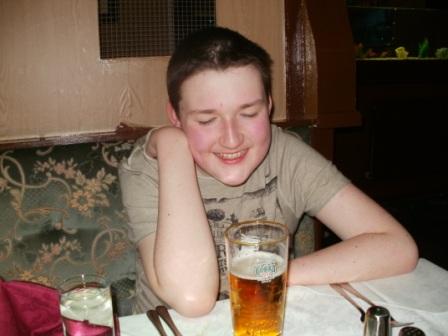 Liam and I walked a little way into Chirk village and got a table at the Chirk Tandoori for a very satisfying meal. As we returned to the pub, it was absolutely packed with noisy people. For some reason "Gavin and Stacey" came to mind. A band was setting up, but I didn't really fancy watching them amongst a very lively crowd. No worries though, we wouldn't miss anything. As Liam and I settled into our beds and turned out the lights, the band started up. The Statements were actually a pretty decent band, playing tight cover versions of both newer and classic rock, from Kaiser Chiefs, Razorlight amd Stereophonics, to Bad Company, Guns & Roses and Oasis. But my goodness, they were loud. I was reminded of Motorhead at the Manchester Apollo in 1984.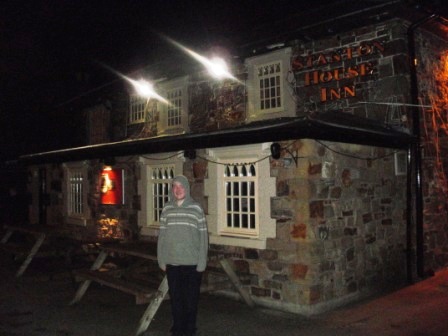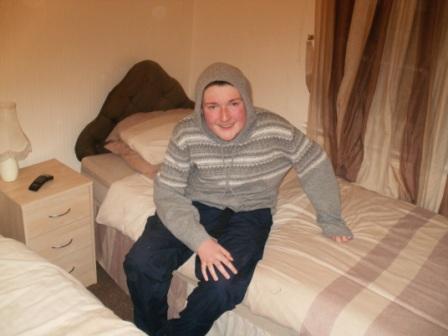 Remarkably, Liam was fast asleep a good 30 minutes before the band finished playing! When they did finished, the din continued with the shouting of the punters, which soon morphed into a series of furious marital disputes and waging of vulgar insults. It sounded like friends of the couples, rather than acting as intermediaries and counsellors, were waging in with vehemently stated opinions of their own. We may have been on the Welsh side of the border, but the majority of the language was definitely Anglo-Saxon.

Eventually, I got to sleep. Thank goodness for tiredness! The following stations were worked in the activation:
| | | |
| --- | --- | --- |
| DL6UNF | 40m | CW |
| DL4FCK | 40m | CW |
| SP7DRV | 40m | CW |
| HA7UG | 40m | CW |
| DL1FU | 40m | CW |
| OK1DVM | 40m | CW |
| IK3GER | 40m | CW |
| OE8SPW | 40m | CW |
| HA5TI | 40m | CW |
| G4ZIB | 40m | CW |
| G4OOE | 40m | CW |
| OM7DX | 40m | CW |
| G4SSH | 40m | CW |
| F5SQA | 40m | CW |
| OK1HCG | 40m | CW |
| F5UBH | 40m | CW |
| G0NUP | 40m | CW |
| S51ZG | 40m | CW |
| DL6CGX | 40m | CW |
| F8FSN | 40m | CW |
| PA0ATG | 40m | CW |
| G0TDM | 40m | CW |
| OK1AXB | 40m | CW |
| GI4SRQ | 40m | CW |
| S58AL | 40m | CW |
| PA0FAW | 40m | CW |
| F8FSN | 40m | CW |
| PA0SKP | 40m | CW |
| G3RDQ | 40m | CW |
| G3CWI | 40m | CW |
| I2CZQ | 40m | CW |
| G0BPU | 40m | CW |
| PA0WDG | 40m | CW |
| DF5WA | 40m | CW |
| LA1ENA | 40m | CW |
| G4OBK | 40m | CW |
| DL3JPN | 40m | CW |
| DK2GZ | 40m | CW |
| MW0TUB | 40m | CW |
| G3TJE | 40m | CW |
| G4FGJ | 40m | CW |