Yr Aran, GW/NW-019 - 747m ASL - SH 604 515 - OS Explorer OL17 - 6 SOTA points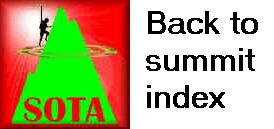 The nerves were beginning to kick in again. I had never done Snowdon's South Ridge before, but had often looked up at its terrifying high sheer cliffs from the Cwm Llan area below. I had pored over the OS 1:25000 map at the narrowest point of the ridge and read route guides on the internet with quotes like "the ridge narrows to an arete". Could I get past it, or would I suffer an RQJ moment?

At the top of the ridge, we met a group from the Kinmel Bay Outdoor Pursuits Club, who were following a similar circular route to ourselves, although they were not intending climbing to Yr Aran's summit. Already I felt safer, and for the most part the path was wide, firm and flat, with the sides dropping off steeply to the left and right, but nothing too terrifying. There was just one point were the ridge narrowed to the width of the path - about a metre - but it was only two metres long. Head down, eyes down and forwards, quickly! That was it, problem overcome just as quickly as it arrived. It was probably a good thing that the visibility was so poor with only the clag a few metres below the ridge visible, and not the land 400m below! Most of the Bwlch Main/Clogwyn Du path down the ridge was good easy walking, although there were one or two short sections requiring steep scrambling or careful footwork.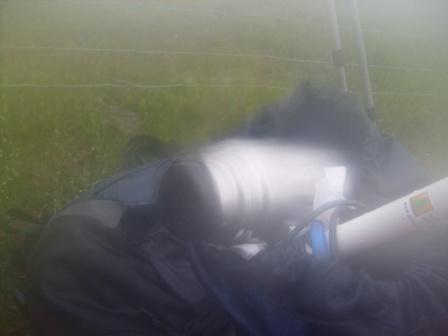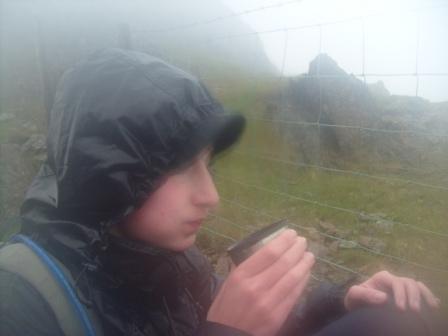 Tired, and yearning shelter, we took advantage of a short section of north-south running wall by a ladder stile SH605529. We hid behind it, and served up the day's second helpings of Minestrone soup. It was disappointing that what should have been a spectacular view was replaced by a blanket of opaque grey. "Are you alright?" came the call from one of the Kinmel Bay Outdoor Pursuits Club as they caught us up. "Yes" I shouted back, with a thumbs up, and Jimmy and I scrabbled our own stuff back together and got on our own way again.

We were soon well ahead of the Kinmel Bay cohort, who were even slower than me, and soon Jimmy was pulling well ahead of me, sensing the proximity of the saddle with Yr Aran. I suddenly noticed that my Yaesu VX-7R was missing from its belt clip where it normally sits on my rucksack strap. I checked my coat pockets - nothing. I caught up with Jimmy, who checked the mapcase - nothing. It was obvious that it must have fallen off where we sheltered behind the wall. I was gutted. However, it would have cost a further hour to retreat to that point and back again, and that would neither be feasible nor sensible. With regret, I took the decision that we wouldn't be turning back to look for it, and that we would be continuing forwards with our expedition as planned. However, I thought it would be a good idea to wait for the Kinmel Bay gang to catch us up once again. If I had dropped it on the path, they would surely pick it up knowing it was mine, having asked us all about the radio gear at the top of the ridge. They did catch us up, but they hadn't seen my radio. An enjoyable day was suddenly beginning to feel as miserable as the weather.

The rain had been persistent and largely horizontal for hours and hours. Our waterproofs had long since stopped having waterproof properties, and we were soaked to the skin, from head to toe. Our boots and socks were wet through, out trousers, pants, shirts and fleeces were soaked, as were our coats, hats and gloves. However, I noted with some slight consolation that I still felt warm and healthy. I asked Jimmy, and he said he too felt warm despite being wet. I suppose, at the end of the day, that "proper" walking clothes need to maintain their thermal properties even when wet. And we were wearing "proper" walking clothes.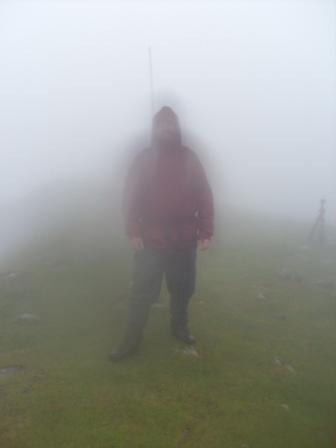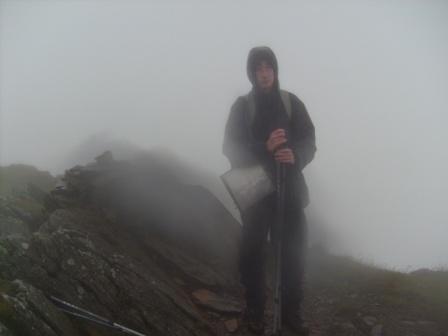 A lapse of concentration saw us veering off eastwards as the main path continued to lose height. However, Jimmy realised that we had gone too far and insisted we climb back up a steep grassy slope. I was tired and irritable, and started arguing with Jimmy about the route. I think he was tired and irritable as well, for he began to argue back heatedly. Eventually, we settled on the fact that the map and compass agreed with Jimmy's assessment of the situation, not mine, and so began a reluctant steep trudge upwards. Jimmy's personal victory in the navigation argument brought a rousing cheer and cries of "Power to the Young People" from the passing Kinmel Bay Outdoor Pursuits Club, who had been observing our altercation with amusement. Once we regained our relative privacy and isolation further up Yr Aran's lower flanks, Jimmy stepped towards me and offered an apology for his manner towards me. I offered my own in return for mine towards him, we shook hands and proceeded up to the saddle, which in fact we had not dropped too far below at all.

Now the fun began. This section is incredibly steep, and requires some significant scrambling, sometimes up as much of five feet of near vertical rock at a time. I was shattered and finding this very hard work. I couldn't work out how it was possible that I managed to do this ascent with Liam 4 years ago, when he was just 6 years old. Perhaps I had dreamt it all! We reached the junction where our descent route for later led off down the ridge, and here we turned right for the final push for the summit. I gave Roger MW0IDX a call and asked him to spot us as QRV on 2m FM in 20 minutes, which he kindly did. We rounded off onto the long broad summit area, and hunted around for the trig point, which we couldn't find last time, but which Roger assured us was there. Still we couldn't find it, so we took photos by the cairn on the highest rock outcrop and then tried to drop off in lee of the strong and uncomfortable wind somewhat.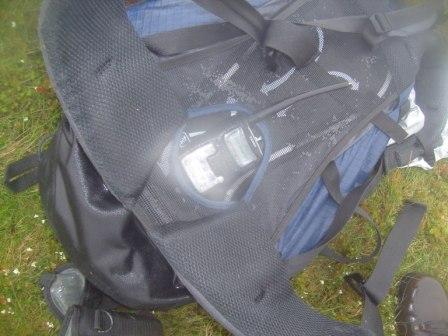 I dumped my rucksack off my back, and couldn't believe my eyes. There, in the gap in the netting that would rest against the small of my back, was my VX-7R. Just lodged in there, and somehow transported without dropping out for the last hour and a half or so. I let out a roar of laughter, which was more relief than anything. Calls on 2m FM on the handheld - now with just rubber duck aerial what with me breaking the connector off the feeder for the RSS - brought in two stations quickly, which we both worked. Jimmy had a scary moment when the wind blew his rucksack, sending it rolling down the steep northern slope of Yr Aran. Fortunately, it came to a stop after around ten feet or so. Much further, and it would have rolled right off the hill! My continued calls fail to solicit any further activity, so we relocated further around the hill to try and find a new "horizon". 37 minutes of silence reigned, before I managed to break a local QSO on 145.525MHz for the other two contacts. Incoming reports were marginal, but were exchanged and confirmed. We stood up and redonned our packs, a full uncomfortable hour after arriving on summit, and a good 50 minutes longer than we had intended staying. Many thanks to the following stations, all worked on 2m FM with 5 watts:
| | | | |
| --- | --- | --- | --- |
| M3NVJ | Mossley Hill | Colin | T, J |
| GW6IMS | Penryndeudraeth | Pat | T, J |
| MW0DNQ | Amlwch | Dave | T, J |
| GW1VLW | Caernarfon | Chris | T, J |
We were now trying a new descent route, down the ridge by the wall towards the old mine workings. There were no paths, and in very low visability, it was tricky a somewhat unnerving to decide at which point we needed to swing left and attempt to descend to the Watkin Path. Jimmy was more confident than I, and led the way, plotting us safely down by some deep disused quarry workings. On some of the steeper sections, I found it easier to sit down in my "waterproof" overtrousers and slide down the wet grass, pushing myself along with my hands and poles! We passed an old mine entrance and an old ruined slate building. It all looked suddenly familiar. Jimmy, Liam and I had been up this way in our failed 2003 attempt on Yr Aran. If only I had known then how close we had got to the ridge! Soon, we were down to the disused tramway and then down to the Watkin Path by the Afon Cwm Llan. The first people we had seen since before 5pm came by, just taking a short evening stroll along the first part of the Watkin Path. It turned out they too were staying in Betws-y-coed, in the Swallow Falls Hotel, just next door to the Youth Hostel in which we were booked.

The last part of the descent was uncomfortable, for my left side was now in some pain from the exertions of the day. However, what with the heavy rain that had come down all day long, there was a huge volume of frothy white water crashing down the waterfalls adjacent to the path, and that certainly added some interest. Both Jimmy's and my own bladder packs were empty, so I produced my secret 500ml bottle of "emergency water" from the side pocket of my rucksack, and shared it with him. We reached the car just before 9pm, 14 hours after starting out on today's big expedition. We reached the Swallow Falls Hotel in Betws right on food last orders at 9.30pm. We placed ours for whitebait followed by Cumberland sausage and mash, and then skipped over to the Youth Hostel for a quick shower and change. Back in the bar, which was busy, we enjoyed our meal, and the pints of water and Conwy Ales that accompanied it. This hotel's reception also handles the bookings for the Youth Hostel, which is self-catering - but the hotel does meals, and also breakfasts in its Tavern Bar upstairs. The food and beer was good; I enjoyed it.