Snowdon, GW/NW-001 - 1085m ASL - SH 609 544 - OS Explorer OL17 - 10 SOTA points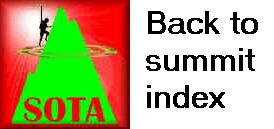 Thursday 11th August 2016 began with a very gloomy picture as we emerged from the Idwal Cottage Youth Hostel. Menacing grey skies and a drizzle that didn't seem like it was going to abate any time soon. Plans to go for an extensive walk on high ground seemed unwise until we had at least gained access to an up-to-date weather forecast. The one issued by the hostel was from the previous afternoon, and our morning observations didn't really stack up with it. There was no Wi-Fi at the hostel, and no mobile coverage either, so Jimmy had a great idea - to first take a drive out towards Capel Curig until we could receive the latest forecast on our phones. In fact the forecasts didn't tell us that much more, so we found ourselves driving back towards the youth hostel still undecided. At this time however, the rain intensified to some really horrid heavy stuff. My mind was made up - Snowdon - on the train!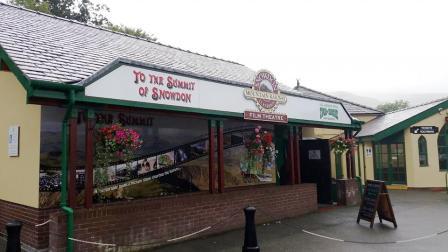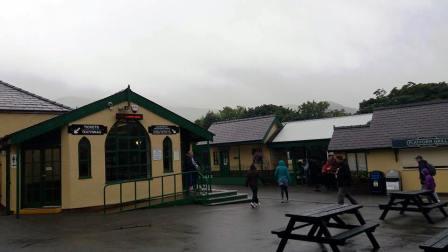 We drove down to Llanberis where we parked in the Snowdon Mountain Railway car park, which for the time we wanted, was cheaper than the main Llanberis car park. At the ticket office we were asked if we'd booked. Obviously we hadn't, and there was the customary shaking of head and sucking of lips from the staff member attending to us. "I can fit you on the 10 o'clock train" he told us after a short delay. Brilliant! We coughed up the substantial fees for the tickets, and went to the cafe for bacon butties and tea/coffee.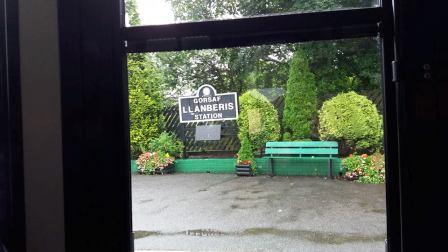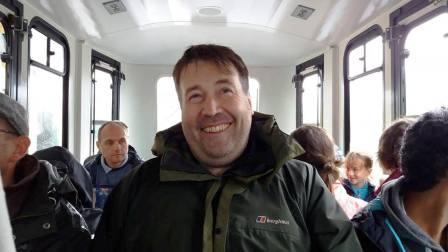 The train was now fully booked with these two late additions, and it was quite a squeeze in the carriage! The one hour journey up the mountain was quite enjoyable, in spite of the poor visibility cause by the mist and low cloud swirling around, and the rain lashing against the windows. It really was most unpleasant outside, and we congratulated ourselves on a fine decision to modify out plans for the day. Nonetheless, the Llanberis Path up Snowdon was busy with hardy walkers, "doing it the right way"!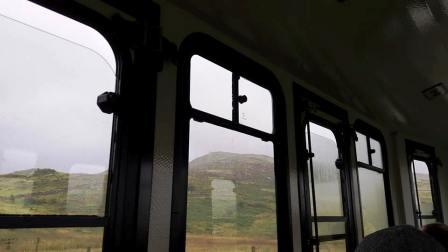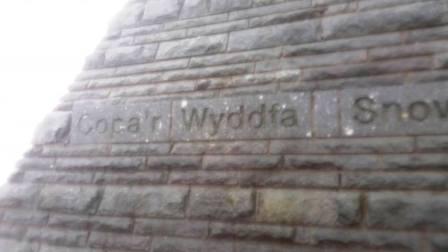 I was pleased to have the opportunity to visit Snowdon summit, as I had not yet been to see the new summit complex, even though it had now been open a few years. Having said that, all I really did was walk through it, as was now necessary to get from disembarking the train, to the summit. The rain had eased as the train had approached the summit station, but now it was back with a vengeance, and we had to accept getting a bit wet. At least it was only for a few minutes before we could be back indoors again.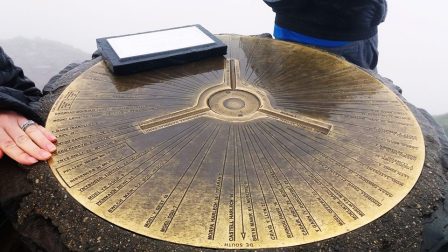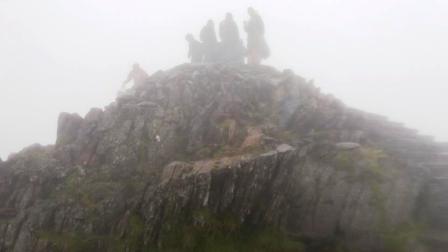 Snowdon summit was busy - whenever is it not? So after the customary summit photo, we dropped back to the side of the rocky mound that tends to be slightly quieter. I let Jimmy go first with his activating, and he qualified quickly. He wanted to pass over to me but we were OK for time, so I told him to carry on. After 7 QSOs though, he had a gap, so I took over at that point. Jimmy excused himself and left me alone - it turned out he'd gone straight back into the summit building and ordered himself a pot of tea!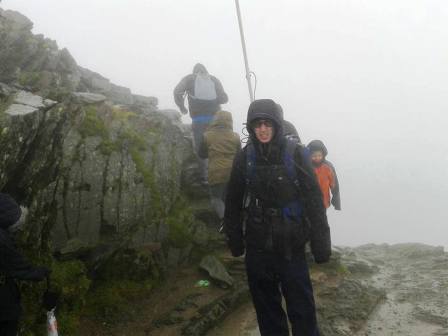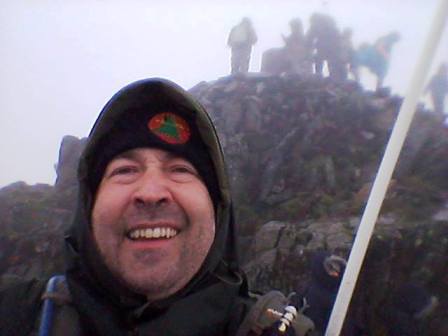 Contacts came thick and fast for me, and 18 callers went into my logbook. They needed to come quickly of course, as summit time is strictly limited to 30 minutes for the Snowdon Mountain Railway passengers. As it was, Jimmy and I made no less than 25 amateur radio QSOs between us, in just 11 minutes of operating. We were back on the train punctually for the descent journey.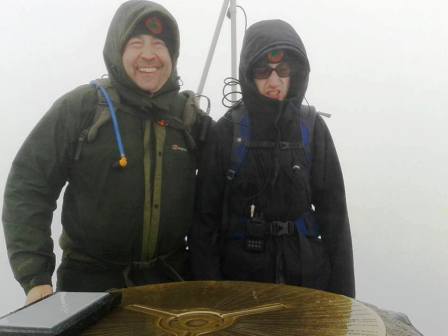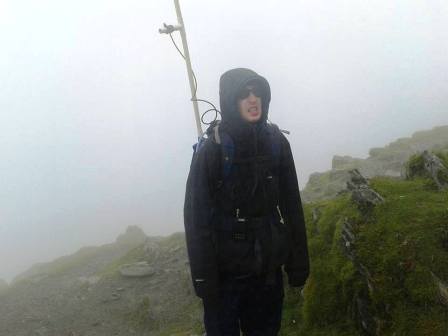 Thoughts began to turn to activities for the afternoon. For now though we held off making a decision as we were still watching the weather, which at this stage, was still behaving rather badly. The first thing we did at the Llanberis station was return to the cafe for a large Welsh "Oggy" pasty each and a bottle ale. I had a plan up my sleeve that would kill a few hours during the afternoon without risking getting caught in any further inclement weather.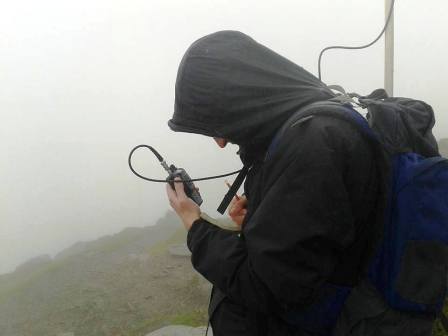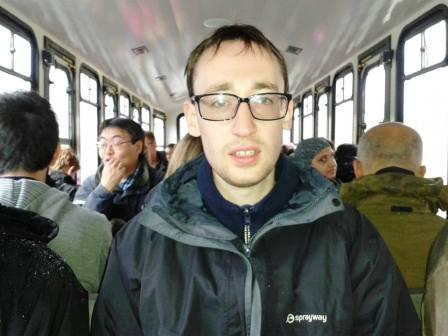 The decision was made to drive over to Anglesey, and head for Mynydd Bodafon GW/NW-071, which is only a five minute yomp from a nearby car park. It wasn't the day we had planned or intended, but it was still two SOTA activations and something a bit different to the norm. It was probably also a much-needed "rest day"!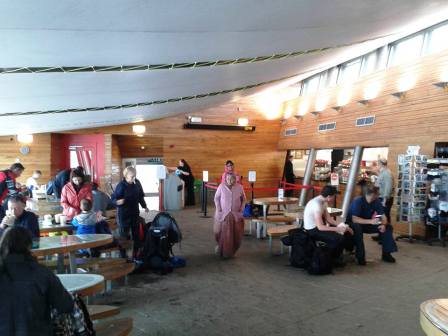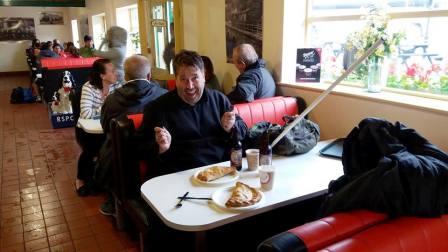 | | | | | |
| --- | --- | --- | --- | --- |
| Time | Call | Band | Mode | Op |
| 10:11z | EI9GLB | 144MHz | FM | MW0HGY/P |
| 10:13z | GW4VPX | 144MHz | FM | MW0HGY/P, MW1EYP/P |
| 10:14z | MW0UPH | 144MHz | FM | MW0HGY/P, MW1EYP/P |
| 10:14z | GW0PLP | 144MHz | FM | MW0HGY/P, MW1EYP/P |
| 10:14z | M0CQE | 144MHz | FM | MW0HGY/P, MW1EYP/P |
| 10:15z | MW3PZO | 144MHz | FM | MW1EYP/P |
| 10:15z | G8ALB | 144MHz | FM | MW1EYP/P |
| 10:15z | G0HRT | 144MHz | FM | MW1EYP/P |
| 10:16z | G7OEM | 144MHz | FM | MW0HGY/P, MW1EYP/P |
| 10:16z | G0MIX | 144MHz | FM | MW1EYP/P |
| 10:17z | G0NAJ | 144MHz | FM | MW1EYP/P |
| 10:18z | M0WBG | 144MHz | FM | MW1EYP/P |
| 10:18z | G4MYU | 144MHz | FM | MW1EYP/P |
| 10:19z | M6NSV | 144MHz | FM | MW0HGY/P, MW1EYP/P |
| 10:19z | 2E0MIX | 144MHz | FM | MW1EYP/P |
| 10:20z | M3WDU | 144MHz | FM | MW1EYP/P |
| 10:21z | 2E0PUE | 144MHz | FM | MW1EYP/P |
| 10:22z | 2E0GRW | 144MHz | FM | MW1EYP/P |