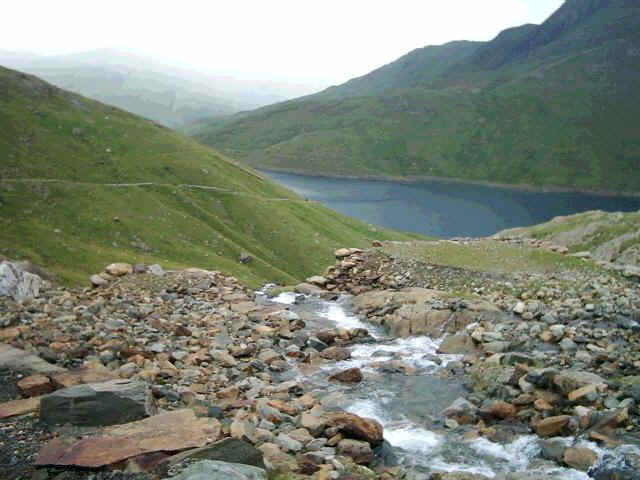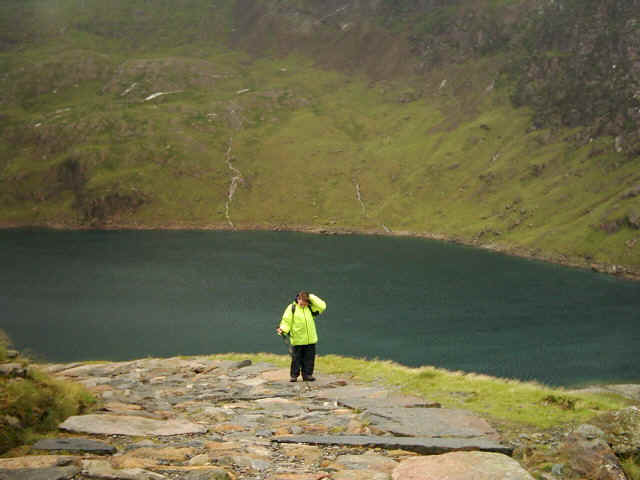 On Sunday 20th July 2003, Jimmy & myself went down for the earliest possible breakfast in our B&B (Idan House, 12 High Street, Llanberis), before stepping outside to be picked up, as arranged, by Maggie MW3JAT and her son Josh MW3EPA. We drove up out of the town on the A4086 (Pass of Llanberis) until we reached the car park and complex at Pen-y-pass. Despite the early-ish time and dreadful weather - heavy rain - the car park was pretty full, but we were in luck and got one of the last spaces. It had been our intention to take the PYG Track, but I didn't notice the route from the west end of the car park on my map, and set off on the Miners' Track looking for the path from SH 647 554 leading up to the PYG Track. However, no such path off to the right was noticed and after a kilometre or so we realised we were going to have to continue with the Miners' Track route. This turned out to be a blessing in disguise, as this path was fairly easy going underfoot, and even the steeper sections later on were no great challenge. Furthermore, the surroundings were both spectacular and beautiful, quite awe inspiring. The walk was very pleasant in all aspects. I have read that hillwalkers traditionally prefer the quieter routes, but we all thoroughly enjoyed meeting lots of interesting people in both directions and the stimulating conversations that were struck up, including one chap in planning for an ascent of Everest! (Still would only be 10 points if there was a Nepal association - what's all the fuss about?).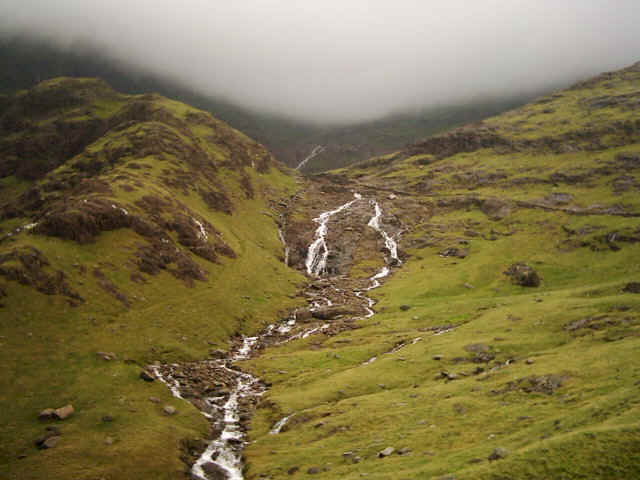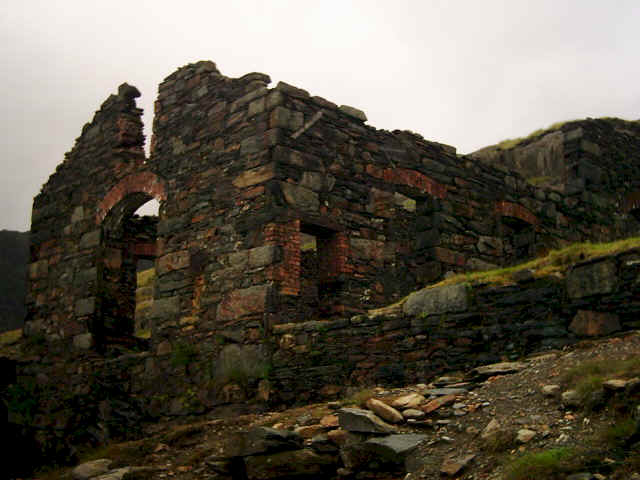 After walking around the last of the mountain lakes, the steep climbs started. These were generally well defined in the scree, and it was in fact after we had joined back up with the PYG Track that harder steep bits were, although again, nothing too difficult. We continued at a constant pace and eventually met the railway track. A quick rest for flapjacks and water was taken, following which we were on the summit within minutes. I was quite amazed because I was still bursting with energy after my biggest ever climb, Maggie had achieved her long-time ambition, and the two youngsters Josh and Jimmy completed it with ease. Credit to Mrs Roberts' hearty breakfast at the Idan House B&B, the slow and medium release energy bars I had brought, but mainly I feel to the company. This was the first time I had walked in a group of four and it certainly makes a difference. I tell a lie, earlier in the year I did walk with Richard G3CWI and his son Lewis, but it was my younger son Liam with us that day, a good walker, but SLOW, regardless of how stimulating he finds the company!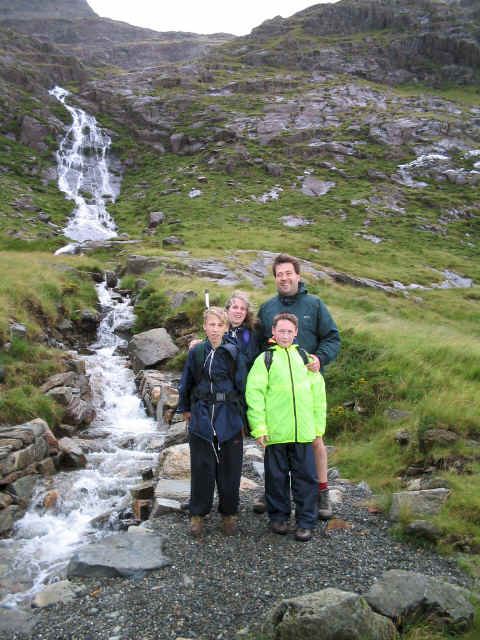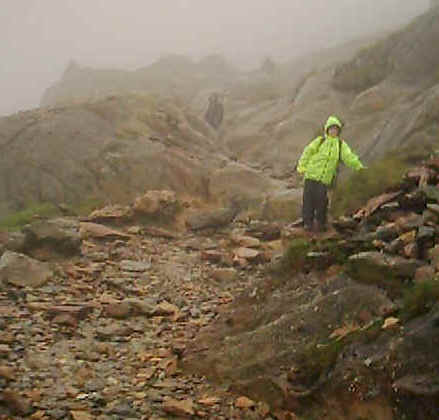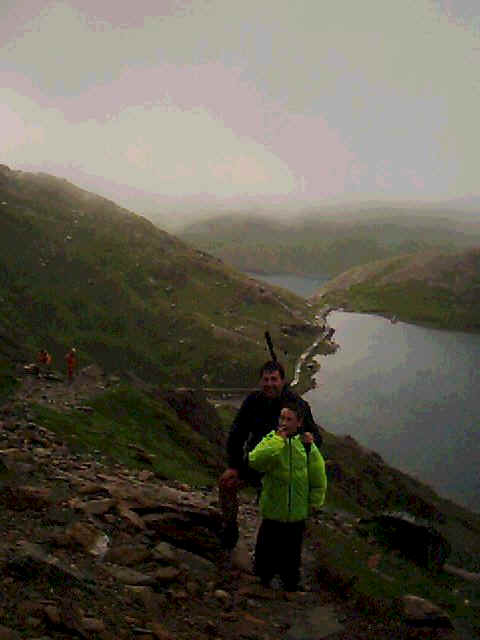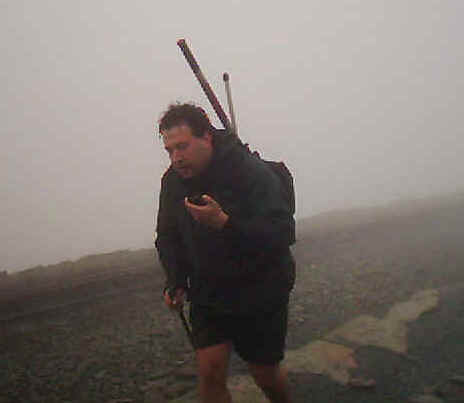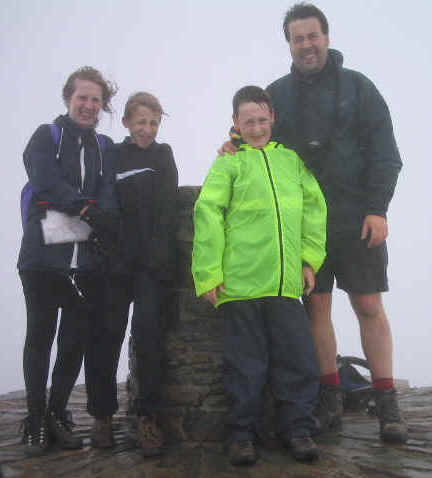 After the obligatory photograph shoots at the summit trig point, Maggie and Josh set up on one side of the summit, while me and Jimmy set up the SOTA Beam on the other side. The summit was very busy, and a group of American tourists even asked if they could have their photo taken with the SOTA Beam. A chap called Emil then introduced himself to me as YO3GGH! To my surprise, I made just seven contacts, all with SOTA regulars, and including summit-to-summit with Rob G4RQJ/P on Dale Head LD-020. It wasn't that there were no takers or poor conditions, it was just that I didn't push it that much. I was experiencing a totally new feeling of being so pleased with the walk itself that the radio was down in the priorities - apart from getting the four contacts of course! Maggie and Josh came back round to our side, with three contacts each in the bag, and struggling to get the fourth. I was in contact with Thos EI2JD, north of Dublin, who at my request kindly remained on frequency as I handed the microphone to Maggie and then to Josh. Maggie and Josh had missed the summit-to-summit with Rob, so I tried to hunt him down again. He did appear on S20, and I replied quickly to ask him to work Maggie and Josh on his frequency. In my hurry though, I made the mistake of not giving my callsign - I had been IDing at least every minute up to this point, but I appreciate that this was the calling channel. Sure enough, some character came up and retorted with "Haven't you got a callsign?". He did not give his own callsign, and considering he was obviously monitoring S20, had not replied to any of the calls from Maggie, Josh, Rob or myself. However, that incident could in no way spoil an excellent summit activity and exhilarating walk, Maggie and Josh did work Rob, and then we retreated to the warmth of the café.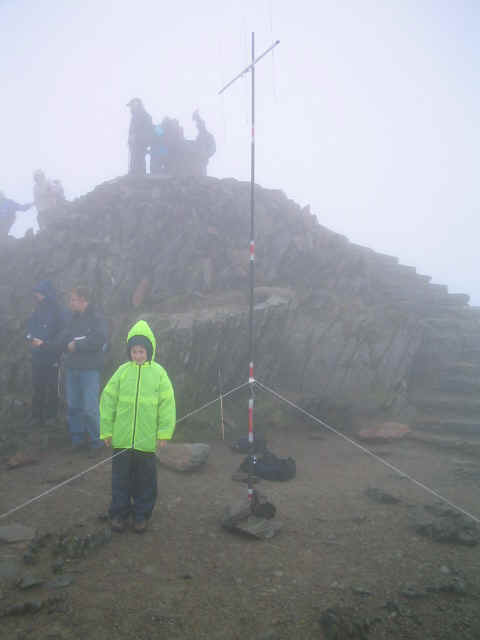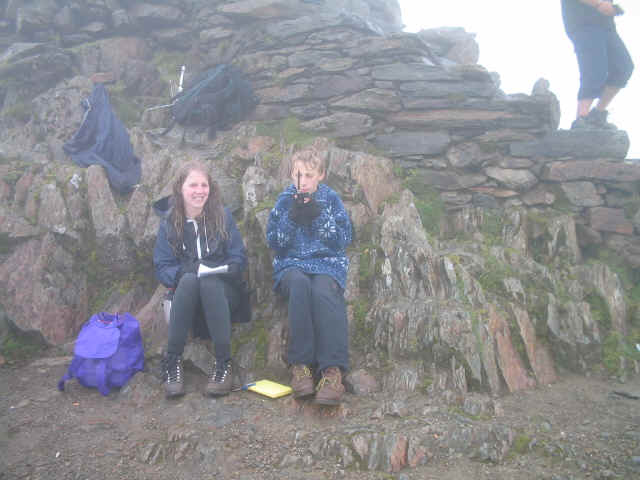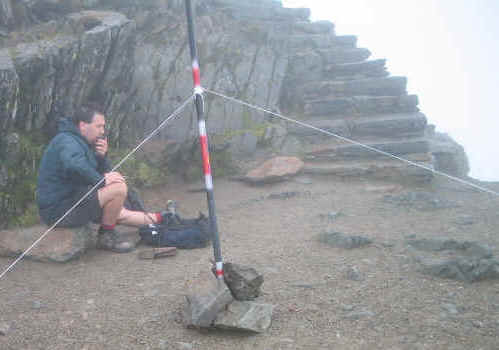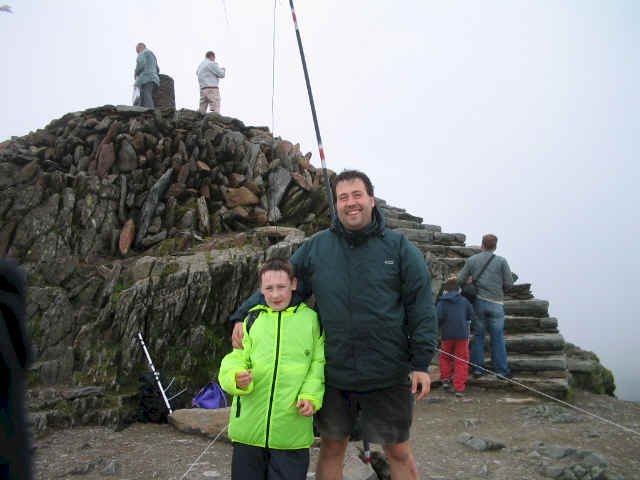 Against my pleas to keep us company on the train down to Llanberis, Maggie and Josh insisted on walking back down the Miners' Track, and this they did after one final round of inter-congratulation in our party. Jimmy and I got a table in the café and tucked into some welcome hot pies and pasties, with a bottle of water and a pint of beer respectively, before negotiating a standby descent ticket on the mountain railway. The views from the train were very pleasant, especially the surrounding mountains and cascading waterfalls. We returned to Idan House in Llanberis to discover that Marianne and Liam had spent half-an-hour on Snowdon summit between their return railway trips, but unfortunately too early for it to coincide with our time up there! Another trip out to the superb Balti Raj made for a very pleasant evening and finish to a highly satisfactory day.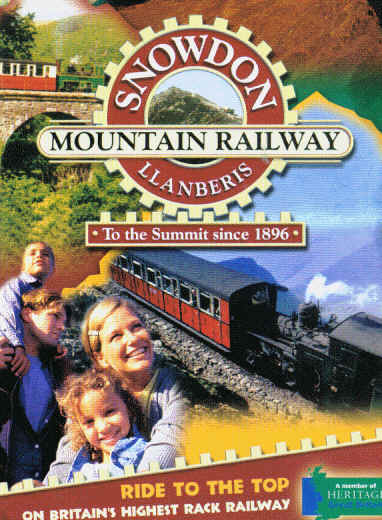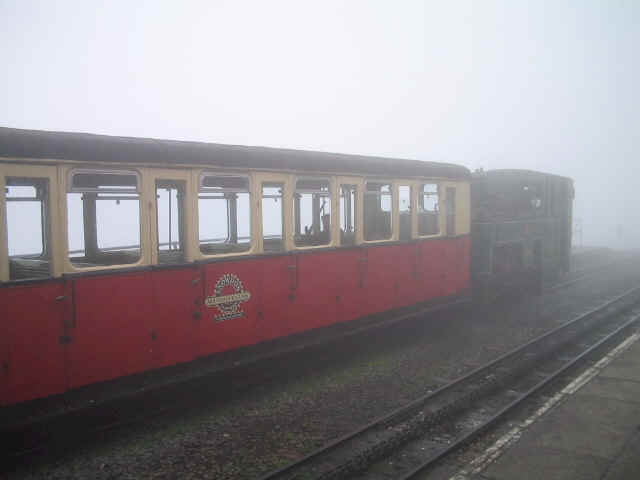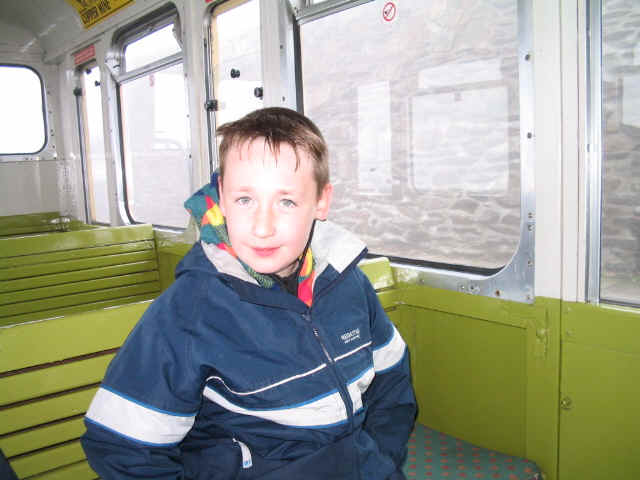 Thanks to the following stations, worked on 2m FM with 500 mW apart from the summit-to-summit with Rob G4RQJ, where 1 watt was used.
| | | |
| --- | --- | --- |
| MW1EYO/M | descending NW-015 | Alan |
| G0OXV | Ormskirk | Keith |
| G4RQJ/P | Dale Head LD-020 | Rob |
| EI2JD | 40 miles N of Dublin | Thos |
| M0HDE | Standish | Annick |
| GW0RXT/M | Aberystwyth | Colin |
| G7TOK | Bromborough | Gary |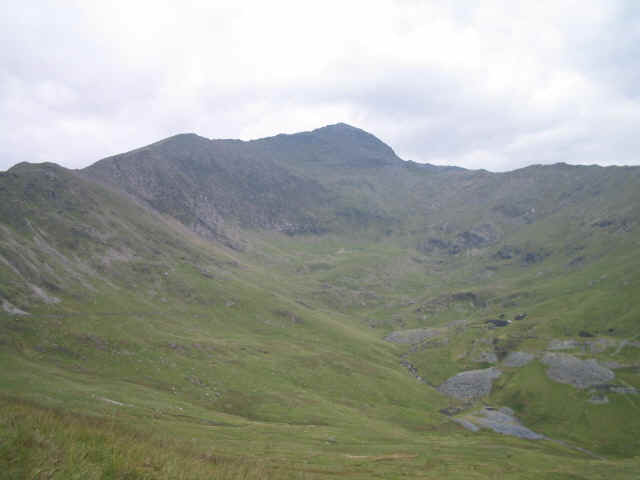 This summit was originally attempted on Sunday 6th July 2003, by myself, accompanied by Jimmy and Liam. After walking up the Watkin Path, the intending but failing to ascend Yr Aran NW-019, I looked at the ridge across to Snowdon from the coll - it looked very big, steep, long, scary and menacing! A chap coming the other way was asked how long it takes. He replied that the descent down the ridge had taken him an hour. I then realised that going UP the ridge, with two tired kids and a shattered dad would take at least three hours. I wrote off Snowdon and looked again at Yr Aran - we were 247m off the summit on the coll, and again, it looked very hard work. I just knew that there was not enough left in the tank to get us all up there safely - the walk from the road to the coll was more than enough after 90 minutes sleep, and I had no more to give.

Unfortunately, at this point I was surrounded by walls of mountains on all sides (from a radio point of view) and had no ability to transmit or receive. I later learned that Roger, Jenny and Keith had been concerned about our progress, especially with the longer then expected radio silence. On the previous contact, I suggested that I should be activating Yr Aran within the hour. While I regret that I caused my friends to be concerned, I had to make a responsible decision that we were not going to attempt to reach either summit. This was the only sensible decision for our health and safety. I was fine to walk a few miles back down the Watkin Path with my kids and drive them home, but I was simply too exhausted to look after them as I would consider necessary on a summit top or during steep ascent/descent. So back to the point where Roger dropped us off it was, and out went the thumbs to hitch a lift back down to the car at Llanberis. We arrived home at 7pm, bang on schedule.