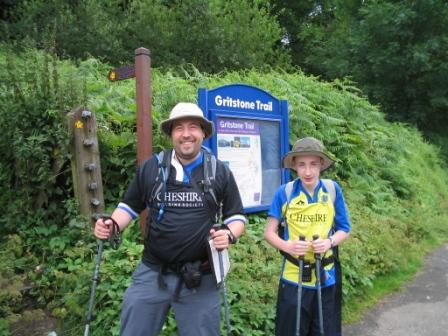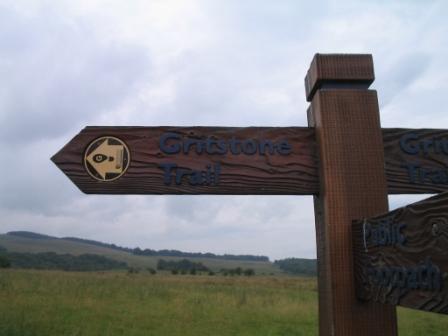 Monday 23rd July 2007 finally came around after a long term at work for me and at school for Jimmy. The sense of excitement and anticipation was nothing like a year ago as we were embarking on the Pennine Way, but we were looking forward to this trail walk, albeit much shorter, in any case. Marianne offered us a lift up to Disley, and with the first day being only about seven miles, there was no need to be walking into town to catch an early train. Marianne dropped us off, with our rucksacks, walking poles, sunhats, radios, map and compass at Disley railway station, the official start point of the Gritstone Trail. A wander down the station car park brought us to the first of several distinctive looking Gritstone Trail information boards that lie at key points along the route, and indeed the first Gritstone Trail waymarker post. Proudly sporting our Macclesfield Town replica away shirts, we were soon into our stride.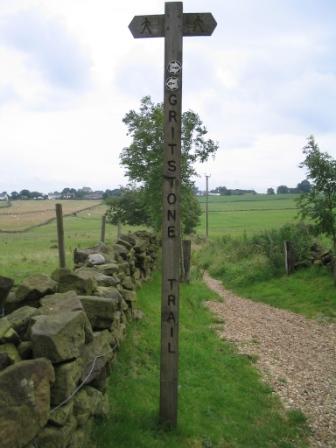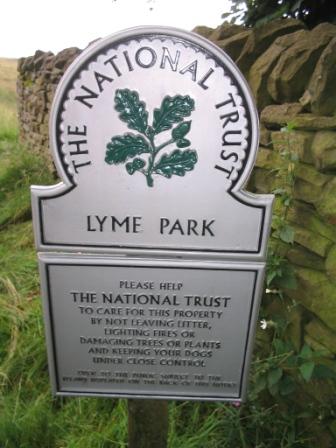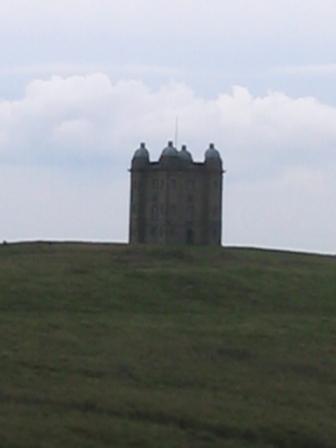 The initial section of the path led us through a dark narrow alley, and then out onto well-maintained stony tracks. We were heading towards Lyme Park, and I was a little surprised at the distance that needed to be covered before reaching the first boundary of the National Trust area. Walking along the estate track into the park, the instantly recognisable profile of the folly known as "The Cage" loomed on the horizon. Several visitors in the park had walked across the moor for a closer look, but we decided to remain on the official path.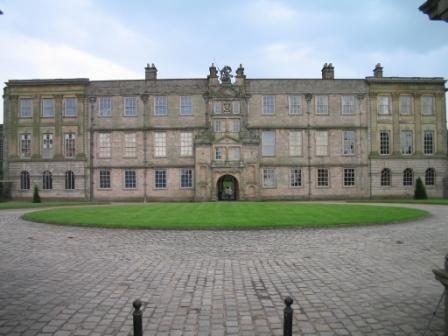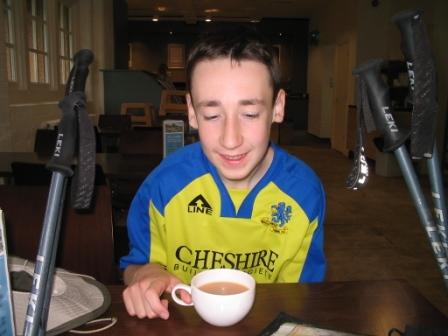 We reached the grand entrance to Lyme Hall, but decided to avoid the time and cost implications of actually looking around the stately home. Skilfully avoiding eye contact with the workers stood outside the gate with clipboards, pens and gift aid declarations at the ready, we turned right and down the stairs into the centre of the park. Here we took our first of several mini diversions along the trail, this one to visit the cafe for a cup of tea and a sausage sandwich each. As we entered the coffee shop, some determined looking fine drizzle began in the courtyard, so we reasoned that it was an ideal time to take a short break and some early lunch.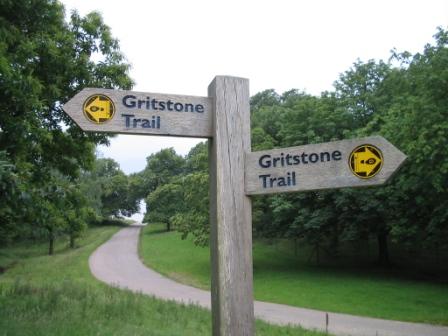 The plan appeared to work virtually perfectly, with the rain easing off as we picked up the poles to commence walking again after our snack. However, as we made our way uphill to Bowstonesgate on the eastern perimeter of Lyme Park, the wind picked up and the light rain returned.