Mynydd Carningli, GW/MW-033 - 347m ASL - SN 062 372 - OS Explorer OL35 - 1 SOTA point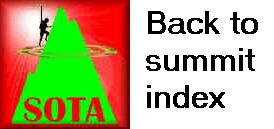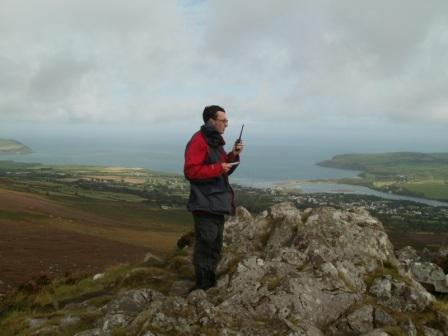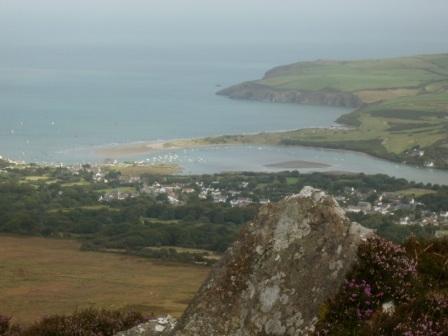 From Foel Cwmcerwyn GW/MW-011 on Wednesday 22nd August 2012, we drove towards the north-west of the county of Pembrokeshire and the village of Newport. A missed turning meant that we ended up in Newport, so Jimmy consulted the map and worked out a way to get to the intended parking spot at SN070374.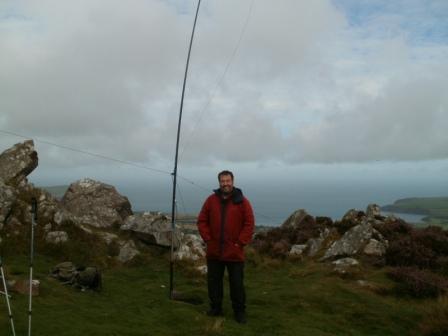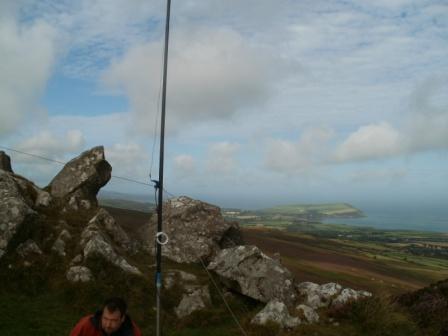 On a sunny mid-morning, we began the walk up a grassy path, which alternated between graded and steep initially. We passed through two stone pillars, Jimmy had received information from Steve MW0BBU that we go straight on here, so we picked out the narrow steeper path as it weaved up the hill straight ahead. He also had information that we turn right at the next intersection, so this we did too, before looping around for a final approach by rocky scramble.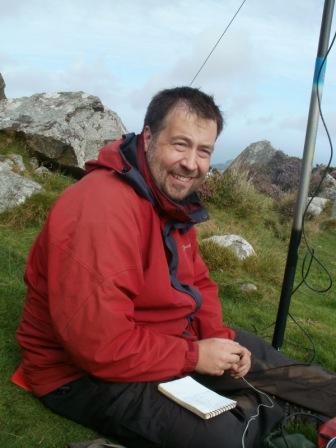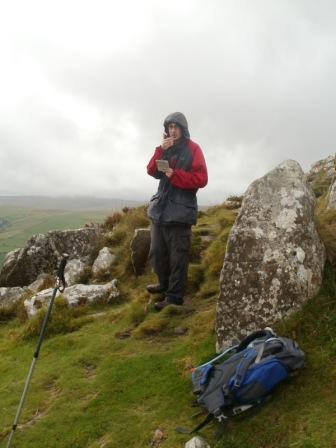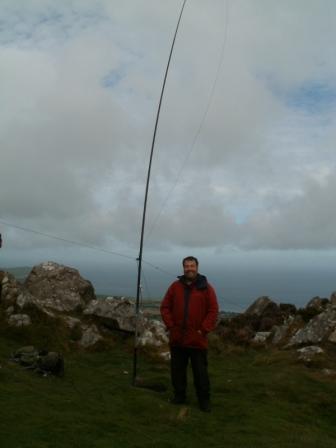 This was the best summit of the week, a convincing "mountain in miniature" with lofty and beautiful views over Newport Bay. Jimmy managed a single 2m FM QSO into North Wales, but he was soon down to me and hogging the 20m HF station! He added a further seven QSOs on SSB with a nice selection of European DXCCs. I then enjoyed a nice run of 25 contacts ib 20m CW before packing away, just as another (but younger) father-and-son team reached the summit.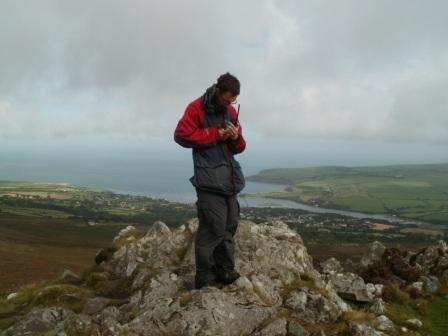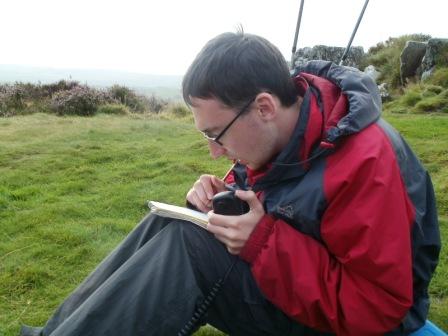 Care was needed to negotiate safely down the rocky section near to the summit, after which it was a much more straightforward amble down to the car. We drove back to Llys-y-fran for about midday, satisfied with adding another two uniques during the morning. The next activation would be the following morning, another early one, on Frenni Fawr GW/MW-028.
| | | | |
| --- | --- | --- | --- |
| MW6OTT | 2m | FM | J |
| OM7DX | 20m | SSB | J |
| HB9AGH | 20m | SSB | J |
| DF5WA | 20m | SSB | J |
| EA4WT | 20m | SSB | J |
| OM7OM | 20m | SSB | J |
| EB7CIN | 20m | SSB | J |
| EA7HF | 20m | SSB | J |
| OK1DVK | 20m | CW | T |
| OM7DX | 20m | CW | T |
| OM7OM | 20m | CW | T |
| IK6JOV | 20m | CW | T |
| DL6FAX | 20m | CW | T |
| SM7GUY | 20m | CW | T |
| DL3HXX | 20m | CW | T |
| OE8SPW | 20m | CW | T |
| L73BY | 20m | CW | T |
| DL7JRD | 20m | CW | T |
| OE6WIG | 20m | CW | T |
| OK2BYW | 20m | CW | T |
| UR4EZ | 20m | CW | T |
| OH2CP | 20m | CW | T |
| DL0VK | 20m | CW | T |
| OK1CZ | 20m | CW | T |
| HA7UG | 20m | CW | T |
| OH6MBQ | 20m | CW | T |
| DL2HWI | 20m | CW | T |
| DL2KAS | 20m | CW | T |
| EA1DFP | 20m | CW | T |
| SK0TM | 20m | CW | T |
| OK1AY | 20m | CW | T |
| DJ5AV | 20m | CW | T |
| S51NR | 20m | CW | T |