Beinn Mheadhoin, GM/ES-005 - 1182m ASL - NJ 024 016 - OS Explorer 403 - 10 SOTA points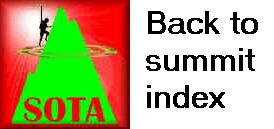 GM trip day 7 - Wednesday 5th August 2009 - Beinn Mheadhoin GM/ES-005

The climb up from Loch Etchachan was quite a steep and tiring one. Jimmy strode out ahead, I kept the middle ground, while Barry, faithfully accompanied by black labrador Tommy, followed behind. Emerging onto a flatter plateau, it was a much easier final stroll to the summit, standing at 1182m ASL.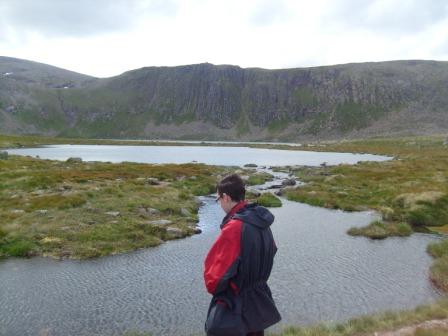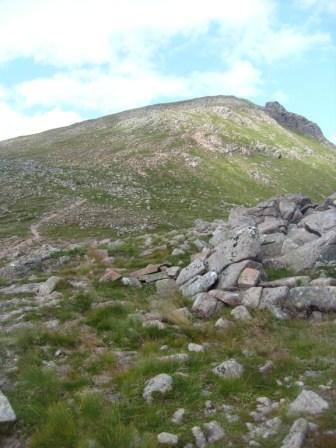 Not that any of us actually attained the summit. It would have been atop a cluster of huge rocks that towered about 5m above the rest of the summit plateau. We opted out, and got on with the SOTA operating!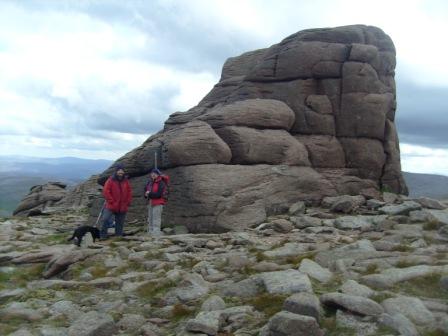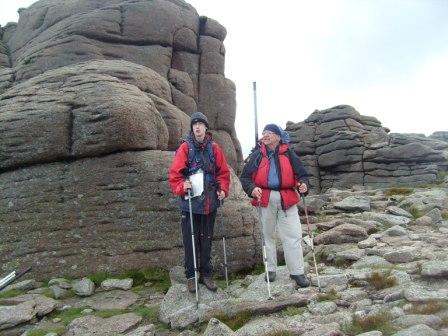 Working conditions for Barry and myself were exactly as per the earlier Ben Macdui GM/ES-001, while Jimmy tried his luck on his 2m handheld. I reckon he would have needed a huge slice of good fortune to get his quota even with the beam, so he was soon at my side and waiting for me to work down the pile up (14 stations) on 7.032MHz CW. The QSO rate was much slower for Jimmy on 7.160MHz SSB, so it was a relief for him to hear an absolutely huge signal from Steve G1INK to give him his all-important 4th contact after several minutes of calling in vain.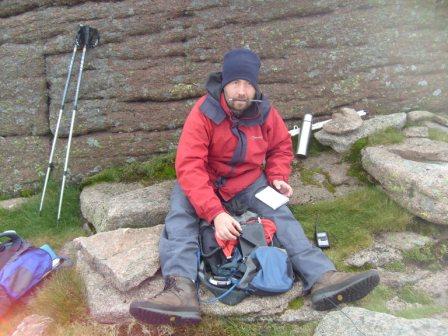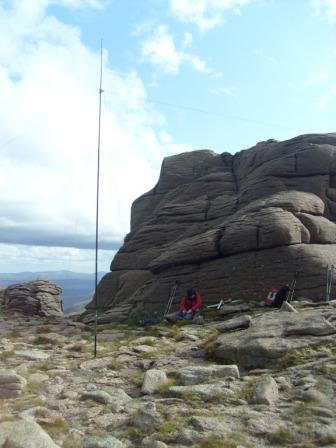 Now we had one heck of a "non-trivial" walk to contemplate to complete the circuit. After finding a long steep grassy descent off Beinn Mheadhoin, we picked up the main path which had an even steeper and quite rocky descent down to Loch Avon. This route passed the famous Shelter Stone, and we could well understand why walkers reaching that point could well be unpacking their sleeping bags and stoves right there.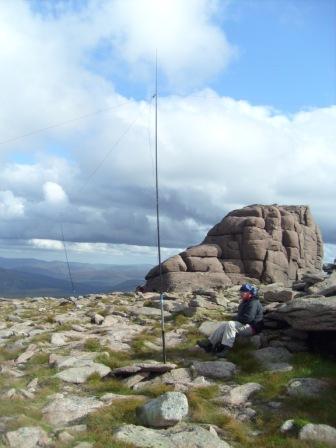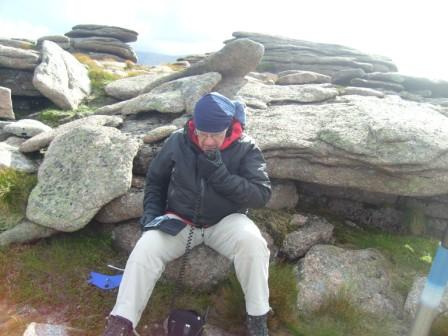 But we hadn't planned to overnight. We had to get back to the car in the daylight that remained, ideally. Headtorches were carried of course, but we wanted all the significant stages out of the way before using them, at least.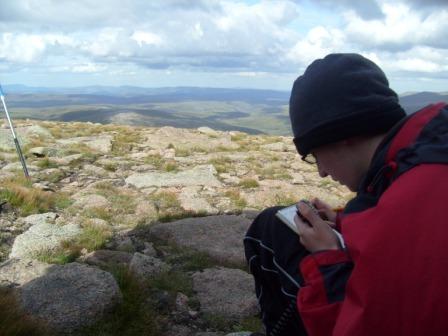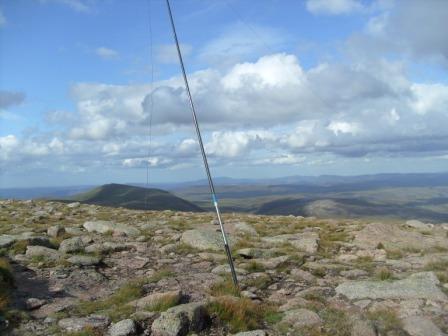 Several people were camping on the shore of Loch Avon, and Tommy the black lab approached each of them in turn for a fuss, which he duly got. After successfully balancing myself over the two series of stepping stones, I did feel a twinge of jealousy of those now before me, who were cooking their evening meals and preparing to relax in their sleeping bags in this beautiful location.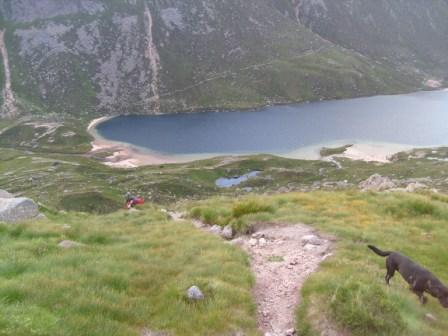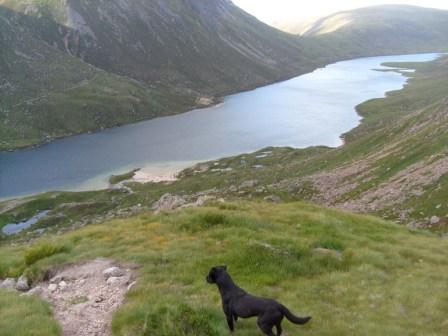 Not for us. The last major ascent of the journey now beckoned, and Jimmy chillingly pointed out that here we were, after 7pm in the evening, and contemplating an ascent equivalent to Snowdon GW/NW-001 just to get back to the car (and without a further SOTA summit encountered)!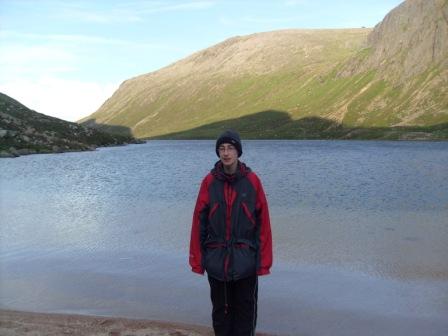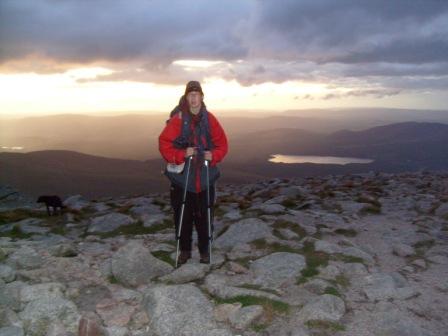 The climb up through the rocks and waterfalls of Allt Coire Raibeirt was tough on our tiring bodies, but at the same time exhilarating with the water plunging downwards by our side and the periodic encountering of mini-scrambles. Again, the team became stretched, with Jimmy pulling ahead, and Barry dropping behind.

At the top of the steep section, some conveniently situated stones were utilised as chairs, as the three of us polished off the tablets for the last burst of energy required.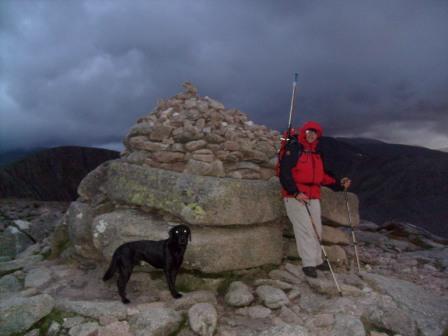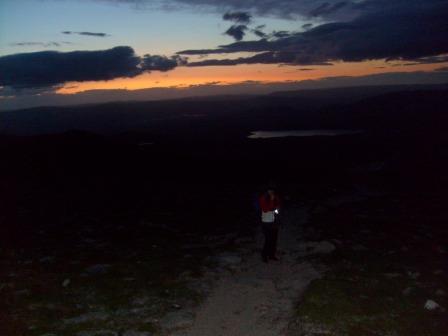 The walk now became really enjoyable, as we pushed on gently uphill, aiming for a near horizon. The point was marked by a large cairn, half a kilometre to the west of Cairn Gorm. Here, I paused to enjoy the stunning view from Aviemore around to the ski slopes, dimly lit in the last of the evening sun, but atmospheric and inspiring as opposed to gloomy.

I 'phoned Marianne. "Are you still on that mountain? That's terrible!" she remarked, before I related to her about the fabulous day's walking we were now completing.

Pressing on, we now had a long, steep, but thankfully stone-stepped descent on the Fiacaill a' Choire Chais ridge. A sense of "job done" kicked in upon reaching the wide utility vehicle access track, which we followed back down to the car park. We just about made it without headtorches, but probably only because of our northerly latitude!

We said goodbye to Barry GM4TOE and thanked him for his company and his excellent route (once published, by Barry, in Trail Magazine, and covering a distance of 25km and ascent of 1500m). Jimmy and I drove straight into Aviemore in search of food. After brief deliberations, the staff decided to allow us into the Spice of India restaurant which was about to close for the evening. The splendid curry, and Cobra beer was devoured enthusiastically.

The tiredness on the drive back north to Lossiemouth was intense, so I did the sensible thing of pulling into lay-bys for a rest whenever I chose. Upon reaching Lossie, I was pulled over by a police car, and questioned about my speed. The officer wanted to know why I was only doing 40mph in a 60mph limit. I related to him the day's expedition, and my view that 40mph was a perfectly reasonable speed to be doing at that time of night on an empty road. The young officer conceded the point and wished me a friendly goodnight.

So ended an amazing day and an amazing expedition. Two ten-pointers - but the equivalent of three actually climbed! Needless to say, there would not be an early get-up and pre-breakfast activation the following morning!
Thanks to the following stations worked on this activation:

| | | | |
| --- | --- | --- | --- |
| HA7UG | 40m | CW | T |
| G3WPF | 40m | CW | T |
| G4CMQ | 40m | CW | T |
| 9A7W | 40m | CW | T |
| F5SQA | 40m | CW | T |
| DF5WA | 40m | CW | T |
| G4ELZ | 40m | CW | T |
| ON4CAP | 40m | CW | T |
| 9A4MF | 40m | CW | T |
| G4OBK | 40m | CW | T |
| DL4FDM | 40m | CW | T |
| G4SSH | 40m | CW | T |
| DL2DXA | 40m | CW | T |
| DL2EF | 40m | CW | T |
| G4ELZ | 40m | SSB | J |
| G3RMD | 40m | SSB | J |
| G3OHC | 40m | SSB | J |
| G1INK | 40m | SSB | J |