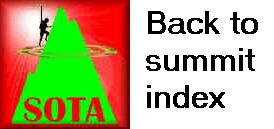 A short drive through the lanes from Tobernaveen Hill GI/AH-009 brought us to the B94 Ballyclare to Ballymena road. A short distance down here was the lay-by and picnic area we were heading for.

After parking, we climbed over the 'secret stile' (an short unbarbed section of fence) and headed off up the grassy slopes. These are quite steep and unforgiving initially, but once the first crest is reached, the land opens out for a gentle amble all the way to the summit.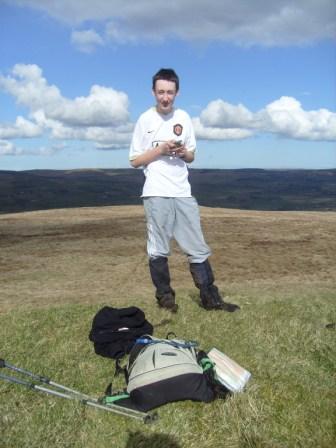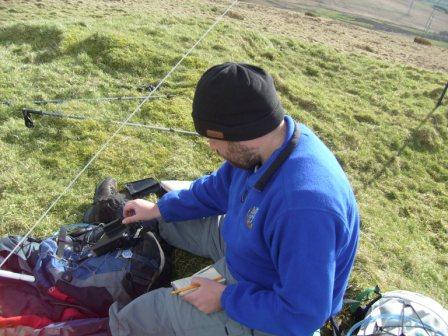 The weather was most pleasant this afternoon. Gentle breeze, dry and lovely sunshine. After a couple of abortive attempts, the 80m antenna was eventually in the air, and I sat down to connect up the antenna feeder, microphone, Palm Paddle and SLAB to the FT-817. Jimmy was checking the SOTAwatch Spots and shouted out "GC0OOO/P on Snowdon, 3.557 CW, waiting for M1EYP!". Anticipating an exciting CW S2S, I quickly tuned to 3.557, only to then hear the sound of the SOTA Pole crashing down again!

I re-erected it and improved the guying angles at the speed of light, and then, sat back down on my mat, slightly breathless. Perhaps a good job I was opening on CW! 3.557MHz had John GC0OOO/P in full flow, so I waited for a 73 and sent my callsign in. John came back immediately, and the activation was off to the best possible start. After completing the GI to GW CW S2S, John left me the frequency, and I worked 16 further stations in short order.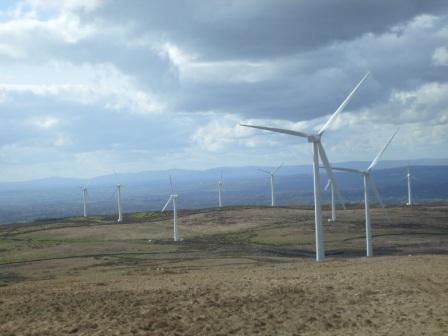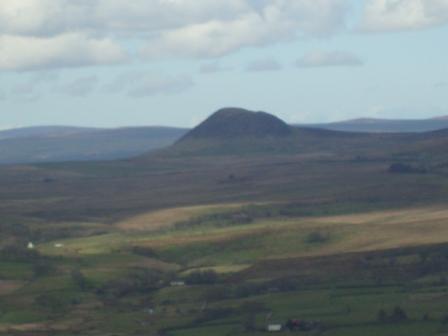 The sending of "NW QSY 3.660 SSB" worked perfectly, for many stations were instantly lined up for Jimmy on 3.660MHz. A run of further S2S came courtesy of Rick M0RCP/P and Thomas M3OOL/P on Seatallan G/LD-025, and John GW4BVE/P and Pete MW0COP/P on Myarth GW/SW-035. This completed a perfect three S2S GI to GW with the BVE/COP team, and gave us the opportunity to congratulate John on his completion of activating every summit in GW, becoming the 12th person to have activated an entire association.

After packing everything away and donning the rucksacks, I switched on the VX-7R for a quick call om 2m FM. There on 145.475MHz was a 51 signal from John G4YSS, operating GC0OOO/P on Snowdon! I had already got my 10 chaser points from the earlier 80CW contact, so I passed the handy to Jimmy to try to call him. To my surprise, John heard Jimmy first call and worked him straight away. I made two further local 2m FM contacts, and we set off down the hill, highly satisfied with an excellent activation.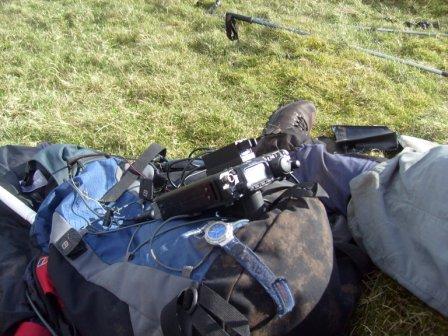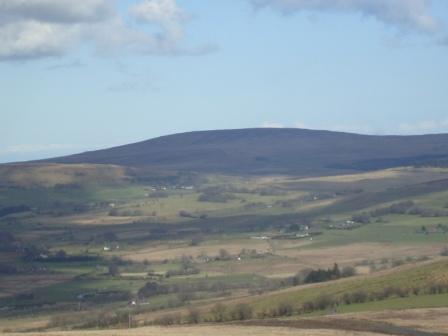 Big Collin is one of those hills with a terrain and gradient such that the descent is quick and easy, taking perhaps only a quarter of the ascent time. We were in the car by a quarter to five, and just about in time to squeeze in a fourth activation and get ahead of schedule. We drove out towards Carrickfergus for Carn Hill GI/AH-010. Many thanks to the following stations, all worked on 5 watts:
| | | | | | |
| --- | --- | --- | --- | --- | --- |
| GC0OOO/P | Snowdon NW-001 | John | 80m | CW | T |
| G4SSH | Scarborough | Roy | 80m | CW | T |
| EI2CL | Dublin | Michael | 80m | CW | T |
| G4OBK | Pickering | Phil | 80m | CW | T |
| G4OWG | Rawdon | Roger | 80m | CW | T |
| G4RQJ | Walney Island | Rob | 80m | CW | T |
| G3CWI | Macclesfield | Richard | 80m | CW | T |
| G3TJE | Highbridge | Peter | 80m | CW | T |
| G4USW | Barrow-in-Furness | Bill | 80m | CW | T |
| G3OHC | Selby | Graham | 80m | CW | T |
| G0NES | Hollywood | Don | 80m | CW | T |
| ON4ON | Dadizele | Danny | 80m | CW | T |
| ON4CAP | Oostkamp | André | 80m | CW | T |
| G0ANV | Girton | Daryl | 80m | CW | T |
| GM0AXY | Edinburgh | Ken | 80m | CW | T |
| GW0DSP | Connahs Quay | Mike | 80m | CW | T |
| DL1FU | Biedenkopf | Fred | 80m | CW | T |
| 2E0PXW | Ellesmere Port | Barry | 80m | SSB | J |
| G6MZX | Thornton-in-Craven | Geoff | 80m | SSB | J |
| G4BLH/P | Brierfield | Mike | 80m | SSB | T, J |
| G4OBK | Pickering | Phil | 80m | SSB | J |
| GM4YMM | Edinburgh | Christine | 80m | SSB | J |
| G4JZF | Willenhall | Graham | 80m | SSB | T |
| GW0VMZ | Merthyr Tydfil | Alistair | 80m | SSB | T |
| G3OHC | Selby | Graham | 80m | SSB | J |
| G3VKF | Macclesfield | Keith | 80m | SSB | T, J |
| G6WRW | Kidderminster | Carolyn | 80m | SSB | J |
| GW7AAV | Connahs Quay | Steve | 80m | SSB | J |
| M0RCP/P | Seatallan LD-025 | Rick | 80m | SSB | T, J |
| M3OOL/P | Seatallan LD-025 | Thomas | 80m | SSB | J |
| GW4BVE/P | Myarth SW-035 | John | 80m | SSB | J |
| MW0COP/P | Myarth SW-035 | Pete | 80m | SSB | T |
| G3RDQ | Stockbridge | David | 80m | SSB | J |
| GC0OOO/P | Snowdon NW-001 | John | 2m | FM | J |
| GI3TIJ | Moneymore | Fred | 2m | FM | T |
| GI7JGT | Roslea | Martin | 2m | FM | T |