Bryn y Fan, GW/MW-018 - 482m ASL - SN 931 884 - OS Explorer 214 - 1 SOTA point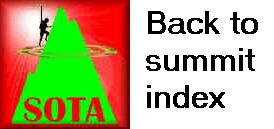 Mid Wales trip, Day 6 - Friday 23rd August 2019
From Cefn Cenarth GW/MW-039, we simply drove straight up the B4518 through Llanidloes, and to the large car park beside Bwlch-y-gle Dam.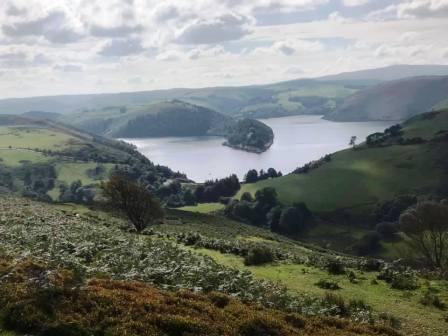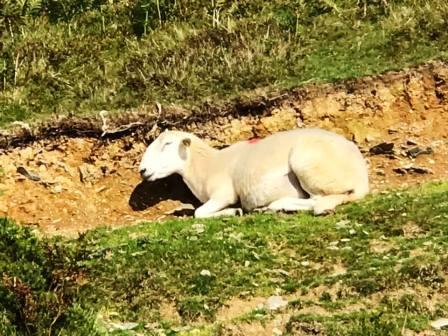 From the car park, it was a simple walk along a good track that was soon cutting up across the steep western slopes of Bryn y Fan. As height was gained, spectacular views opened up over the Llyn Clywedog reservoir, enhanced by being bathed in warm sunshine. The heat was all too much for a young lamb that I spotted resting on a ledge on a quarry wall!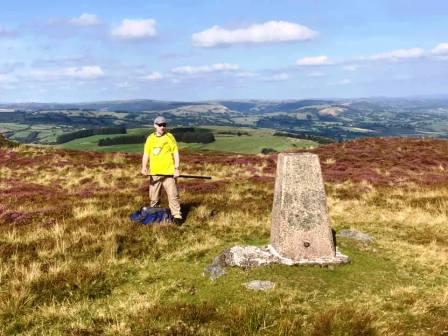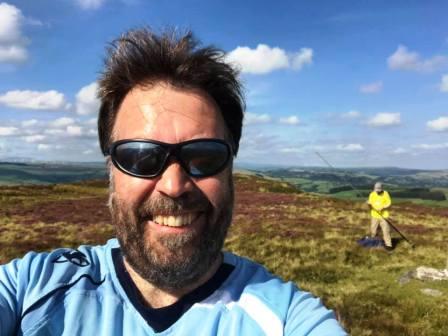 The routine was entirely predictable for this penultimate SOTA summit activation of our Mid Wales trip - 40m CW for me and 2m FM for Jimmy. Uncharacteristically, it took Jimmy an age to set up, what with an amusing combination of tiredness, ineptness and rare clumsiness. By the time he was QRV I'd already got nine QSOs in the bag - but once he was on air, he got himself qualified nice and quickly.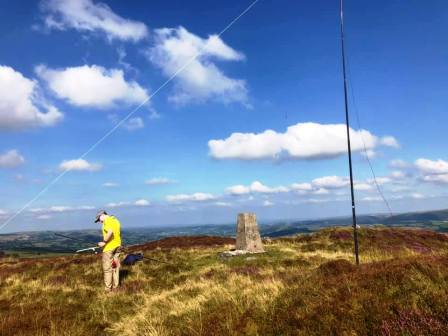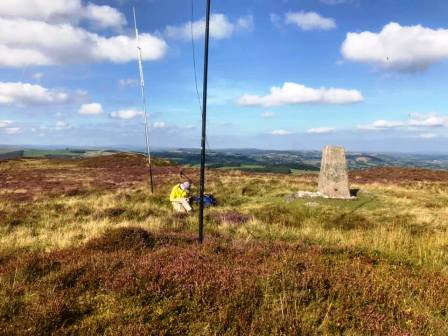 Time was marching on - and we had the available daylight issue to consider - but we still reckoned we could persist with our planned fourth activation of the day, especially as Jimmy assured me he'd left the easiest 'til last! So off we went to Garreg-hir GW/MW-017.
| | | | | |
| --- | --- | --- | --- | --- |
| Time | Call | Band | Mode | Op |
| 15:37z | EA2DT | 7MHz | CW | MW1EYP/P |
| 15:37z | DL2HWI | 7MHz | CW | MW1EYP/P |
| 15:38z | DL8DXL | 7MHz | CW | MW1EYP/P |
| 15:38z | F5LKW | 7MHz | CW | MW1EYP/P |
| 15:40z | DL2YBG | 7MHz | CW | MW1EYP/P |
| 15:40z | IK2LEY | 7MHz | CW | MW1EYP/P |
| 15:41z | HB9TWU | 7MHz | CW | MW1EYP/P |
| 15:43z | ON7DQ | 7MHz | CW | MW1EYP/P |
| 15:45z | I/OE7PHI | 7MHz | CW | MW1EYP/P |
| 15:47z | GW4VPX | 144MHz | FM | MW0HGY/P |
| 15:50z | MW0BGQ | 144MHz | FM | MW0HGY/P |
| 15:52z | G4HQB/M | 144MHz | FM | MW0HGY/P |
| 15:56z | MW0OFA | 144MHz | FM | MW0HGY/P |