Cefn Cenarth, GW/MW-039 - 460m ASL - SN 969 762 - OS Explorer 214 - 1 SOTA point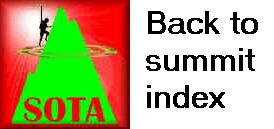 Mid Wales trip, Day 6 - Friday 23rd August 2019
From Garreg Lwyd GW/MW-014, we headed initially south down the A470, then turned left to St Harmon, and left again onto the B4518 through Pant-y-dwr. From the village we turned left again to follow the country lane running south of the summit before turning north up a track. This looks like a private farm track, but vehicle access is permitted, and indeed there is a nature reserve car park with information board at SN 964 759.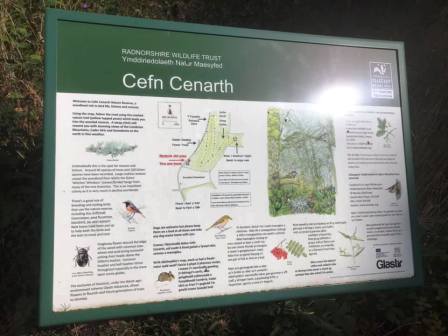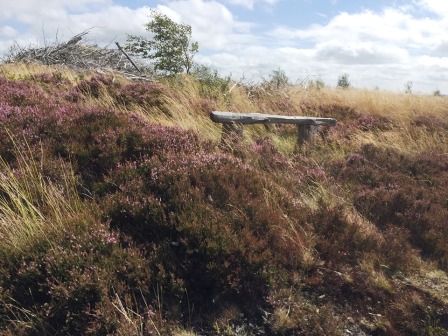 From the car park, we continued walking north along the track. There are two paths up the steep western flanks of the hill, but a "one-way" system was indicated on the information board. Hence we dutifully ignored the first path, continuing to the second which led us on a zigzag ascent through a picturesque wood. Emerging out of the wooded area, we joined the other path in hot sunshine, and made the steep final slog to the summit. Well, nearly to the summit. The actual summit is on private farmland over a fence, but only about a metre higher than where we were standing.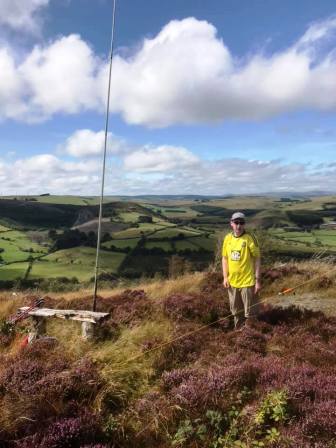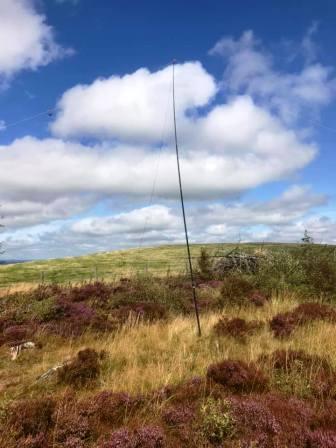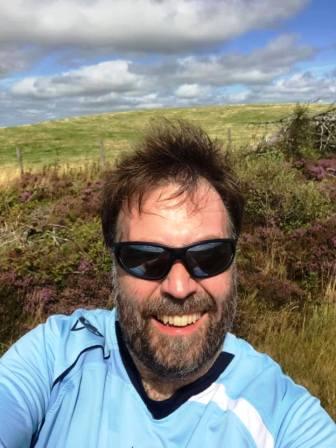 Jimmy achieved the first contact from either of us with his VHF set-up, but then failed to make any more until I handed him use of the HF station. No problems for me on 40m CW, and Jimmy enjoyed a nice little run of chasers on 40m SSB. It was nice for us both to work Dave G3TQQ/P on Bishop Wilton Wold G/TW-004 for the S2S.
After the very quick descent, our next objective was Bryn y Fan GW/MW-018. And Soup of the Day was Heinz lentil soup.
| | | | | | |
| --- | --- | --- | --- | --- | --- |
| Time | Call | Band | Mode | S2S | Op |
| 12:58z | GW4VPX | 144MHz | FM | | MW0HGY/P |
| 13:03z | EA2DT | 7MHz | CW | | MW1EYP/P |
| 13:05z | F8FKK | 7MHz | CW | | MW1EYP/P |
| 13:06z | EI5HJ | 7MHz | CW | | MW1EYP/P |
| 13:08z | F5LKW | 7MHz | CW | | MW1EYP/P |
| 13:09z | DL4FO/P | 7MHz | CW | DM/HE-044 | MW1EYP/P |
| 13:10z | DJ5AV | 7MHz | CW | | MW1EYP/P |
| 13:11z | DH0DO | 7MHz | CW | | MW1EYP/P |
| 13:12z | F8FSC | 7MHz | CW | | MW1EYP/P |
| 13:15z | G0RQL | 7MHz | SSB | | MW0HGY/P |
| 13:15z | M/DL6GCA | 7MHz | SSB | | MW0HGY/P |
| 13:16z | 2E0ESY | 7MHz | SSB | | MW0HGY/P |
| 13:17z | ON4CB | 7MHz | SSB | | MW0HGY/P |
| 13:18z | ON7ZM | 7MHz | SSB | | MW0HGY/P |
| 13:19z | G3TQQ/P | 7MHz | SSB | G/TW-004 | MW1EYP/P, MW0HGY/P |
| 13:20z | G0FEX | 7MHz | SSB | | MW1EYP/P |