Caeliber Isaf, GW/MW-031 - 355m ASL - SO 212 934 - OS Explorer 216 - 1 SOTA point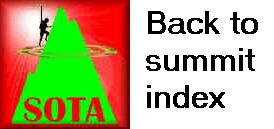 From Heath Mynd G/WB-007, we drove through the village of Hyssington and westwards along the A489. A right turn up the B4385 followed by a couple of lefts in minor roads took us to our parking spot at SO203935, from where we followed the public footpath down to the farm and holiday cottages. Beyond this area, we continued on the bridleway down to near the woods, but then cut up to the left to climb the hill and walk around the top of the wooded area. This took us through to the area shown by a 355m spot height on the OS 1:25000 maps. The true summit, is actually placed at the small 355m contour ring some 500m NNE of this point, but both areas fall comfortably within the activation zone as defined by the 25m vertical criteria.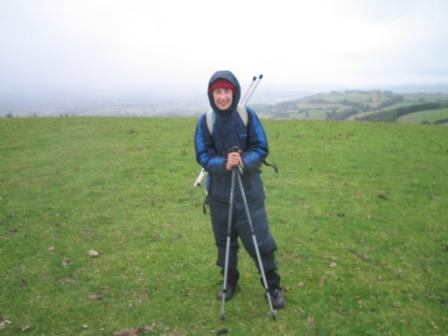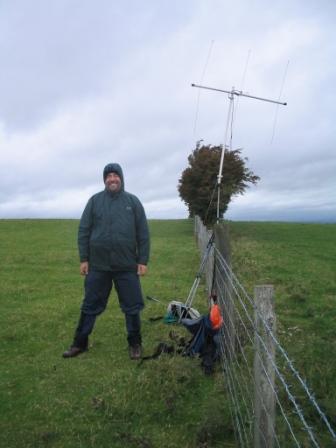 A fence running across the summit area was utilised as a convenient support for the antenna mast, and this also coincided with a point where we could get some slight shelter from the surprisingly cold wind, albeit not as miserable as on Heath Mynd GW/WB-007 earlier. It had just turned 1400 UTC, which meant that the RSGB 144MHz Trophy 24 hour contest would have just got underway. Hence I first looked on the SSB part of the band, and it was there I made all my four contacts. Jimmy was stuck on three contacts, but a switch to FM brought in GW4BVE to qualify the summit for him.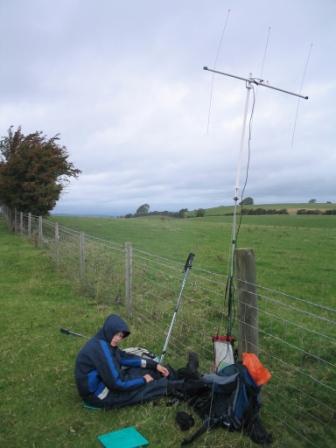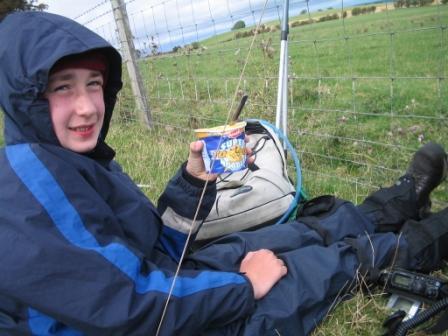 Lunch was a tub each of instant Super Noodles - again the flask today contained only hot water. After packing up, the descent was quick and simple, and we made the short journey across to our fourth and final summit of the day, Corndon Hill GW/MW-013.
Many thanks to the following stations, worked as follows:
| | | | | | | |
| --- | --- | --- | --- | --- | --- | --- |
| G4HGI | IO83PL | | 144MHz | SSB | 2.5 watts | T, J |
| G3CKR/P | IO93AD | | 144MHz | SSB | 2.5 watts | T,J |
| G0KPW | JO02RF | | 144MHz | SSB | 5 watts | T, J |
| G1CDO | IO93HP | | 144MHz | SSB | 5 watts | T |
| GW4BVE | Pool Quay | John | 144MHz | FM | 2.5 watts | T, J |