Heath Mynd, G/WB-007 - 452m ASL - SO 336 941 - OS Explorer 216 - 1 SOTA point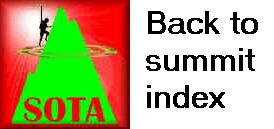 Friday 19th July 2019 - Stingwern Hill GW/MW-030, Y Golfa GW/NW-061, Long Mountain-Beacon Ring GW/MW-026 & Heath Mynd G/WB-007
Gig: Joe Longthorne
Venue: Brook Street Community Centre, Tipton
My choice of audio accompaniment in the car flitted between BBC Radio 5 Live, which had programming that reflected the 50th anniversary of the Apollo 11 Moon landing, and, appropriately enough, the CD of Pink Floyd's "Dark Side of the Moon" album. The start point for Heath Mynd is at a junction of track (undriveable) and very narrow country lane (just about driveable!). Thankfully the track splits into two at the junction, so there is a (just about) feasible place to leave the car for an hour or so.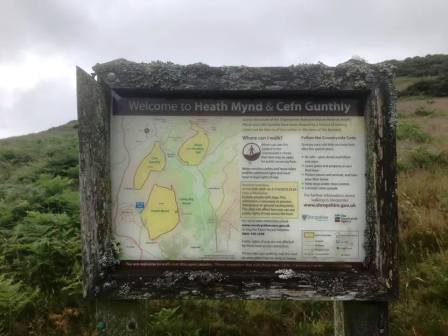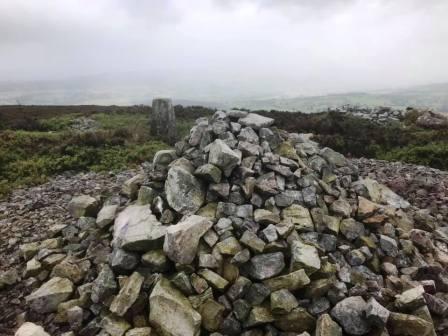 I walked along the very gently graded track to the corner, then continued up it after it turned right by 90 degrees. At the highest point of this track, it is 90 degrees right once again for the summit path. This was much steeper than I recalled, although still hardly what one might call "steep"! As the cairn and trig point appeared out of the mist at the summit I reflected with some satisfaction that I'd hardly got wet all day. Not bad given that I was expecting a thorough drenching given the forecast!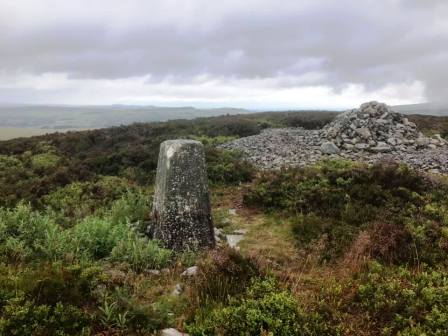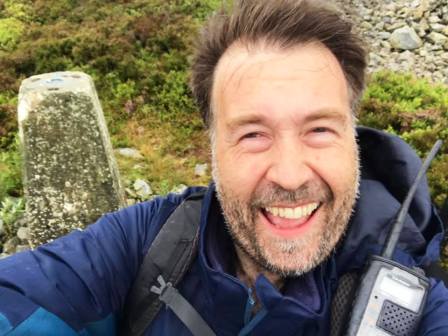 Again, I first reached for the VHF handheld to see if I could get away with a rapid low-effort activation. This time, I could indeed, and four QSOs came inside ten minutes. I enjoyed the descent walk and completed the drive to the gig venue in the West Midlands in plenty of time before soundcheck. The venue was set up for an event celebrating the birthday of two twin 95 year old sisters - Lily and Doris. So my gig on my birthday - was for a birthday party!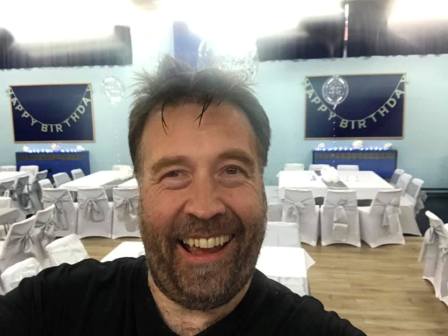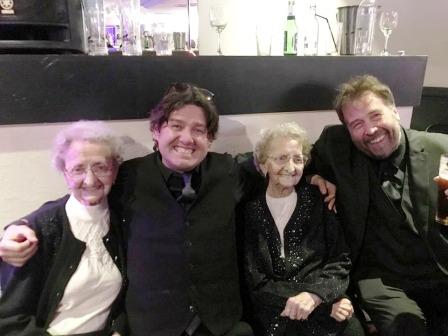 We had a beer at a place called the Pie Factory, but unfortunately they had an hour waiting list for food. Fortunately we found a great chippy that served up a delicious fish supper with cheesy chips!
| | | | |
| --- | --- | --- | --- |
| Time | Call | Band | Mode |
| 14:09z | G7RHF | 144MHz | FM |
| 14:14z | G0LGS | 144MHz | FM |
| 14:15z | 2E0MDJ | 144MHz | FM |
| 14:16z | G4ILI | 144MHz | FM |