Garreg-hir, GW/MW-017 - 485m ASL - SN 998 979 - OS Explorer 215 - 1 SOTA point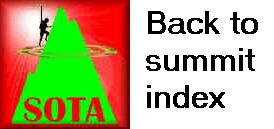 Mid Wales trip, Day 6 - Friday 23rd August 2019
From Bryn y Fan GW/MW-018, Jimmy directed over to the stretch of the A470 near to Carno, and then onto a minor road heading north past several farms. We parked on a verge opposite the start of the track at SO 011 968.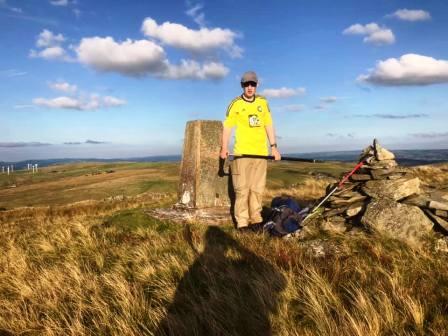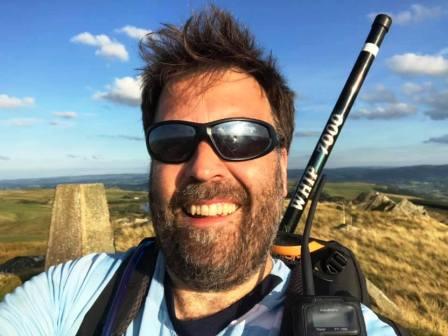 This was a very easy and pleasant walk, mainly along a good and flattish track that passes between two small lakes. The summit is on a narrow small rocky ridge and is rather attractive, especially in such a lovely summer sunset as we were being treated to on this day.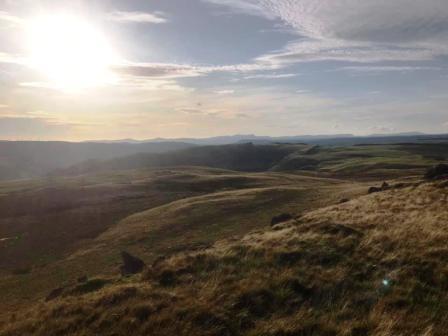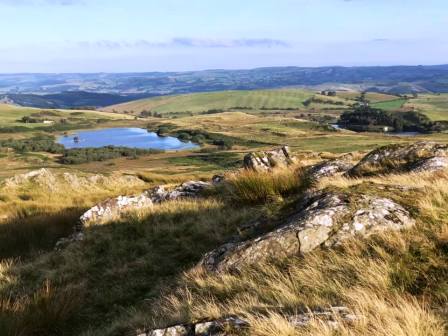 In a role reversal of the previous summit, this time it was my turn to take ages to get on air, faffing about. Jimmy was up and running efficiently and with six 2m FM QSOs in the bag before I even managed to get my FT8 system working! He went on to record nine VHF QSOs. I finally limped to five on 30m FT8, before having a quick try on 30m CW. That only netted me one further contact - but it was a good one - SOTA chaser Mike NS1TA from Maine, USA.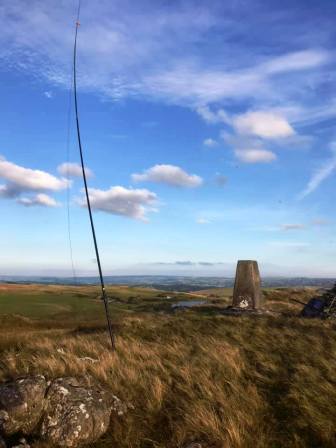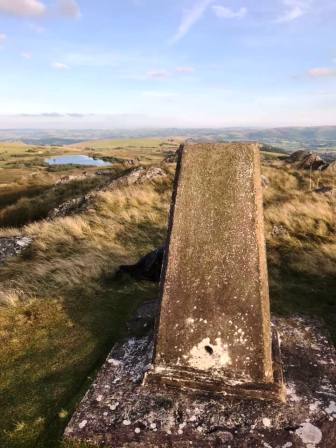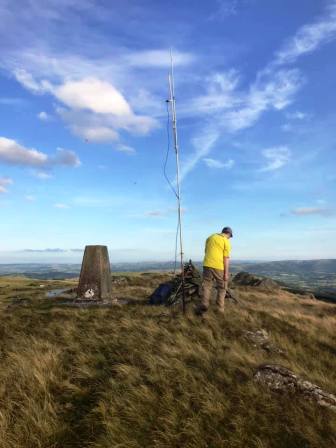 It was time to go home. It was getting close to 9pm local by the time we were back at the car, and we both took the opportunity to get changed and apply generous helpings of Lynx body spray to ourselves! Driving up the A483, I said to Jimmy "I'm sure I've seen a big curry house along here somewhere". Sure enough, on the Wrexham by-pass section, we found the Maahis restaurant. They needed a little gentle persuasion to let us in at this late hour, but they did. We noticed they did a house special Welsh lamb curry dish, so we both plumped for that. And - WOW! Very highly recommended indeed. When I go there next, I will be having exactly the same again, let me tell you!
The gig I had been preparing for during the first half of the holiday was now looming for the following day, so I needed to get home, get my head down, and be ready for another early start in the morning - especially if I wanted to bag an activation of Dundry Down G/SC-010 on the way to the gig!
| | | | | |
| --- | --- | --- | --- | --- |
| Time | Call | Band | Mode | Op |
| 18:20z | MW0OFA | 144MHz | FM | MW0HGY/P |
| 18:21z | M0NTC | 144MHz | FM | MW0HGY/P |
| 18:22z | GW1OFA | 144MHz | FM | MW0HGY/P |
| 18:27z | G7LMF | 144MHz | FM | MW0HGY/P |
| 18:33z | GW4VPX | 144MHz | FM | MW0HGY/P |
| 18:36z | 2E0YYB | 144MHz | FM | MW0HGY/P |
| 18:43z | RK3FF | 10MHz | FT8 | MW1EYP/P |
| 18:46z | EA3KU | 10MHz | FT8 | MW1EYP/P |
| 18:47z | G4IOQ | 144MHz | FM | MW0HGY/P |
| 18:49z | UA4FBG | 10MHz | FT8 | MW1EYP/P |
| 18:50z | IK2LEY | 10MHz | FT8 | MW1EYP/P |
| 18:52z | RD4D | 10MHz | FT8 | MW1EYP/P |
| 18:53z | G8BEQ | 144MHz | FM | MW0HGY/P |
| 19:01z | 2W0WMW | 144MHz | FM | MW0HGY/P |
| 19:04z | NS1TA | 10MHz | CW | MW1EYP/P |