Cyrn-y-Brain, GW/NW-043 - 565m ASL - SJ 208 488 - OS Explorer 256 - 2 SOTA points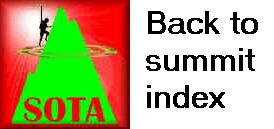 Friday 15th February 2019 - Moel y Gamelin GW/NW-042 & Cyrn-y-Brain GW/NW-043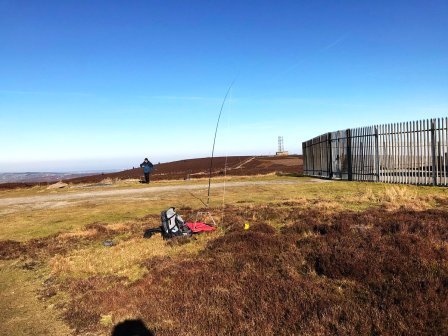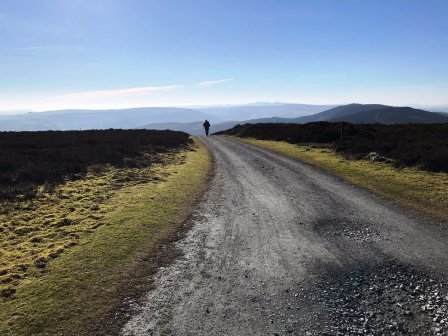 This time it wasn't 2m FT8 for me. I had built a 30m GP antenna during the week which I needed to test and trim. To cope with its size, I need to take a Travel Mast for this - as a standard 6.7m fishing pole would not be long enough. It took a bit of fiddling around to cut the antenna to optimum size, but then came the rewards.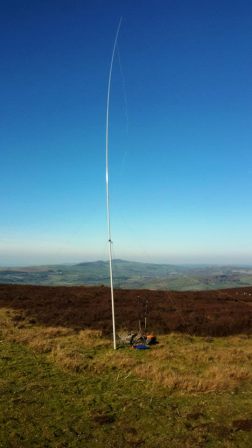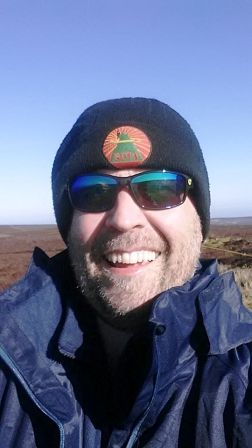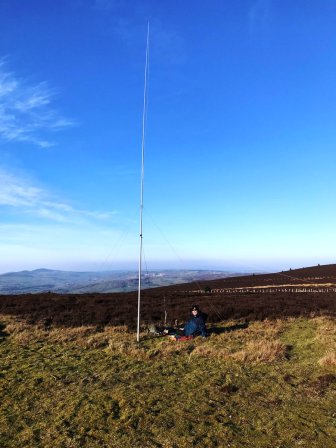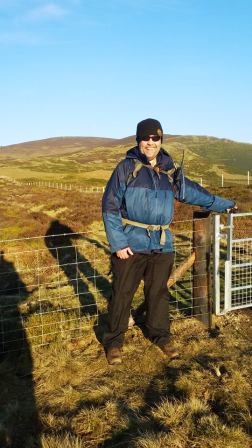 27 QSOs were made in a very busy, and at times over-exuberant pile-up. Good to work my friend Kjell LA1KHA/P S2S from Holtankollen LA/TM-049 (I think 'Holtankollen' might be Norwegian for 'Cloud'!).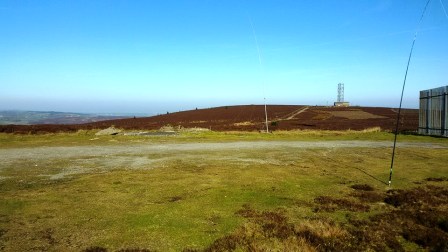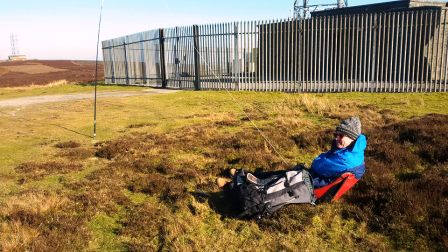 I was pleased my antenna worked; it could be just the thing from The Cloud for a dawn activation when the MUF is significantly below 14MHz. A historical landmark moment occurred late into the descent when we noticed that the old rickety stile of the last 17 years had finally been replaced by a steel kissing gate. The journey home took in The Blue Cap pub in Sandiway for a very pleasant Mobberley amber ale. All most splendid - as usual.
| | | | | |
| --- | --- | --- | --- | --- |
| Time | Call | Band | Mode | S2S |
| 14:38z | IK2LEY | 10MHz | CW | |
| 14:39z | EA2IF | 10MHz | CW | |
| 14:40z | IK0AGU | 10MHz | CW | |
| 14:40z | OK2QA | 10MHz | CW | |
| 14:41z | DL1JEE | 10MHz | CW | |
| 14:42z | DJ2MX | 10MHz | CW | |
| 14:42z | SA4BLM | 10MHz | CW | |
| 14:43z | DL4CF | 10MHz | CW | |
| 14:47z | IK0OPS | 10MHz | CW | |
| 14:48z | G3WPF | 10MHz | CW | |
| 14:49z | OK1APY | 10MHz | CW | |
| 14:50z | S52CU | 10MHz | CW | |
| 14:51z | OH1MRR | 10MHz | CW | |
| 14:53z | OK2GX | 10MHz | CW | |
| 14:54z | OH6KSX | 10MHz | CW | |
| 14:55z | OH1RX | 10MHz | CW | |
| 15:03z | R1DX | 10MHz | CW | |
| 15:04z | 9A2QP | 10MHz | CW | |
| 15:04z | SM1TDE | 10MHz | CW | |
| 15:06z | DL2HWI | 10MHz | CW | |
| 15:07z | IW3ILM | 10MHz | CW | |
| 15:07z | LA1KHA/P | 10MHz | CW | LA/TM-049 |
| 15:09z | OM7OM | 10MHz | CW | |
| 15:11z | OK1ZE | 10MHz | CW | |
| 15:11z | OK1DWC | 10MHz | CW | |
| 15:12z | DL5MFC | 10MHz | CW | |
| 15:12z | OK1KT | 10MHz | CW | |