Donald's Hill, GI/SM-013 - 399m ASL - C 743 173 - OSNI Discoverer 8 - 1 SOTA point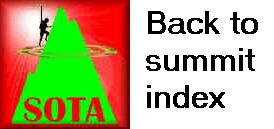 The second hill on Friday 7th August 2015 was something of a disappointment. In fact that is the understatement of the century. We hated it. From Benbradagh SM-009, we drove north on the lanes, eventually working our way around to C752185 where we parked. Again, the Ulster Way was true to form, existing as some sort of followable path briefly, but then leaving as it battle it out alone against bog, peat, long grass, heather, ditches and streams. The going was really tedious and hard-going. Eventually, we found slightly (and I mean slightly) better going beside the barbed wire fence on the ridge.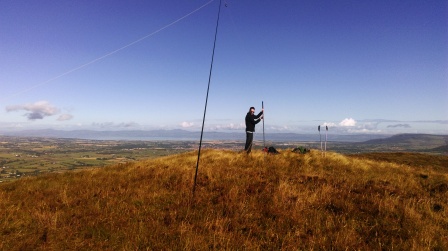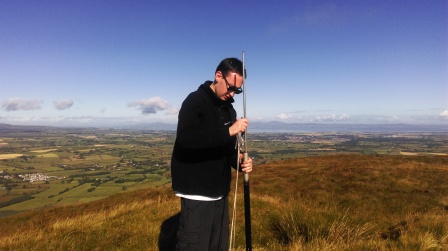 After too long a boring and unpleasant walk, we were pumping our way more steeply uphill onto the summit. The summit itself was quite nice with decent views - but that was the only slightly (and I mean slightly) redeeming feature of this bobbins hill. At least propagation had decided to exist once again. I made plenty of contacts on 10m CW, and S2S with another activating team in Germany on SSB. These two gave Jimmy his 3rd and 4th QSOs, so he was pleased about that!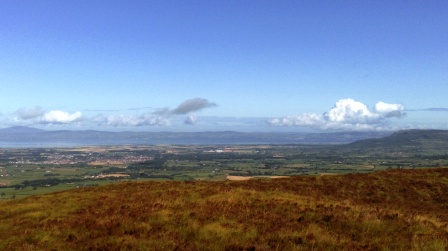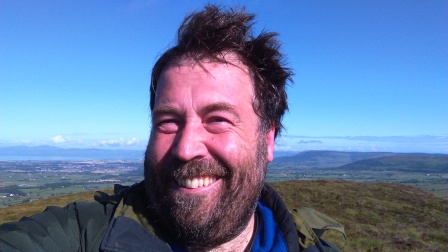 The descent was easier on the thighs and calves than the ascent, but even more unpleasant as a result of the incessant company of a large midge cloud each, and they were bothering and biting as well. Dreadful walk, and neither of us could wait to get back to the cottage for a decent shower! Still, we were almost at "Mission Accomplished" with regard to our debut visit to the Sperrins, and we plotted to grab one more - Crockdooish GI/SM-020 - before heading back to Larne on the Saturday morning. Meanwhile, we would enjoy a family walk from Portstewart to Portstewart Strand via the coastal path later that day.
| | | | | | |
| --- | --- | --- | --- | --- | --- |
| Time | Call | Band | Mode | S2S | Op |
| 08:50z | EI2HXB | 28MHz | SSB | | T |
| 08:45z | MI0GDO | 144MHz | FM | | J |
| 08:47z | EI2HXB | 144MHz | FM | | J |
| 08:57z | DL/OE5RTP/P | 28MHz | SSB | DM/SX-037 | T, J |
| 08:58z | DL/OE5IRO/P | 28MHz | SSB | DM/SX-037 | T, J |
| 09:03z | OE5EEP/P | 28MHz | CW | OE/KT-077 | T |
| 09:07z | HA5MA | 28MHz | CW | | T |
| 09:07z | DL8DXL | 28MHz | CW | | T |
| 09:08z | DL2DXA | 28MHz | CW | | T |
| 09:08z | EA2LU | 28MHz | CW | | T |
| 09:09z | DF5WA | 28MHz | CW | | T |
| 09:10z | OK2PDT/P | 28MHz | CW | OK/JM-026 | T |
| 09:11z | HB9MKV | 28MHz | CW | | T |
| 09:12z | HB9AGH | 28MHz | CW | | T |