Fan Nedd, GW/SW-007 - 663m ASL - SN 913 184 - OS Explorer OL12 - 4 SOTA points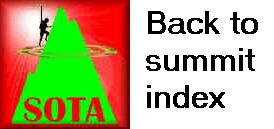 South Wales SOTA Trip - Day 5 (part 2) - Thursday 28th May 2015
We descended from Fan Gyhirych GW/SW-006 back down to the saddle where we rested earlier. We followed a slightly more direct route using a path we had noticed while ascending to Fan Gyhirych's summit. The walk up the shoulder of Fan Nedd was fairly easy going over good ground, and it did not take long at all.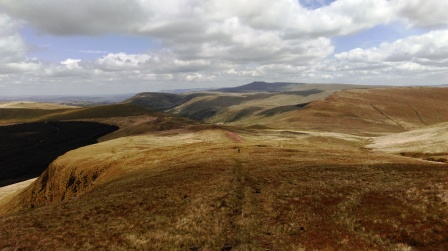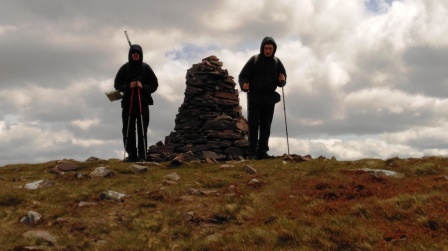 A large cairn marked the north end of the summit plateau, and would appear to be just within the SOTA activation zone - ie within 25m vertically of the highest point of the hill. However, as usual we pressed on to the summit itself, for the photographs and the satisfaction. A substantial shelter backed usefully into a strong wind on the summit, and Jimmy and Liam soon reserved their places in that!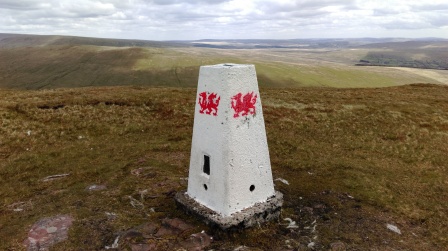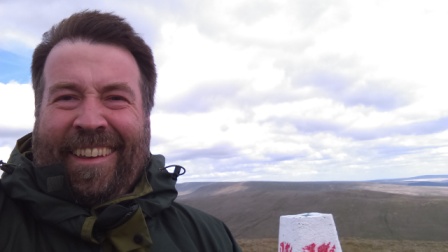 My anxiety about securing a multiplier contact on the 10m band was soon relieved. As soon as I switched on the FT-817, there was CT9/OM3RM, still calling CQ, as he was when I was on the previous summit. I also managed to answer - successfully - the CQ calls of AO150R on 10m SSB, although it took me a few attempts. For the rest of the activation, I went onto 40m SSB and CW for the SOTA chasers.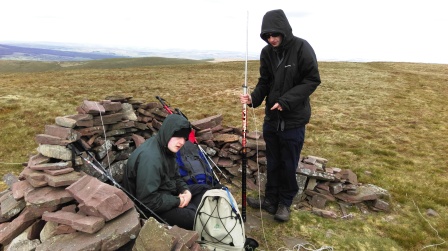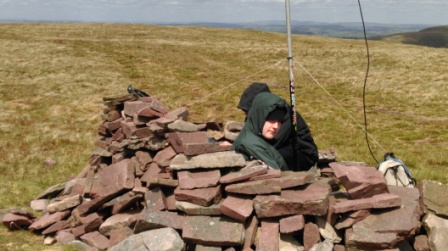 Six contacts on 2m FM made for another stress-free qualification for Jimmy. We packed up and made the short easy descent to the car. There remained time left in the day, so we made for Mynydd Eppynt GW/SW-018. Fan Nedd completed all of the South Wales region for us, so now we would just be picking up bonus points and bonus multipliers.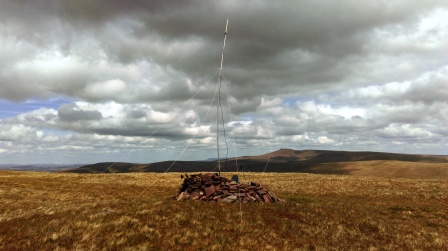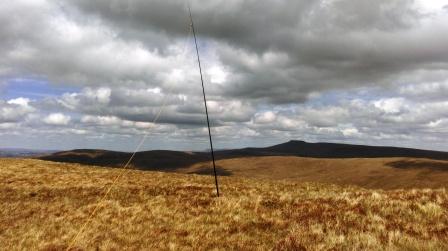 | | | | | |
| --- | --- | --- | --- | --- |
| Time | Call | Band | Mode | Op |
| 13:27z | GW7MMG | 144MHz | FM | J |
| 13:28z | MW0PJJ | 144MHz | FM | J |
| 13:30z | CT9/OM3RM | 28MHz | CW | T |
| 13:31z | AO150R | 28MHz | SSB | T |
| 13:32z | GW6OVD | 144MHz | FM | J |
| 13:35z | M6TEP/P | 144MHz | FM | J |
| 13:36z | G7BGA | 7MHz | SSB | T |
| 13:37z | G6ZFZ | 144MHz | FM | J |
| 13:38z | 2W0MFD | 144MHz | FM | J |
| 13:39z | G3OKA | 7MHz | SSB | T |
| 13:39z | G4CQR | 7MHz | SSB | T |
| 13:39z | G4NQX | 7MHz | SSB | T |
| 13:40z | MM3PDM/M | 7MHz | SSB | T |
| 13:41z | G0AJH | 7MHz | SSB | T |
| 13:42z | SM6CNX | 7MHz | SSB | T |
| 13:47z | G4OBK | 7MHz | CW | T |
| 13:48z | G4SSH | 7MHz | CW | T |
| 13:48z | F6EAZ | 7MHz | CW | T |
| 13:49z | HB9AGH | 7MHz | CW | T |
| 13:50z | PA7ZEE | 7MHz | CW | T |
| 13:50z | ON3ND | 7MHz | CW | T |
| 13:51z | F/G4AFI | 7MHz | CW | T |
| 13:51z | DJ5AV | 7MHz | CW | T |