Fan Gyhirych, GW/SW-006 - 725m ASL - SN 881 191 - OS Explorer OL12 - 6 SOTA points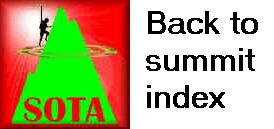 South Wales SOTA Trip - Day 5 - Thursday 28th May 2015
A comfortable night at Llanddeusant Youth Hostel was followed by the usual breakfast of Nutri-Grain bars and glasses of water, while I warmed another litre of soup on the gas stove in the members' kitchen. Today's walk would be a classic traverse. Jimmy and I hadn't realised or appreciated that Liam, despite his considerable experience, had never really done such a walk. It could be argued that the pairings of Moel y Gamelin GW/NW-042 and Cyrn-y-Brain GW/NW-043, or Mynydd Troed GW/SW-009 with Mynydd Llangorse GW/SW-015 fit the bill, but both involved walking back past wherever the car is parked and crossing a road - so not quite the same!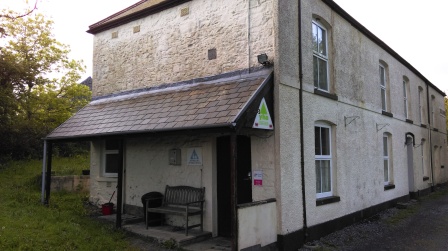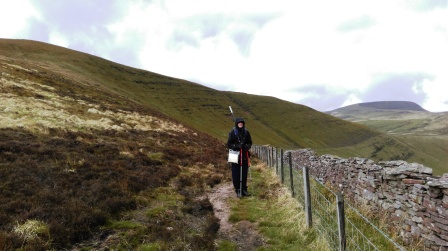 The early morning drive took us to the 446m spot at on the minor road at SN923196. Opposite this was a ladder stile over the dry stone wall, and a direct path up to the summit of Fan Nedd GW/SW-007 which towered immediately above us. However, this was not our first objective; we would descend that way later in the day.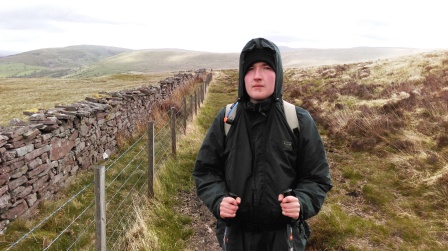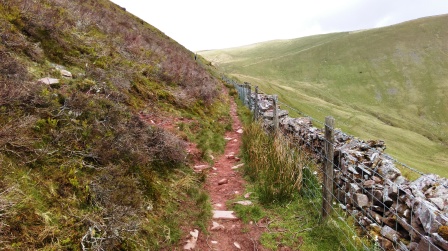 After a short initial climb, we picked up a very well defined and pleasant to walk on path around the lower flanks of Fan Nedd. This path is not indicated in any way on the OS Explorer 1:25000 mapping, but is definitely there on the ground, and provided an excellent walk-in to our first summit.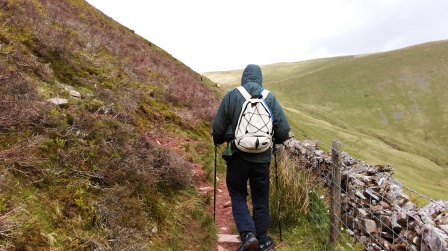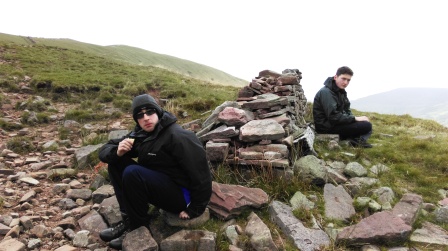 Soon, we were at the saddle between the two hills, and taking the opportunity to briefly rest and enjoy an energy snack. It was a steady walk and a gentle climb from here to the first summit. The trig point was sadly in a poor state of repair.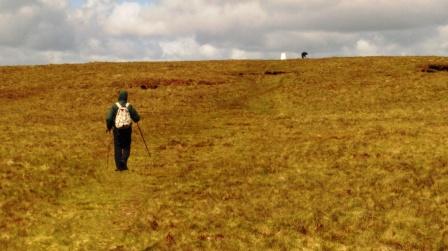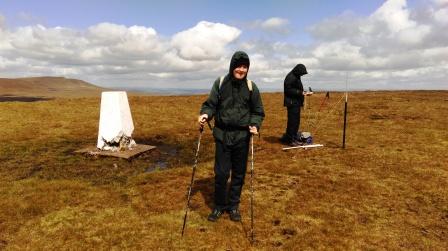 The 10m band had retreated back into its shell once again, but I didn't need Jimmy to persuade a local to listen for me. OM3RM was operating on holiday on Madeira Island and therefore signing as CT9/OM3RM. I responded to his CQ call and got worked quickly. In the absence of any other activity on 28MHz whatsoever, I went onto the WAB net on 7.160MHz to offer the square of SN81 and trigpoint of TP3106. That bagged me the qualification, meanwhile Jimmy had no trouble on 2m FM.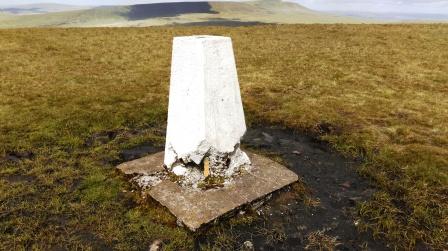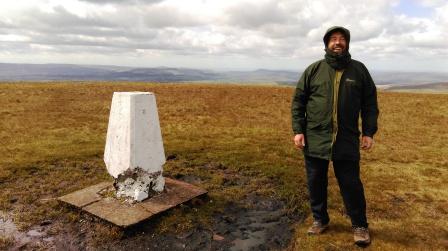 A pleasant surprise was a S2S contact with GW1PCR/P on Mynydd Carn-y-cefn GW/SW-014 where we had been just three days earlier. But once the contacts dried up, we didn't try different bands or scour the frequencies for more activity. We now had the traverse across to Fan Nedd GW/SW-007 to consider, so packed up and cracked on.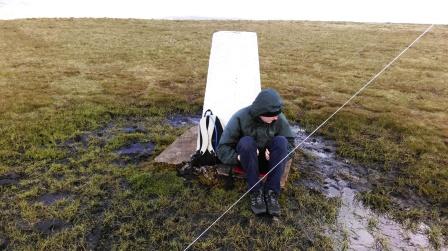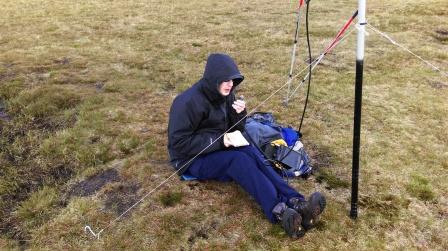 | | | | | | |
| --- | --- | --- | --- | --- | --- |
| Time | Call | Band | Mode | S2S | Op |
| 10:12z | GW6OVD | 144MHz | FM | | J |
| 10:13z | MW0PJJ | 144MHz | FM | | J |
| 10:15z | GW4TQE/P | 144MHz | FM | GW/MW-013 | T, J |
| 10:19z | GW7MMG | 144MHz | FM | | J |
| 10:26z | CT9/OM3RM | 28MHz | SSB | | T |
| 10:42z | MM3PDM/M | 7MHz | SSB | | T |
| 10:42z | MW0YCC | 144MHz | FM | | J |
| 10:43z | G4NQX | 7MHz | SSB | | T |
| 10:43z | MW0BBU | 144MHz | FM | | J |
| 10:45z | G7BGA | 7MHz | SSB | | T |
| 10:46z | G7LSR | 144MHz | FM | | J |
| 10:56z | GW6VKY | 144MHz | FM | | J |
| 10:57z | GW1PCR/P | 14MHz | SSB | GW/SW-014 | T, J |
| 11:04z | 2E0SST | 144MHz | FM | | J |