Foel Fynyddau, GW/SW-029 - 370m ASL - SS 782 936 - OS Explorer 165 - 1 SOTA point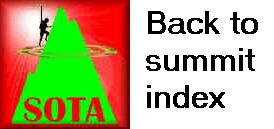 Easter Sunday 20th April 2014 - Foel Fynyddau GW/SW-029.
For this one we parked in the wide track entrance at SS772935. However, greater observation by me would have revealed that the tarmac track climbing the hill was mapped as a byway open to all vehicles. It was only at the top of that lane by the stile into the PROW through the field that it dawned on me that I could have easily left my car right there. Mind you, this was also next to a sort of scrapyard with a hotchpotch of portacabins and all manner of aggressive notices, so perhaps best not!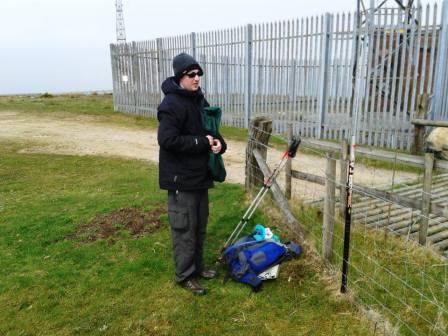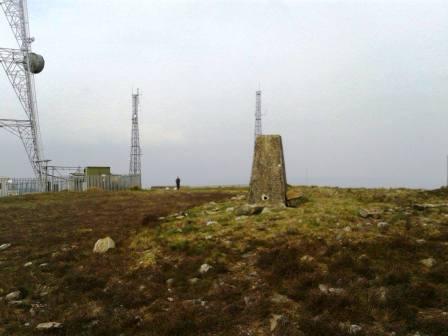 The path now curved uphill between the yard fence and a forested area, before opening out onto a grassy path up to the transmitters on the summit. I chose to set up by the metal fence of one of the transmitter compounds, where I figured I could obtain the double benefits of shelter from the cold breeze - and a backrest! Jimmy had already peaked and was setting up the MFD beside the trig point.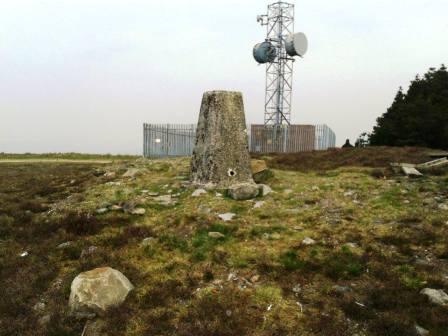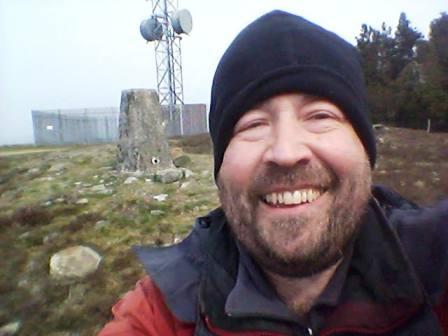 Jimmy MW0HGY/P made his qualifying four QSOs on 2m FM in little over 10 minutes. He wandered over to inform me he had qualified, and asked if I had done likewise. "I've not even made my first contact yet" was my rueful response. Again, I was struggling to get anything at all in the logbook on 12m. Eventually, this box was ticked courtesy of a SSB QSO with Gosho, operating Bulgarian special event station LZ1808SNS.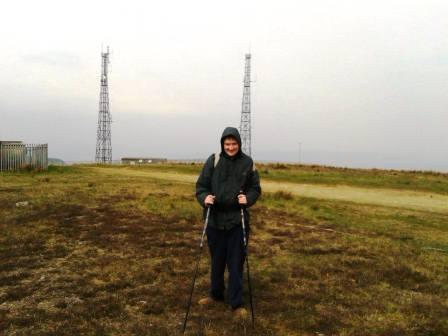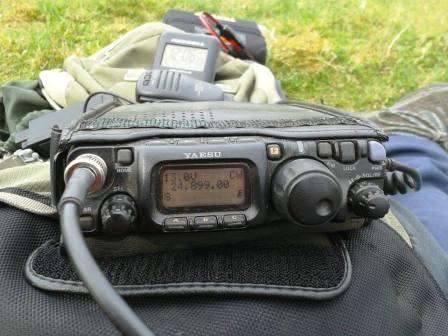 Contact number two cam after QSYing to 20m CW and working MW/SM0GNS/P on Pen y Fan GW/SW-001 for a S2S. I couldn't repeat that feat with Jurg HB9BIN/P on Eichelsberg HB/NW-015, so that was marked SWL - his pile-up was enormous. Going down to 40m did enable a second S2S though, this time with DL8JJ/P on DM/HE-128. Moving up 1kc from there, I soon worked three more chasers to finish on six contacts and the points in the bag. After a speedy descent, we made out way across towards Mynydd y Betws GW/SW-028, which offered a very easy "walk", thus giving us flexibility with the incoming poor weather.
| | | | |
| --- | --- | --- | --- |
| 2E0MSI/P | 2m | FM | J |
| MW3DLA | 2m | FM | J |
| G0RQL | 2m | FM | J |
| GW6DGU | 2m | FM | J |
| LZ1808SNS | 12m | SSB | T |
| MW/SM0GNS/P on Pen y Fan GW/SW-001 | 20m | CW | T |
| DL8JJ/P on Eichelsberg DM/HE-128 | 40m | CW | T |
| G4SSH | 40m | CW | T |
| ON6ZQ | 40m | CW | T |
| MM6CCY | 40m | CW | T |