Gwaunceste Hill, GW/MW-010 - 542m ASL - SO 158 555 - OS Explorer 200 - 2 SOTA points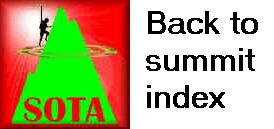 Mid Wales trip, Day 4 - Wednesday 21st August 2019
From Aberedw Hill GW/MW-022, we drove East, through the village of Glascwm, and to the top of the hill beyond, where there was a large parking area on the left. This was also the start of the bridleway that we would follow for a pleasant, undulating, but mainly easy walk-in to the summit. Before setting off, we took our lunch of oxtail soup. The walk probably took me about 40 minutes at my usual "relaxed stroll" pace. Needless to say, Jimmy M0HGY was off up ahead of me most of the route!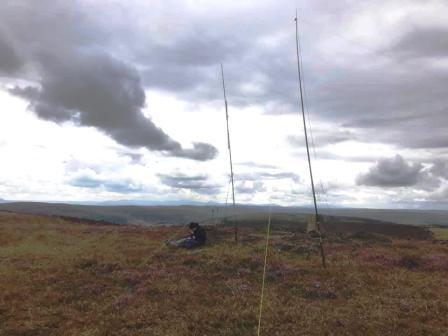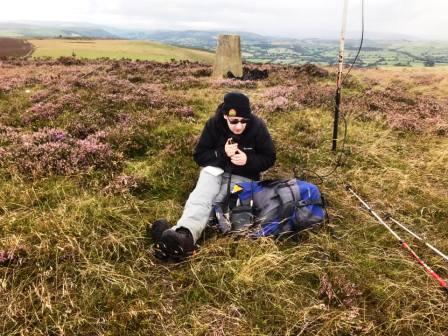 Jimmy found qualification on 2m FM really easy on this one, and had reached his requisite four contacts by a point at which I'd only recorded one in my own logbook. However, it was a 40m CW S2S with OE/N0MX/P on OE/OO-113, so a very nice QSO. It didn't take me long to catch up, and keen to get our third activation in for the day, we swiftly packed up and began our descent.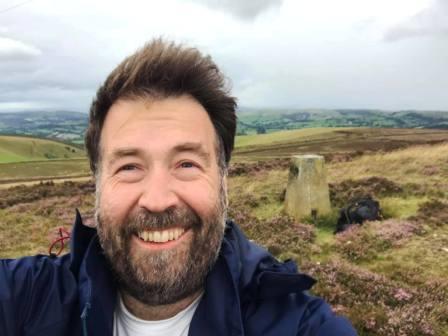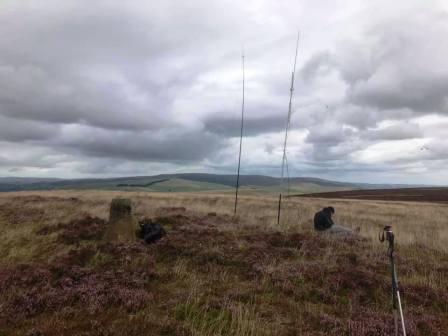 Finally for today, it was off to Carneddau GW/MW-023.
| | | | | | |
| --- | --- | --- | --- | --- | --- |
| Time | Call | Band | Mode | S2S | Op |
| 13:07z | 2W0LPU | 144MHz | FM | | MW0HGY/P |
| 13:12z | MW0OFA | 144MHz | FM | | MW0HGY/P |
| 13:12z | G4HQB | 144MHz | FM | | MW0HGY/P |
| 13:21z | OE/NOMX/P | 7MHz | CW | OE/OO-113 | MW1EYP/P |
| 13:24z | 2W0FLW | 144MHz | FM | | MW0HGY/P |
| 13:26z | ON4MB | 7MHz | CW | | MW1EYP/P |
| 13:27z | DL9ZOG | 7MHz | CW | | MW1EYP/P |
| 13:31z | M0JLA | 144MHz | FM | | MW0HGY/P |
| 13:31z | EA2LU | 7MHz | CW | | MW1EYP/P |
| 13:31z | OH3GZ | 7MHz | CW | | MW1EYP/P |
| 13:32z | EA2DT | 7MHz | CW | | MW1EYP/P |
| 13:33z | DL7VKD | 7MHz | CW | | MW1EYP/P |
| 13:33z | SM4CJM | 7MHz | CW | | MW1EYP/P |
| 13:35z | GM0HUU | 7MHz | CW | | MW1EYP/P |