High Raise, G/LD-019 - 762m ASL - NY 280 095 - OS Explorer OL6 - 6 SOTA points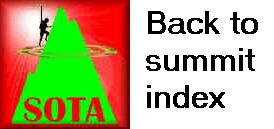 Saturday 30th April 2011 - High Raise G/LD-019, 762m - 6 points; route also including Loft Crag LDW-097 - 680m, Pike of Stickle LDW-083 - 709m, Harrison Stickle LDW-068 - 736m, Pavey Ark LDW-089 - 700m, Thunacar Knott LDW-076 - 723m, Sergeant Man LDW-072 - 736m & Blea Rigg LDW-152 - 541m.

This was the big one today. Just an activation of High Raise in SOTA terms, but we had decided to include this as part of a round of the Langdale Pikes, with WOTA activations conducted on each. Breakfast was three Nutri-Grain bars each at the youth hostel, with plenty of water. An early start was in order for the long day ahead. Driving up through Ambleside and into Langdale, we parked at the New Dungeon Ghyll pub before 8am. Parking for the day was £4, but this included a 10% voucher for any meals taken there later. (This in fact realised £2 that evening).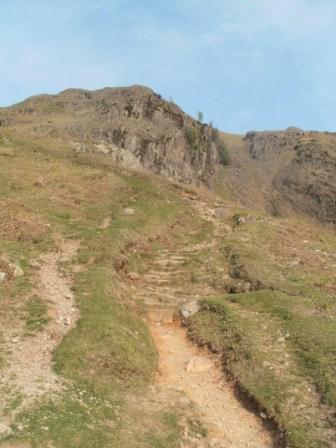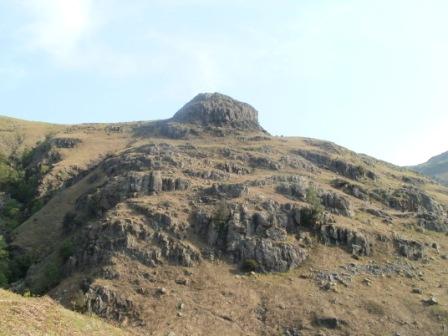 We got walking from the back of the pub and were soon into some uphill work, gaining height quickly. The first objective of the day, Loft Crag, looks at first glance an easy bag from the pub, but there is much height gain involved, and it just goes up, and up, and up. We paused for the first rest and sugar fix (chocolate Hob Nob flapjack biscuit bars) of the day just after Mark Gate (didnt he used to play for Ipswich?). On most of the approach, Thorn Crag to the right looked bigger than Loft Crag, but once almost upon it, we could see why one was the Wainwright and one was not. A steep final pull saw us summit Loft Crag just after 10am. Although we had not seen anyone on the ascent, there was another walker on Loft Crag, and there would be no further isolation for the rest of the day - the Langdale Pikes were very busy!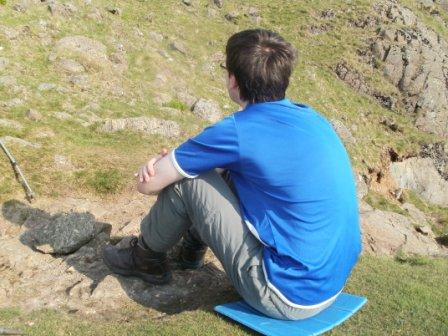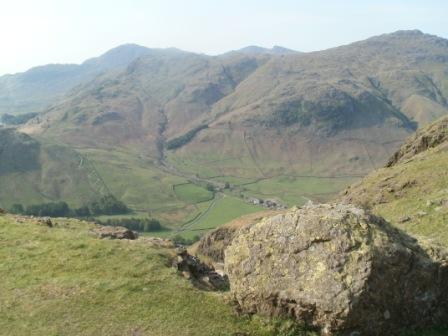 On Loft Crag LDW-097 we made 3 QSOs each on 2m FM, working as MR1EYP/P and MR3EYP/P. The plan was just for me to work the WOTAs as Jimmy was not that interested, but to our surprise, the keen WOTA chasers repeatedly requested a QSO with Jimmy after working me. Jimmy obliged of course, and we learned that the WOTA Fell Runner Award scored chasers a point for each different activator worked on a summit, and hence the keenness to work us both.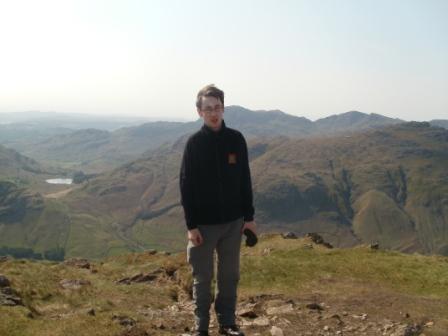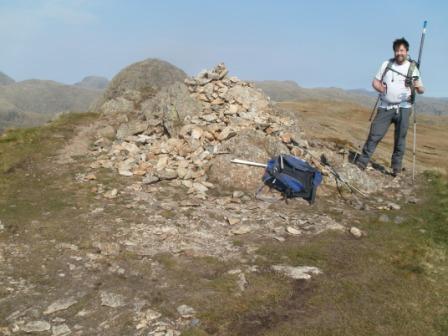 We continued over Loft Crag and descended less steeply on its North Western side. This was very close to Pike of Stickle LDW-083, which Jimmy warned me might be somewhat exposed. In fact it wasnt too bad. Jimmy was way off ahead as usual, scrambling (mildly) upwards, but I overheard two guys saying that the best route was on the other side. So I headed round to the other side - only to find a more difficult and steep rocky scramble with one exposed move. Rather than turn back and follow Jimmys route up, I gritted my teeth, took my time and went for it. The nervy bit was soon over and done with, and I joined Jimmy on the summit.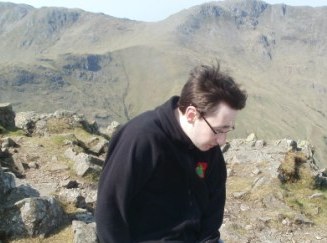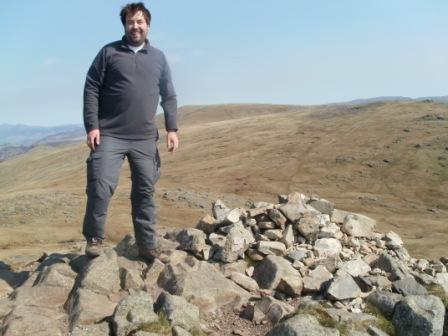 We relaxed over an Eccles cake, then activated the WOTA with three 2m FM QSOs each. I followed Jimmys way down for a non-exposed descent off the pike to rejoin the main path. We had decided not to follow the big wide track directly across to Harrison Stickle LDW-068, as it dropped as far as 620m ASL. It was a fantastically clear day, and I could see that we could simply take a wider curve around, gradually ascending and without dropping below 650m. This did take us onto the shoulder of Thunacar Knott LDW-076, but we would pass over that one a little later. So we headed around to the right (south) and onto the main drag up Harrison Stickle.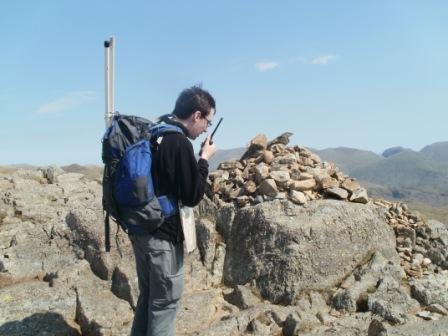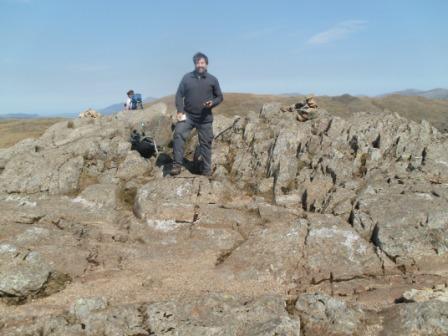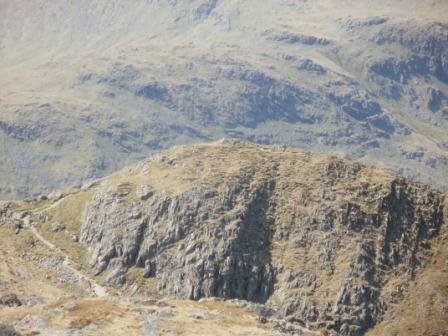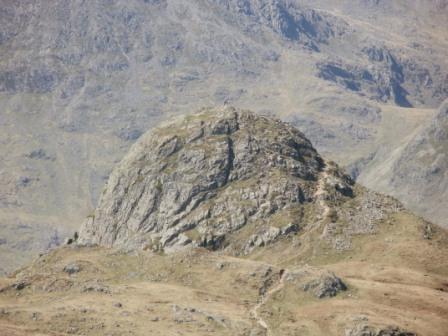 Although these pikes were all around 2500 feet ASL, they each stood only about 150-200 feet above the high plateau, so once up there, attaining the individual pikes was easy. Harrison Stickle LDW-068 was activated by us both, with me recording 8 QSOs on 2m FM, including a W2S with Martyn GW4CQZ on Moel y Gamelin GW/NW-042. After descending back down from Harrison Stickle, it was an almost level walk across to Pavey Ark LDW-089. It was getting really busy up here now, and there was quite a crowd on Pavey Ark summit. How many of them had, like us, tottered across from another Langdale Pike, and how many had dared to work their way up Jacks Rake I do not know! I made six QSOs on 2m FM, including a W2S with Bill G4WSB/P on Top of Selside G/LD-048 (non-Wainwright).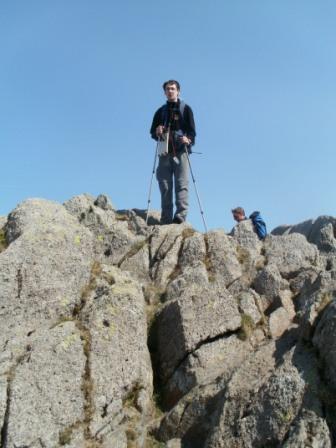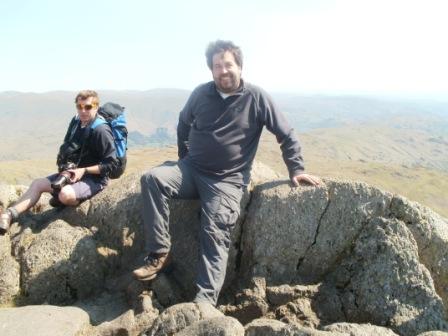 It was another easy walk of about 15 minutes from Pavey Ark back across to Thunacar Knott LDW-076. This was hardly a "pike", but a swelling in the plateau between Harrison Stickle and High Raise. But we used it to pause for lunch and enjoy the carrot and lentil soup from the flask, as well as another energy bar. It was three QSOs each on this one, all on 2m FM via the handhelds, and including W2W with Richard GR1JTD/P on Wetherlam LDW-058.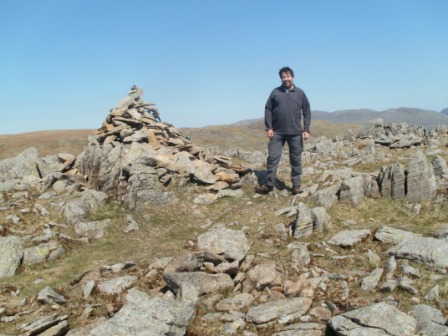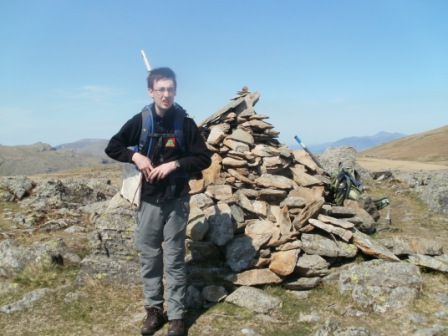 Finally, after no less than five Wainwright bags and WOTA activations, it was time for a SOTA. We dropped gently to the high saddle, and then steadily and gradually up onto the large summit plateau. We could see Sergeant Man, our subsequent objective, sticking up at the far right-hand edge of the plateau. Although it was another windy day, we had generally been spared the worst of it on the summits of the pikes. The more troublesome wind had been accelerating in the gaps between the pikes. However, across the summit of High Raise G/LD-019 LDW-056, it really was fierce, and both Jimmy and I had difficulty in erecting our antennas.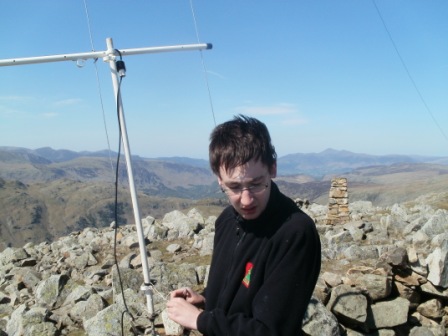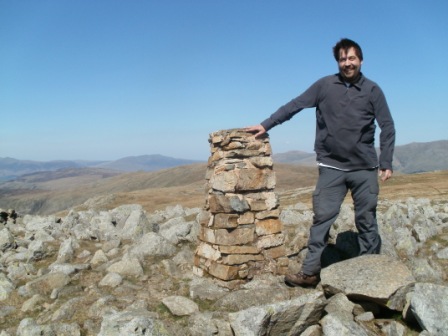 This time the WOTA chasers would have to make do with a single fell runner contact from this summit, unless they wanted to make the second one on 40m CW. In fact one of them - John G0TDM - did just that, but Jimmy worked most of them on 2m FM only. On 40m CW, I made just ten contacts in poor conditions. I was not disappointed though, as the option to get packed up and away across to Sergeant Man rather appealed.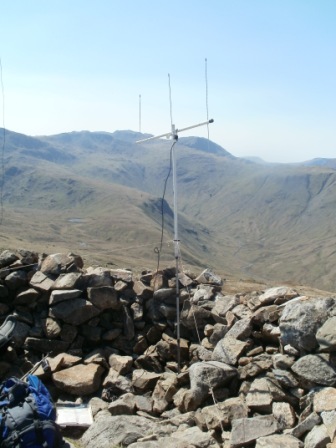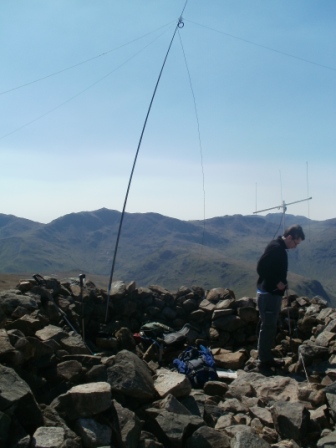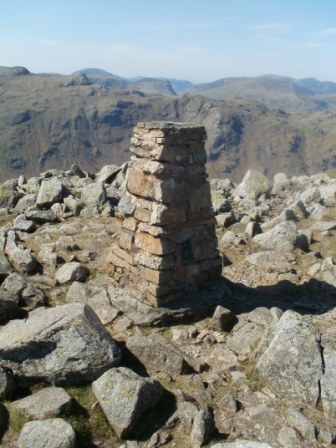 This "traverse" was probably the daftest one of the whole day, with a gentle 40m descent spread over about 500m of walking, then a tiddly climb of a few feet at the end. Sure, it dropped away steeply on the other side, but its prominence from the saddle with High Raise was negligible. My six 2m FM QSOs on Sergeant Man LDW-072 included W2S with Rick M0RCP/P on Skiddaw G/LD-004 & LDW-004, and Neil MW0ECX/P on Moel Eilio GW/NW-022. Jimmys WOTA log was the duplicate of mine.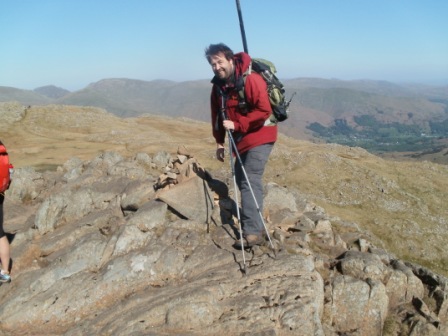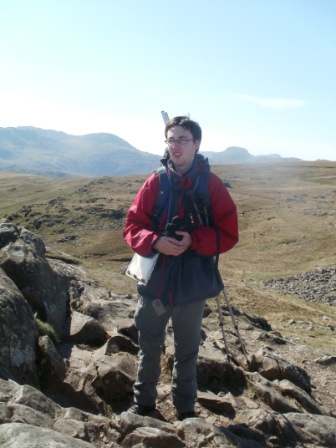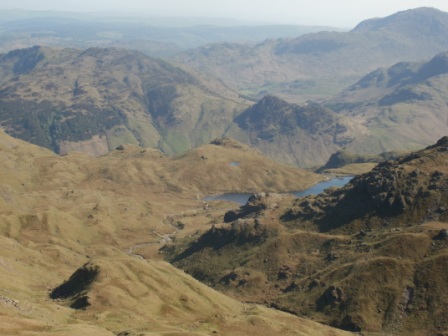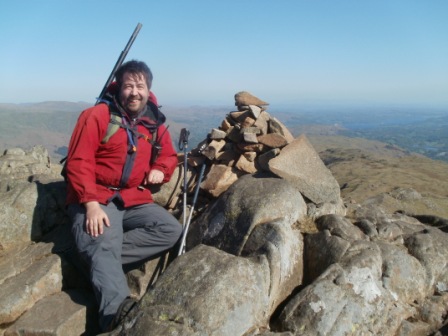 We were now tiring as we went into late afternoon. But there was one more WOTA summit planned, and a couple of chasers particularly keen that we do it! This was a bit of a longer walk along the high grassy tops, with a stunning aerial view of Easedale Tarn down to our left. Blea Rigg LDW-152 steadily came more clearly into view as the target, and then we were clambering up to its summit. Those two keenest of WOTA chasers - Sue GR1OHH and Colin G4UXH were worked by both Jimmy and I on 2m FM to complete the radio for the day - and herald the start of a long, long walk back down to the pub.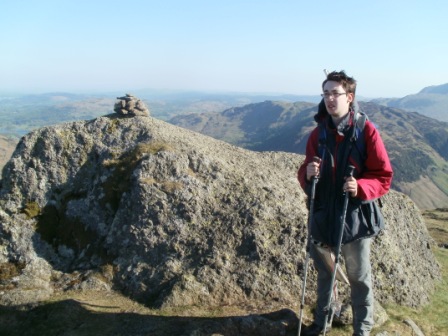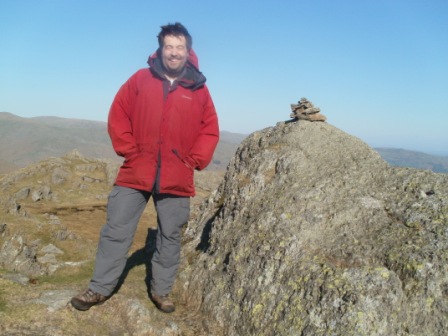 To find our way off Blea Rigg and down to Stickle Tarn, we walked in the direction of Pavey Ark, which was dominating the western horizon ahead. The sun, starting its drop for the day in between Pavey Ark and Harrison Stickle was creating some stunning light and scenes across Stickle Tarn. I took a few photos from the dam before commencing the descent down Stickle Ghyll. We were advised to walk down the right-hand side of the ghyll, even though the left looked much better and easier. That part had been worked on, but would have led into the building site with piles of rubble to negotiate. The drop down seemed to take an age, and every time I looked ahead, I kept seeing the pub an impossible looking distance beneath my feet! Jimmy skipped ahead of his tiring dad, and any conversation we had on this section was conducted via radio on our handhelds.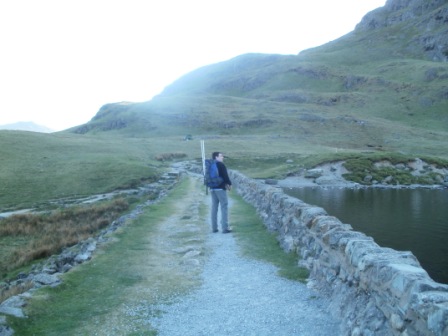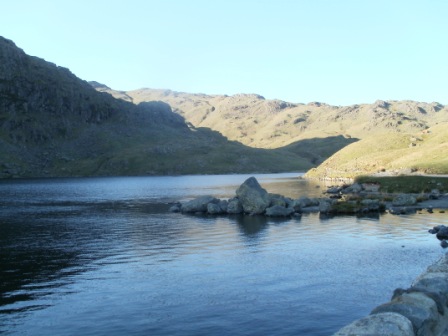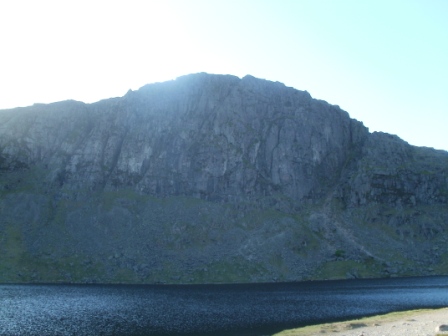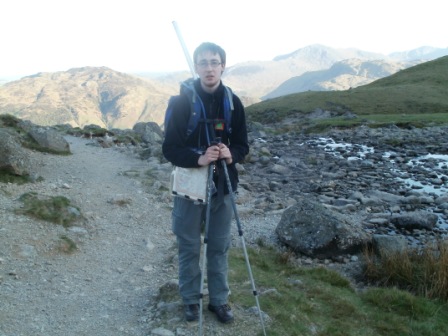 Just before 8pm, we were reunited at the New Dungeon Ghyll, completing an exhausting 12 hour mission. In the pub, we ordered two plates of meat pie with chips, veg and gravy, accompanied by a pint each of real ale. Our next accommodation was up at Borrowdale YHA, so it was a long drive ahead, although we made it in good time. Sufficient good time to grab a pint in the Riverside Bar at the Scafell Hotel, before booking in and getting to bed. Our late arrival consigned us to less favoured top bunks in the full dormitory, but I soon forgot about that as I drifted into the land of nod. The log from the SOTA activation of High Raise was as follows:
| | | | |
| --- | --- | --- | --- |
| G4UXH | 2m | FM | J |
| GR1OHH | 2m | FM | J |
| G1KLZ/A | 2m | FM | J |
| G6LKB | 2m | FM | J |
| MR0OYG | 2m | FM | J |
| MR6MIJ | 2m | FM | J |
| 2E0JOH/P | 2m | FM | J |
| GR4ZRP | 2m | FM | J |
| 2R0XSD | 2m | FM | J |
| PA2REH | 40m | CW | T |
| PA1AT | 40m | CW | T |
| G0VWP/P | 2m | FM | J |
| ON3ND | 40m | CW | T |
| G0TDM | 2m | FM | J |
| M3TMX | 2m | FM | J |
| GR4ELZ | 40m | CW | T |
| GR8XQS/P on Whernside NP-004 | 2m | FM | J |
| M0COP | 40m | CW | T |
| MR3ZCB/P on Rhinog Fawr NW-023 | 2m | FM | J |
| PA0ALW | 40m | CW | T |
| G0TDM | 40m | CW | T |
| MR1MAJ/P on Rhinog Fawr NW-023 | 2m | FM | J |
| GR4CMQ | 40m | CW | T |
| G3WPF | 40m | CW | T |
| G4SSH | 40m | CW | T |