Skiddaw, G/LD-004 - 931m ASL - NY 260 290 - OS Explorer OL4 - 10 SOTA points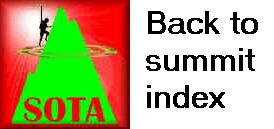 The drive from Dunmail Raise to Keswick was quick, and once there I had no difficulty with directions, having stayed here with Marianne the previous week. In fact the hotel we stayed at, Underscar Manor, backs right onto the cul-de-sac lane up to the popular parking area and start point for Skiddaw, so I was able to drive straight there without even Jimmy's help with directions.

The car park was extremely busy, but we found an acceptable spot near the start of the path. We recalled that this was a steep and gruelling walk, but that it didn't actually take that long. Indeed, this was why we had earmarked it as a possible third summit for thr first day.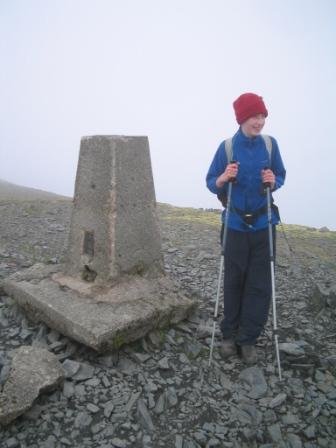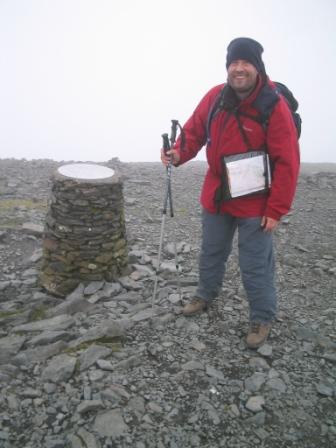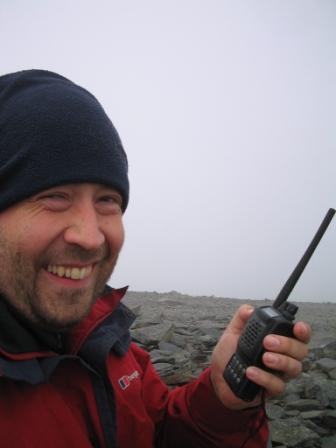 We set off, and all too soon hit the long steep ascent up the stony track. I began to question my sanity - was I really going to climb all the way up here at teatime?; was it really the non-time-consuming walk I recalled it to be? Jimmy quickly reduced to a dot on the horizon as he opened up a considerable lead over his old dad. Add one tablet of chocolate covered Kendal Mint Cake. Ten minutes later, I looked back and saw that I had just climbed another few hundred feet without even feeling it. Good stuff this Kendal Mint Cake, I thought.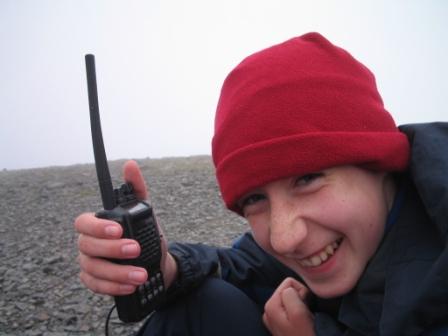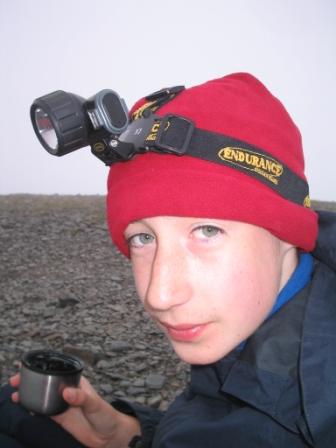 We were now rewarded with a long horizontal section, bypassing Skiddaw Little Man, before the final approach onto Skiddaw's long summit ridge. We walked the kilometre or so along to the trig point for photos, before returning to the south end of the ridge and the junction with the Allerdale Ramble path. We thought we would have better 2m FM take-off from this end. We sat ourselves down just below a small cairn for a bit of shelter, finished the soup and fired up on 2m FM. 9 contacts were made, included 3-out-of-3 for the day with both G4BLH and GW0DSP. A couple of other stations were heard calling, and I tried walking around a bit to make the contact, but I couldn't make myself heard. Thanks to the following who were worked on 2m FM with 5 watts:
| | | | |
| --- | --- | --- | --- |
| GW0DSP | Connahs Quay | Mike | T, J |
| M1AVV | Dalton-in-Furness | Simon | T, J |
| M1DHA | Barnoldswick | Alan | T, J |
| G1TAG | Osmotherley | John | T, J |
| G4BLH | Brierfield | Mike | T |
As we left the summit, we chatted briefly to a couple before they veered off to take in Skiddaw Little Man. We continued with the main descent, although they did catch us back up later. We walked with them for the last third of the descent, and they were fascinated with the Marilyns list. It turned out that Underscar Manor, visible beneath us, was also their favourite hotel. We said goodbye at the car park as they made a note of my website URL.

It was 8pm, so not bad, four hours for the ascent/activation/descent, three activations for the day, and 26 activator points. This was a new record for me, beating my previous best of 20 on New Year's Day 2004 (Long Mynd-Pole Bank G/WB-005, Stiperstones G/WB-003, Corndon Hill GW/MW-013, Gyrn Moelfre GW/NW-049). We weren't sure of the "last orders" time for food at the Scafell Hotel in Borrowdale, so we played safe and went into Keswick town centre. The 'Four In Hand' pub proved to be a good choice, with us both going for the hearty Cumbrian Game Pie followed by jam roly-poly and ice cream. The Jennings Sneck Lifter was absolutely gorgeous and went down a treat.

We eventually reached our booked accommodation at Honister Youth Hostel at 10.20pm. After the few necessary chores like making the beds, storing the soup and Nutri-Grain supply in the members' kitchen, washing out the flask and bladders and taking a shower, we took to the bunks for a much needed kip.