High Rigg, G/LD-044 - 357m ASL - NY 308 220 - OS Explorer OL5 - 1 SOTA point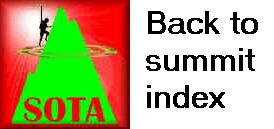 Friday 29th April 2011 (part 2) - High Rigg G/LD-044 (LDW-210), 357m - 1 point

From Blencathra G/LD-008, we returned to the A66, with Jimmy navigating me onto the minor roads to its south. We parked in the small parking area at NY306224 opposite the church and youth centre. We climbed steeply up the banks to the right of the buildings before levelling out ahead of the main haul. Not that it was much of a haul. Just a slow amble of about 10 or 15 minutes brought me to the top, where of course Jimmy had already been for quite a few minutes. The wind was still blasting across on an otherwise nice afternoon, so I dropped down one side to attain some form of meagre shelter. Jimmy, sticking with his 2m FM obsession, braved it on the very summit in the interests of putting the best possible signal out.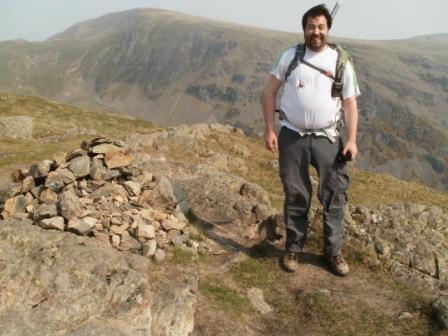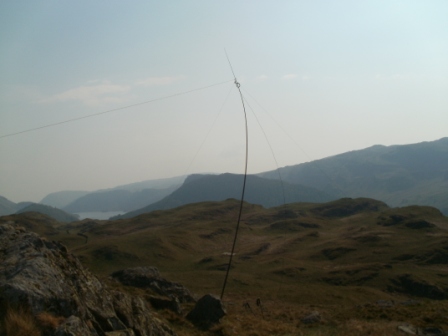 As it was, my operating position was not the wisest, for the legs of my dipole were a bit too close to the steep flanks rising to the summit. As such, my SWR was short of ideal, and the already poor conditions on 40m were compounded. Just 8 QSOs were made on 40m CW, while Jimmy operating as MR3EYP/P managed the requisite four. He was actually pleased with that, for he had feared having to "top up" with some 40m SSB to get the point.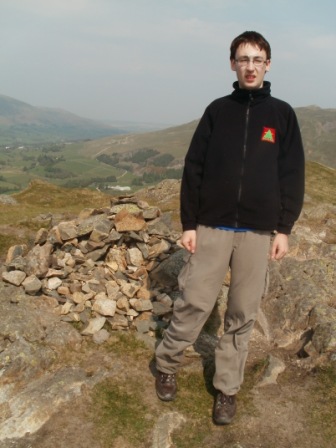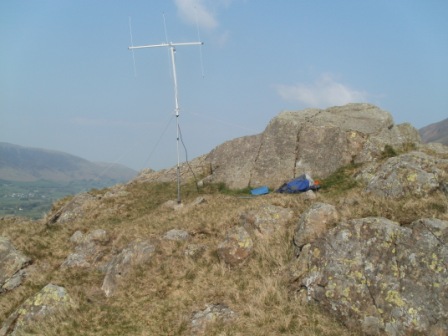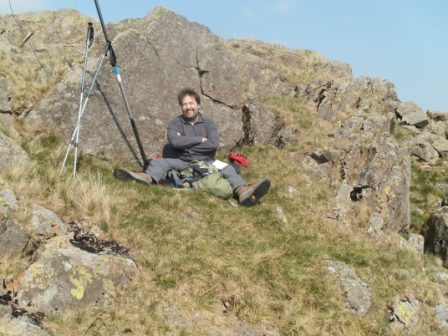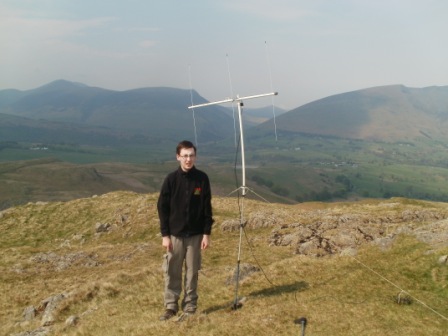 After descending in the warm afternoon sunshine, we needed to drive south to Windermere. Late booking severely limited our youth hostel bed options, and the only ones available for the Friday night were at Windermere YHA, which is actually out of town on the way to Troutbeck. We booked in at the hostel and made up our bunk beds before driving into Windermere for fish and chips (haggis and chips for Jimmy) and a pint at the pub. A further beverage was quaffed at the inn in Troutbeck, but bed and sleep was quickly becoming the most attractive option. Despite the whole rest of the hostel being given over to a big 40th birthday celebration, we had a peaceful night. And this was necessary, ahead of the planned activation of High Raise G/LD-019 and seven other Wainwrights on the Langdale Pikes round. Thanks to all callers:
| | | | |
| --- | --- | --- | --- |
| MM1MPB | 2m | FM | J |
| G1OAE | 2m | FM | J |
| G0UQC | 2m | FM | J |
| G3RDQ | 40m | CW | T |
| GR4CMQ | 40m | CW | T |
| F8LDX | 40m | CW | T |
| GM4WHA/M | 2m | FM | J |
| OK1CZ | 40m | CW | T |
| DL3JPN | 40m | CW | T |
| G3YMC | 40m | CW | T |
| M/HA5CW/P | 40m | CW | T |
| PA0WDG | 40m | CW | T |