Longridge Fell, G/SP-014 - 350m ASL - SD 658 410 - OS Explorer OL41 - 1 SOTA point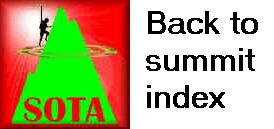 Monday 1st June 2020 - Lambrigg Fell G/LD-046, Hutton Roof Crags G/LD-052, Arnside Knott G/LD-058, Longridge Fell G/SP-014 & Easington Fell G/SP-012
After Arnside Knott G/LD-058, I had intended to head next for Easington Fell G/SP-012. As I approached Preston on the M6, I suspected that my satnav had other ideas! Indeed, it appeared it had calculated that I would be better off doing Longridge Fell first, and had automatically swapped the order!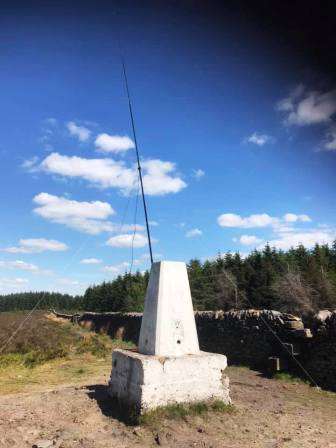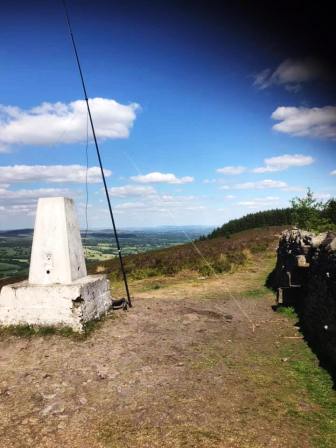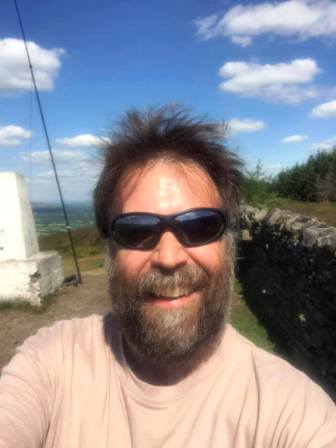 The walk is a very easy 20 minute stroll alongside a dry stone wall. Given the lively conditions on 10m earlier, I decided it would be worth giving 6m a try. I set up my 6m vertical with groundplane, originally built for the short-lived RSGB 6m FM Activity Contest, which was restricted to vertical omnidirectional antennas! This was more than enough for this activation though, 28 QSOs being logged using CW, SSB and FT4. The stand-out contact was HB0/HB9LCW from the Principality of Liechtenstein.
Time was cracking on, and despite my good earlier pace, I was now resigned to a late arrival home. Onto the fifth and final summit of the day - Easington Fell G/SP-012.
| | | | |
| --- | --- | --- | --- |
| Time | Callsign | Band | Mode |
| 14:48 | DK4SG | 50MHz | CW |
| 14:49 | HB9ASZ | 50MHz | CW |
| 14:51 | DJ5AV | 50MHz | CW |
| 14:52 | G4OBK | 50MHz | CW |
| 14:54 | SM6VWG | 50MHz | CW |
| 14:56 | DJ2MX | 50MHz | CW |
| 14:57 | LA7EU | 50MHz | CW |
| 14:59 | I3KAN | 50MHz | CW |
| 15:00 | F8DGF | 50MHz | CW |
| 15:01 | SM7IPB | 50MHz | CW |
| 15:03 | OH1XT | 50MHz | CW |
| 15:04 | HB9ALO | 50MHz | CW |
| 15:09 | HB0/HB9LCW | 50MHz | CW |
| 15:11 | OZ1OM | 50MHz | CW |
| 15:16 | DL2BXC | 50MHz | SSB |
| 15:17 | F5JKK | 50MHz | SSB |
| 15:31 | G4KHG | 50MHz | FT4 |
| 15:33 | G7LLQ | 50MHz | FT4 |
| 15:34 | F5JKK | 50MHz | FT4 |
| 15:35 | IK1JUP | 50MHz | FT4 |
| 15:36 | DL4FBZ | 50MHz | FT4 |
| 15:37 | IK4GBU | 50MHz | FT4 |
| 15:38 | EA3FHP | 50MHz | FT4 |
| 15:39 | IK2TDM | 50MHz | FT4 |
| 15:40 | IW1AYD | 50MHz | FT4 |
| 15:42 | F4EGZ | 50MHz | FT4 |
| 15:43 | G3RKF | 50MHz | FT4 |
| 15:43 | 9A5CW | 50MHz | FT4 |