Mynydd Anelog, GW/NW-077 - 191m ASL - SH 151 272 - OS Explorer 253 - 1 SOTA point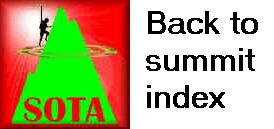 The second summit on Friday 9th August 2013 was the newly added Mynydd Anelog GW/NW-077. From Arenig Fach GW/NW-077, this necessitated a long drive. Initially, this was down the A4212 to Trawsfynydd where we stopped for diesel, Lucozade and Welsh Cakes. Thence it was the A487 to Porthmadog and the A497 through Criccieth and Pwllheli, which we exited on the A499, and then onto the B4413 towards Aberdaron. Winding narrow Welsh country lanes took us to the parking spot at Gors SH155274, where the car had to be pulled tightly in to the side of the road just before the track entrance.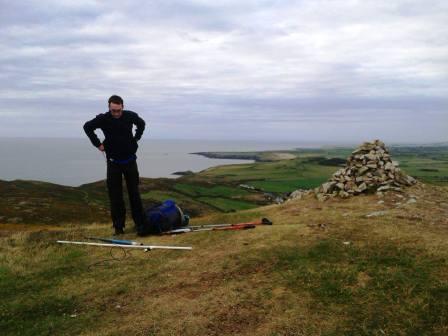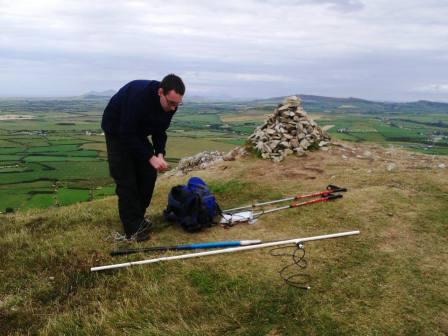 The walk commenced up an initially tarmac and then rough access road for several properties. The route then forked right onto a good grassy path cutting diagonally up the hillside. This gave very good walking, and I was surprised when it reached a house at SH154270. I mused with Jimmy about how the inhabitants got their furniture there! Turning the corner and heading more steeply uphill, we passed another remote property at SH153270, although this did seem to have a rough access track feeding it from the south. The heathery slope became a little steeper, but good clear paths worked their way up the hillside, and we summited soon after. This was a fantastic summit with stunning views out over the Irish Sea, and a striking vista of Mynydd Enlli GW/NW-072 on Bardsey Island.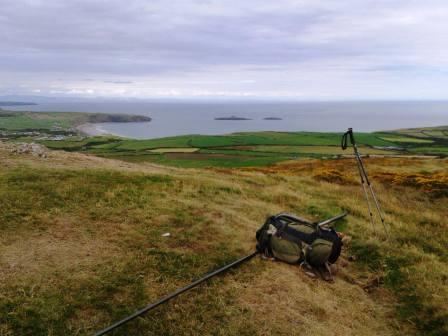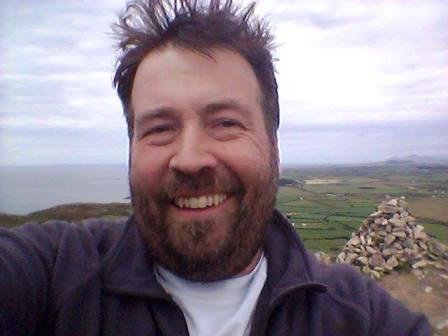 I didn't know if 12m would still be open after 6pm, and Jimmy didn't know if 2m would net him any QSOs from this location. Both our fears were unfounded. Jimmy made ten easy contacts on 2m FM, including S2S with Aled MW0UPH/P on Mynydd Rhiw GW/NW-064. The QSOs came flooding in on 12m, with 24 on CW, 12 on SSB and one on PSK31. I had a S2S contact on each of the three modes, all with Klaus DF2GN/P on Grashalde DM/BW-168.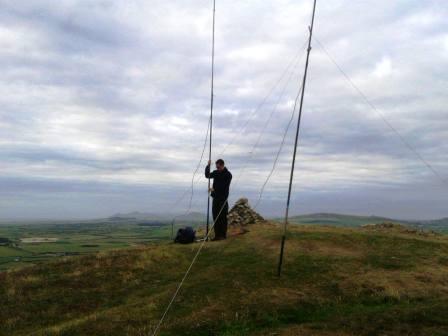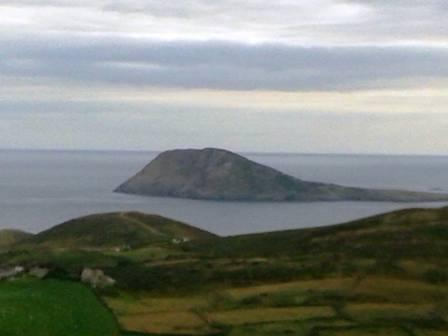 The walk down was just as enjoyable with 270 degrees of sea views. After reaching the car, I asked Jimmy to direct me to Mynydd Rhiw GW/NW-064 for a bonus activation - and another multiplier in the 12m Challenge!
| | | | |
| --- | --- | --- | --- |
| HB9CRO | 12m | CW | T |
| MW3PZO | 2m | FM | J |
| OM7OM | 12m | CW | T |
| I2CZQ | 12m | CW | T |
| S52CU | 12m | CW | T |
| 2W0WDS | 2m | FM | J |
| OE8SPK | 12m | CW | T |
| MW3ZKT | 2m | FM | J |
| 2W0RZL | 2m | FM | J |
| OM1AX | 12m | CW | T |
| 2W0CYM | 2m | FM | J |
| DJ5AV | 12m | CW | T |
| GW4ZPL | 2m | FM | J |
| HA9SU | 12m | CW | T |
| DJ2MX | 12m | CW | T |
| MW0UPH/P on Mynydd Rhiw NW-064 | 2m | FM | J |
| DL1VDL | 12m | CW | T |
| DL8GX | 12m | CW | T |
| OK1AKL | 12m | CW | T |
| DL6MRS | 12m | CW | T |
| DL1DRQ | 12m | CW | T |
| S58AL | 12m | CW | T |
| DL1SVI | 12m | CW | T |
| OM2ZZ | 12m | CW | T |
| F6ENO | 12m | CW | T |
| DK4UA | 12m | CW | T |
| DL8DXL | 12m | CW | T |
| PA3CSG | 12m | CW | T |
| DL1ASP | 12m | CW | T |
| SP3HYK | 12m | CW | T |
| MW0BYT | 2m | FM | J |
| DL2KAS | 12m | SSB | T |
| OM1AX | 12m | SSB | T |
| DH4JQ | 12m | SSB | T |
| DK4UA | 12m | SSB | T |
| GW6DGU | 2m | FM | J |
| DL8DXL | 12m | SSB | T |
| DJ5AV | 12m | SSB | T |
| OM7OM | 12m | SSB | T |
| DF2GN/P on Grashalde BW-168 | 12m | SSB | T |
| MW0KLW | 2m | FM | J |
| MW3ZKT | 12m | SSB | T |
| 2W0WDS | 12m | SSB | T |
| S52CU | 12m | SSB | T |
| OP4L | 12m | SSB | T |
| DF2GN/P on Grashalde BW-168 | 12m | PSK31 | T |
| DF2GN/P on Grashalde BW-168 | 12m | CW | T |