Mynydd Machen, GW/SW-030 - 362m ASL - ST 223 900 - OS Explorer 152 - 1 SOTA point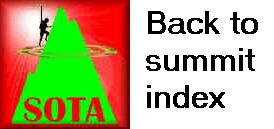 Good Friday 18th April 2014 - Mynydd Machen GW/SW-030
We ascended along the transmitter road from ST216907. It was after 6.30pm BST by the time we reached the summit, and it was getting rather chilly. The trig point was on a mound just beyond the transmitter compound. Jimmy set up on top of it, while I preferred to use it for shelter!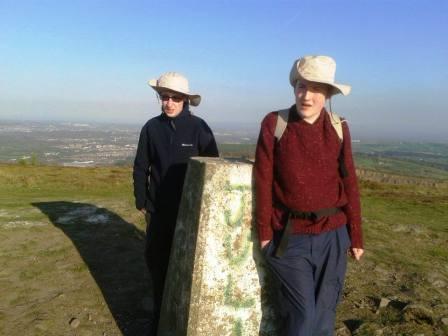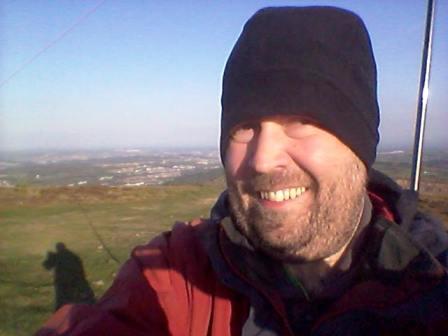 I had chosen to use the 12m GP on this activation, hoping to work the North American chasers. However, the band was still in poor shape, and it was the same old story - just one QSO on the band, fortunately enough to claim the Challenge multiplier. I got this by answering the CQ call from EA8ZS on 24.893MHz CW.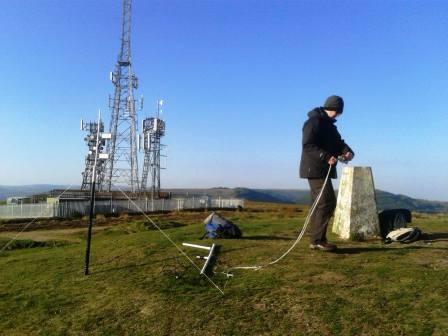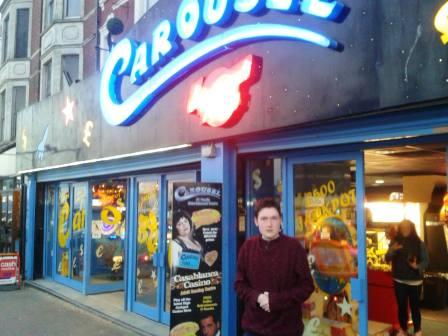 The problem now was that I didn't have the EFHW + tuner system with me, which meant no possibility to try alternative HF bands. Instead, I jumped on Jimmy's 2m FM station after he had finished, and proceeded to irritate him by getting 6 contacts on there, more than he had raised! Thus a successful day's activating was brought to a close, and we headed to Barry Island for Liam's turn to have some fun. There were several arcades opposite the rather run-down looking pleasure park, and we played various games. Jimmy was on good form reliving a bingo machine of £12 in three turns. Liam, as usual, thrashed me on the driving games. I would get him back on the air hockey the next evening!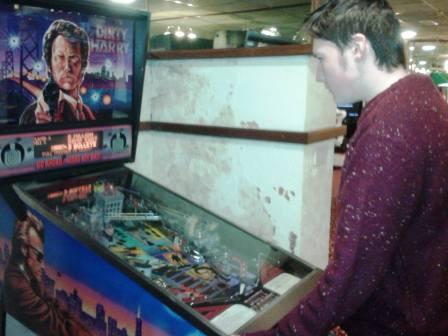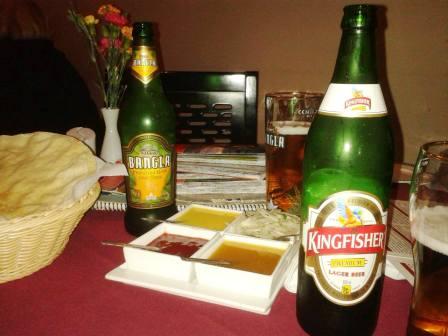 The final activity for the day was a curry at the Rahil restaurant in Barry town centre, where we enjoyed a superb meal and a couple of beers. Back at the B&B, we again agreed to meet at 7am for breakfast, ahead of the planned activation of Craig yr Allt GW/SW-037.
| | | | |
| --- | --- | --- | --- |
| EA8ZS | 12m | CW | T |
| G0VFK | 2m | FM | J |
| G0GRI | 2m | FM | J |
| GW0KIG/M | 2m | FM | J |
| G4NKU | 2m | FM | J |
| G0LGS | 2m | FM | T |
| GW1LOR | 2m | FM | T |
| 2W0KEQ | 2m | FM | T |
| G0SNB | 2m | FM | T |
| MW3GKF | 2m | FM | T |
| 2W0HFU | 2m | FM | T |