Wednesday 20th February 2019 - Moel Gyw GW/NW-053, Foel Fenlli GW/NW-051, Moel Famau GW/NW-044, Penycloddiau GW/NW-054, Mynydd y Cwm GW/NW-076 & Hope Mountain GW/NW-062
I was well ahead of schedule, and thoughts began to turn to squeezing in a sixth activation for the day. First though, the fifth Clwydian needed to be negotiated. Mynydd y Cwm GW/NW-076 is very easy though, with just a short and mainly level track and path walk around into the woods, then a simple path up and easy gradient to the summit and memorial.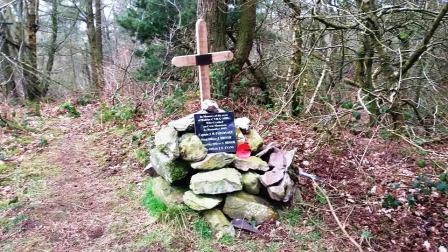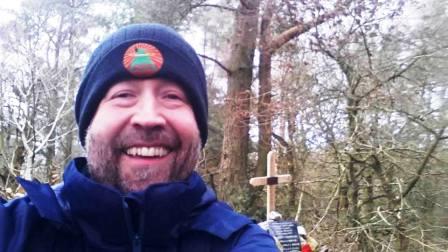 I wondered if I might pay the price on this one, for my arrogance in carrying up nothing more than a handie with rubber duck. The summit is wooded! Anyway, no problem. Five QSOs coming in a ten minute operating session, before reversing the route back to the car.
I had completed the Clwydians before 1530z - probably at least two hours earlier than my previous best! There was definitely time to bag Hope Mountain GW/NW-062 before heading home.
| | | | |
| --- | --- | --- | --- |
| Time | Call | Band | Mode |
| 14:56z | G0OHY | 144MHz | FM |
| 14:58z | GW3GUX | 144MHz | FM |
| 15:00z | GW4GRW/M | 144MHz | FM |
| 15:04z | G0HRT | 144MHz | FM |
| 15:06z | G3VBA | 144MHz | FM |