Rojar, EA8/TF-019 - 173m ASL - 28 01 37 N 16 32 56 W - SOTA Mapping Project - 1 SOTA point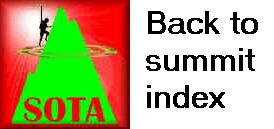 Saturday 4th March 2017 and our first morning of this year's Tenerife holiday. We were out on the karaoke in Costa Adeje til 2am and the family all announced they were having a long lie in and lazy morning at the villa. Unexpectedly, I found myself wide awake at 0615z. What could I possibly do to kill the next 5 hours? So a quick sandwich and quick pack of the rucksack, and off I went in the hire car to Montana Rojar EA8/TF-019. Obviously, it needed to be a SOTA summit that Jimmy had already bagged as a unique. The Opel Astra hire car was pretty up to date with Bluetooth and Satnav, so driving and navigating, even on my own, was easy. I reached the parking area after around 30 minutes. I was the first to park, at around 0730z. By the time I returned later, it would be full.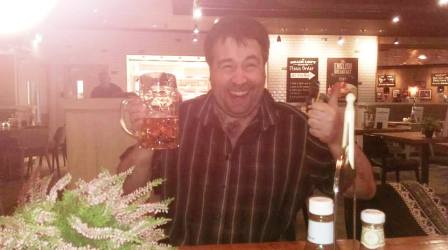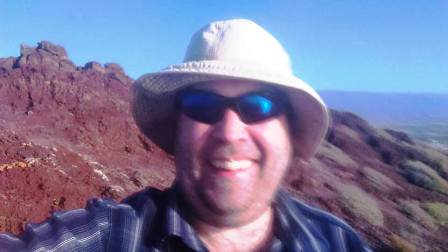 This SOTA is a miniature volcano rising dramatically upwards right on the coast, sandwiched between the sea and the airport. It isn't very high - but it is prominent. I enjoyed the ascent up the solidified lava flows and along the narrow ridge. I didn't so much enjoy setting up the 20m GP though. I went slightly beyond the summit marker to keep out of other walkers' way - and there were many of them. The area I had to work with was small and there would be no way of putting the radials (which also act as guys for the mast) at even 120 degree spacing. Instead it was something more like 30-190-140. The engineers amongst you might point out that this won't work - well, not without an additional vector anyway. So that was provided by gravity as I suspended the mast in a leaning position.
The hard terrain would not take a peg, so I used the bases of two plants growing on the mountain, and a loose boulder. I thought I might have an intermittent on the feeder with sudden variations in what I was receiving. Then ON4FI called in, but we just couldn't seem to complete the contact. At this point the dot key on my Palm Paddle starting playing up. It was all going Pete Tong. "Blinky neck" I muttered to myself. (Edited version).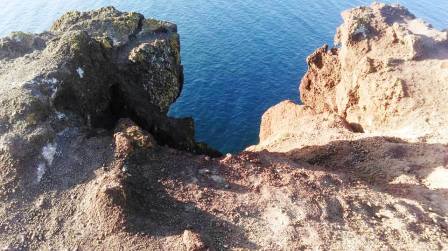 I managed to put another CQ call out, and blow me, who comes back with a massive 599 signal, but ZL1BYZ! Amazing stuff, and I was more than content with the 419 report received for my 5 watts from the HB1B. Following into the log were SA4BLM, EA2DT and S57D - eventually, after more keying problems. It was now time to test out 2m FM from the handheld & rubber duck, and this resulted in 3 QSOs, all from British ex-pats. I did try to call and message Jimmy for a 2m FM contact back to the apartment, but he was still asleep in bed! I made my descent, exchanging greetings with many other walkers on this now very busy little mountain and returned to the hire car. I was back at the villa before 11am and in time to join the family for breakfast and coffee in the sun by the outdoor pool. The following day we would head north to activate Cruz de Gala EA8/TF-007 together.
| | | | |
| --- | --- | --- | --- |
| Time | Call | Band | Mode |
| 09:07z | ZL1BYZ | 14MHz | CW |
| 09:08z | SA4BLM | 14MHz | CW |
| 09:09z | EA2DT | 14MHz | CW |
| 09:14z | S57D | 14MHz | CW |
| 09:23z | EA8/GM0GTU | 144MHz | FM |
| 09:29z | EA8CTB | 144MHz | FM |
| 09:32z | EA8/GM4RKM | 144MHz | FM |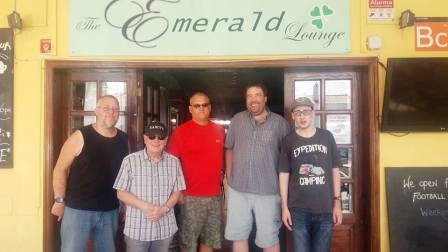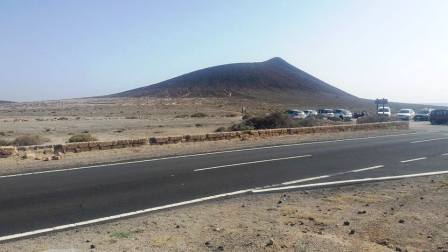 Did I say "all done"? Not so. We had been invited to the Tenerife Radio Amateurs weekly meet up at the Emerald Lounge in Golf del Sur, Thursday 9th March 2017. After a pleasant couple of hours with Gerry EA8CTB, Stewart EA8/GM0GTU and Larry EA8/M0HVE, Marianne fancied a "nice walk". I chanced my arm on suggesting a coastal walk on the sand, volcanic ash and lava flows a little East of Golf - and the possibility of a repeat activation of Montana Roja EA8/TF-019.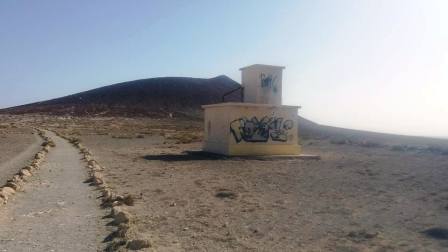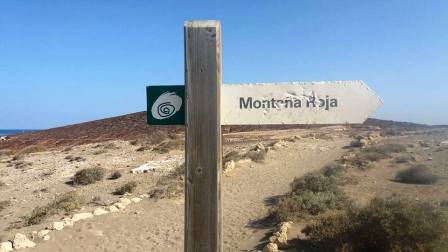 With Gerry, Stewart and Larry all listening for us on 2m FM, it meant we both qualified easily using only our handhelds - a rucksack-free activation!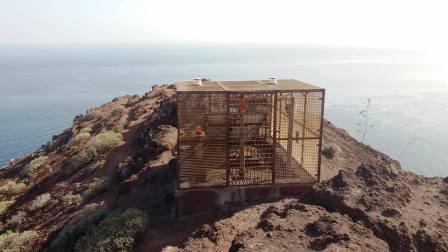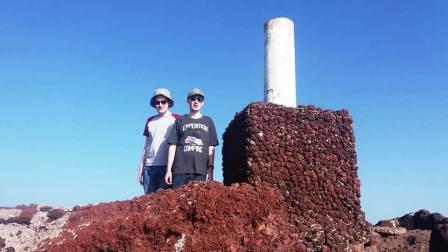 The unusually high temperature of the day before had even increased slightly, and with an unusual absence of wind on this coastal mountain, the small ascent was hard work. Even Jimmy reported finding it tough, while Maz needed a couple of lengthy rest stops en route. It was actually me and Liam that made it to the top at a consistent pace without too much difficulty.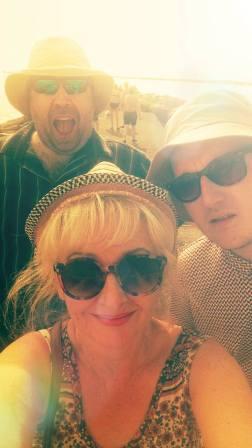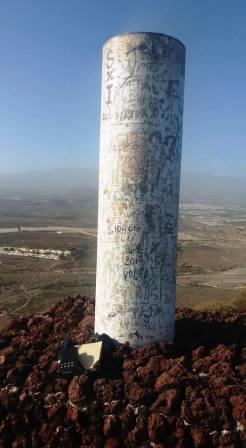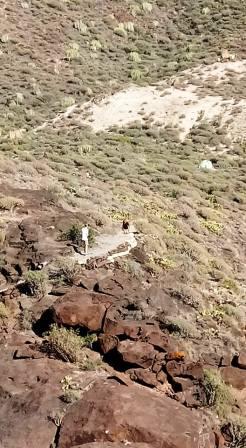 The views from this one are stunning. You can watch the aeroplanes landing and taking off from the immediately adjacent airport, with the 3715m El Teide EA8/TF-001 towering behind it. In all other directions is the glistening deep blue of the Atlantic Ocean. Little wonder then that a VHF handheld will suffice from here - provided English speaking amateurs in the main resorts of the south are listening for you. Which, at the earlier meet-up, Jimmy ensured they would be.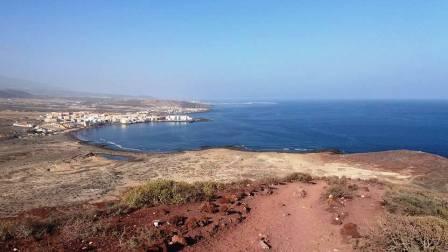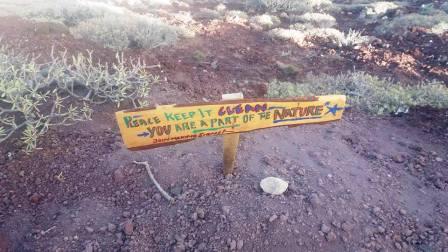 For our final evening on the island, we had another lovely meal at George's Restaurant on the outskirts of Costa Adeje, then a night of San Miguel, cocktails and karaoke at News Cafe in the town centre. Liam excelled as usual and was up there belting out his songs no less than 6 times.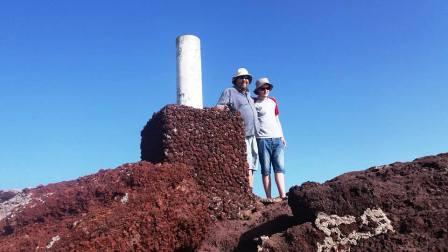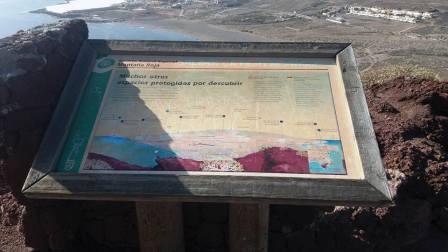 | | | | | |
| --- | --- | --- | --- | --- |
| Time | Call | Band | Mode | Op |
| 16:42z | EA8/GM0GTU | 144MHz | FM | EA8/M0HGY/P, EA8/M1EYP/P |
| 16:46z | EA8/M0HVE/M | 144MHz | FM | EA8/M0HGY/P, EA8/M1EYP/P |
| 16:48z | EA8CTB | 144MHz | FM | EA8/M0HGY/P, EA8/M1EYP/P |
| 16:49z | EA8/GM4RKM | 144MHz | FM | EA8/M0HGY/P, EA8/M1EYP/P |
| 17:04z | EA8/M1EYP/M | 144MHz | FM | EA8/M0HGY/P |