Slieve Gallion, GI/SM-007 - 528m ASL - H 798 878 - OSNI Discoverer 13 - 4 SOTA points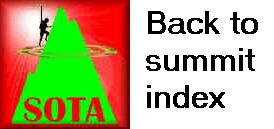 Saturday 1st July 2017, and I was working in the Liver Buildings in Liverpool. It was a gig with a ten-piece Motown band, and I was stand-in bandleader/musical director for the night. The run-up to the gig had been quite stressful through one thing and another, but the gig itself went extremely well. In-between sets I found myself staring longingly out of the window, across the River Mersey, to the Stena Line ferry that we would be boarding early the following morning. But first I needed to finish the gig, drive home, and catch a little sleep.
As soon as Jimmy M0HGY and I boarded the ferry the following morning, we paid a small surcharge to have the use of a cabin. This meant I could have a much-needed lie down in a darkened room and catch up on some rest! But only after a hearty breakfast and pint of Guinness in the ferry's grill restaurant though.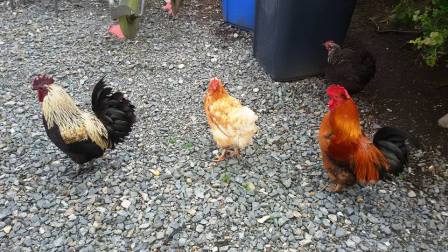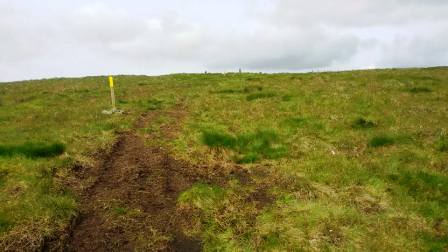 After docking in Belfast, we drove up to Larne to see Jimmy's grandad - my father-in-law - following which we drove out to Pat Larry's cottage in Greencastle, County Tyrone. The cottage was beautiful, and a superb base for our few days of walking. Our companions for the week would be several chickens, a few geese and an old cat!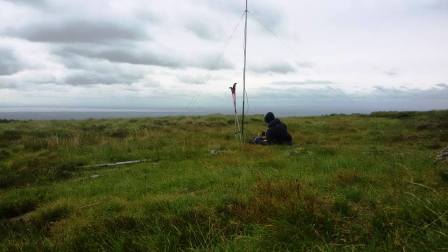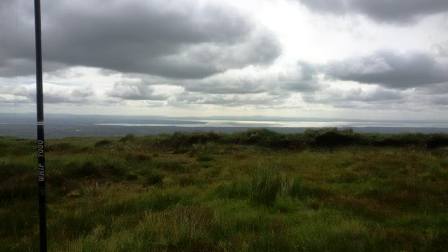 So, to the morning of Monday 3rd July 2017, and the first of our planned walks and SOTA activations. Our first port of call was Slieve Gallion GI/SM-007 (not to be confused with Slieve Gullion GI/CA-001), just a few miles south of Draperstown. We drove as high as we could up the east end of the hill - "Windy Castle" and parked in the area already researched by Jimmy to be the closest feasible parking spot to the start of the track. It was a fairly easy walk along a reasonable track to the summit, with only about 150m vertical height gain required.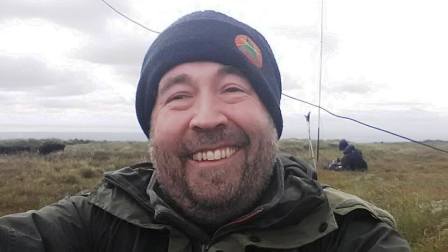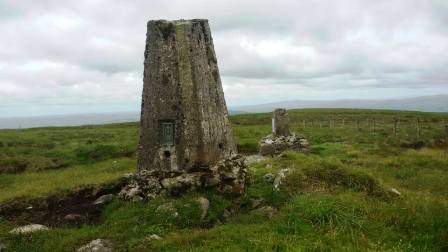 It was pretty windy at the summit and we both needed to assist each other in getting out respective antennas in the air. Jimmy, as ever, wanted to focus on 2m FM, and qualify all his summits exclusively on that combination if he could. I wanted to get my signals further than that, but not so much further so as they would skip over Britain. That was my reasoning behind my choice of 5MHz. This achieved that desired objective, but contacts were pretty thin on the ground.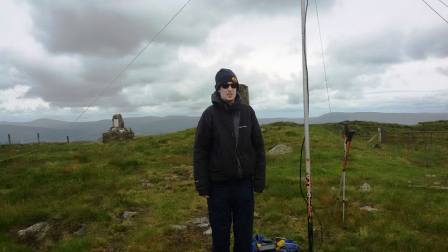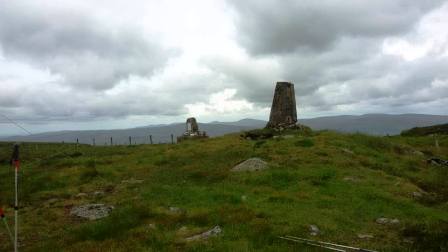 With the first SOTA activation successfully in the bag, we descended and made our way across to Carnanelly GI/SM-004.
| | | | | |
| --- | --- | --- | --- | --- |
| Time | Call | Band | Mode | Op |
| 09:01z | MI0GDO | 144MHz | FM | MI0HGY/P |
| 09:03z | MI0HWG | 144MHz | FM | MI0HGY/P |
| 09:04z | MI0RTY | 144MHz | FM | MI0HGY/P |
| 09:20z | G4SSH | 5MHz | CW | MI1EYP/P |
| 09:20z | G4WSB | 5MHz | CW | MI1EYP/P |
| 09:21z | 2I0NIO | 144MHz | FM | MI0HGY/P |
| 09:25z | MM0GGI | 5MHz | SSB | MI1EYP/P |
| 09:28z | G4OBK | 5MHz | SSB | MI1EYP/P |
| 09:29z | G0RQL | 5MHz | SSB | MI1EYP/P |
| 09:32z | GI1VYZ | 144MHz | FM | MI0HGY/P |