Noordelijke terril Waterschei, ON/ON-028 - 195m ASL - 51 0 43 N 5 32 32 E - NGI 26/1-2 - 1 SOTA point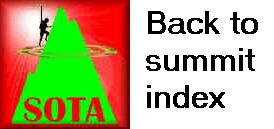 Wednesday 3rd July 2019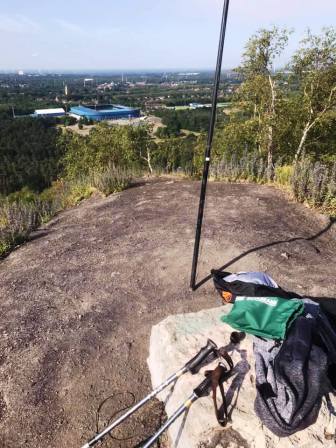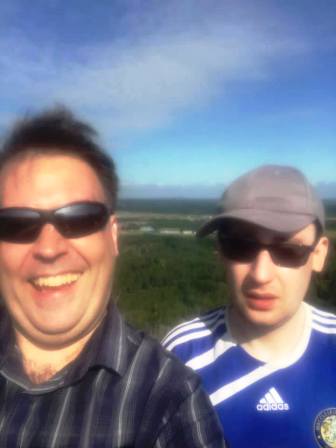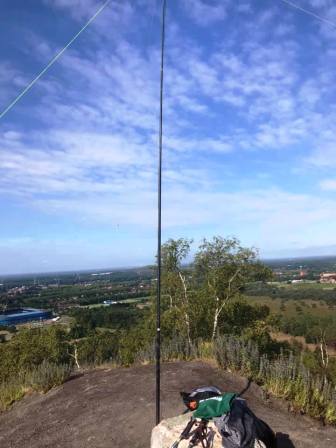 After Le Mont d'Henri-Chapelle, ON/ON-026, we then drove over to Genk, and actually parked in the car park of the Genk FC stadium. I was to later to learn that Genk were the newly crowned Belgian champions.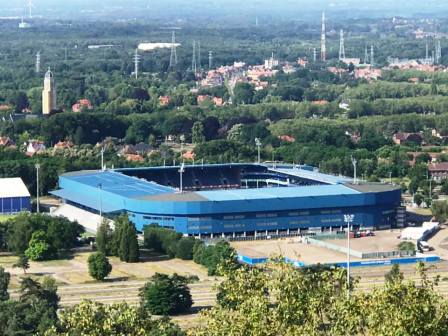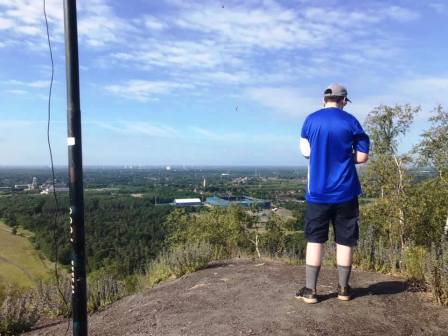 It was a flattish path until the now naturalised coal tip. Then it was very steep, and potentially slippery on the coal dust. The summit area was very small but I was able to throw the ends of the dipole legs over a couple of trees. It was 17 QSOs for me on 40m CW. Jimmy ON/M0HGY/P took over and worked through a large pile-up on SSB.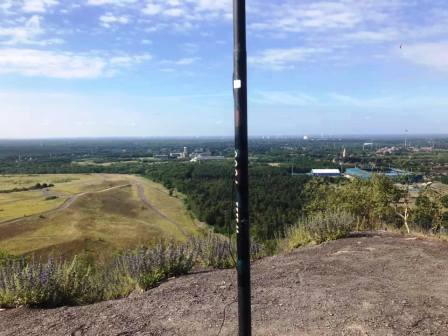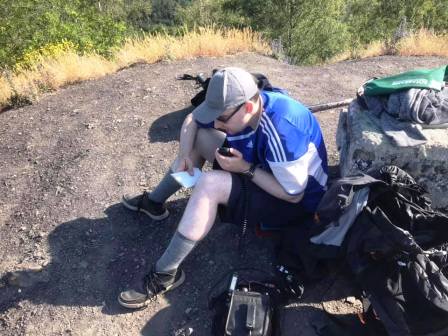 We chatted with some local walkers - and Genk FC supporters - who arrived on summit just before we left. Working our way back down the steep coal tip was slow and necessarily careful work! We drove back to Liege to pick up Maz and Liam for a day out - that would include an activation of Belgium's highest SOTA summit - Signal de Botrange ON/ON-001.
| | | | | | |
| --- | --- | --- | --- | --- | --- |
| Time | Call | Band | Mode | S2S | Op |
| 07:22z | EA2BD | 7MHz | CW | | ON/M1EYP/P |
| 07:23z | F6DRA | 7MHz | CW | | ON/M1EYP/P |
| 07:24z | SP9AMH | 7MHz | CW | | ON/M1EYP/P |
| 07:24z | IK2LEY | 7MHz | CW | | ON/M1EYP/P |
| 07:25z | DL2HWI | 7MHz | CW | | ON/M1EYP/P |
| 07:26z | OZ7JZ | 7MHz | CW | | ON/M1EYP/P |
| 07:30z | GM6ZAK | 7MHz | SSB | | ON/M0HGY/P |
| 07:31z | G4OBK | 7MHz | SSB | | ON/M0HGY/P |
| 07:33z | M0JLA | 7MHz | SSB | | ON/M0HGY/P |
| 07:33z | G4AFI | 7MHz | SSB | | ON/M0HGY/P |
| 07:33z | 2W0FLW | 7MHz | SSB | | ON/M0HGY/P |
| 07:34z | EA2CKX | 7MHz | SSB | | ON/M0HGY/P |
| 07:35z | SP9AMH | 7MHz | SSB | | ON/M0HGY/P |
| 07:35z | 9A1AA | 7MHz | SSB | | ON/M0HGY/P |
| 07:36z | SA4BLM | 7MHz | SSB | | ON/M0HGY/P |
| 07:38z | OE7RDI | 7MHz | SSB | | ON/M0HGY/P |
| 07:39z | M1KTM | 7MHz | SSB | | ON/M0HGY/P |
| 07:40z | OE5HDN | 7MHz | SSB | | ON/M0HGY/P |
| 07:41z | HB9CZR | 7MHz | SSB | | ON/M0HGY/P |
| 07:44z | I/OE7PHI | 7MHz | SSB | | ON/M0HGY/P |
| 07:45z | 2E0FEH | 7MHz | SSB | | ON/M0HGY/P |
| 07:47z | G4WSB | 7MHz | SSB | | ON/M0HGY/P |
| 07:48z | G0HIO | 7MHz | SSB | | ON/M0HGY/P |
| 07:49z | G0RQL | 7MHz | SSB | | ON/M0HGY/P |
| 07:49z | G0HRT | 7MHz | SSB | | ON/M0HGY/P |
| 07:56z | 9A2TN | 7MHz | CW | | ON/M1EYP/P |
| 07:57z | G0HIO | 7MHz | CW | | ON/M1EYP/P |
| 07:57z | F6GUF | 7MHz | CW | | ON/M1EYP/P |
| 07:58z | OK2PDT | 7MHz | CW | | ON/M1EYP/P |
| 07:58z | ON7DQ | 7MHz | CW | | ON/M1EYP/P |
| 07:59z | GM0AXY | 7MHz | CW | | ON/M1EYP/P |
| 07:59z | 9A1AA | 7MHz | CW | | ON/M1EYP/P |
| 08:00z | ON4FI | 7MHz | CW | | ON/M1EYP/P |
| 08:01z | IX1IHR | 7MHz | CW | | ON/M1EYP/P |
| 08:02z | HB9CBR/P | 7MHz | CW | HB/BE-119 | ON/M1EYP/P |
| 08:03z | DL8DXL | 7MHz | CW | | ON/M1EYP/P |