Normanby Top, G/TW-005 - 168m ASL - TF 121 964 - OS Explorer 282 - 1 SOTA point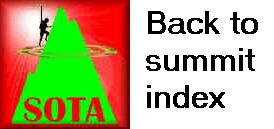 Saturday 20th April 2019 - Normanby Top G/TW-005
Gig: Joe Longthorne
Venue: Hull Comedy Lounge
I deliberated for a while about what summit to combine with this gig. Nothing was really obviously en route or convenient. What made me settle on the Lincolnshire Wolds was that the timing would coincide with the EU-NA S2S event. I set off from Macclesfield and drove via Buxton, Chesterfield, Brigg and Caistor. I chased David 2E0IXM/P on Shining Tor G/SP-004 when I was near Bakewell. My satnav was programmed to land me on High Street, east of the summit and beside a bridle way leading towards it - but not actually to it.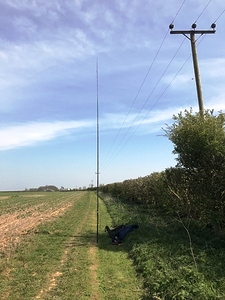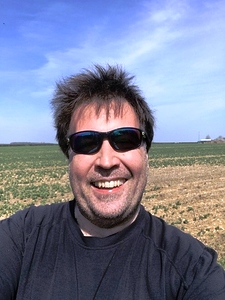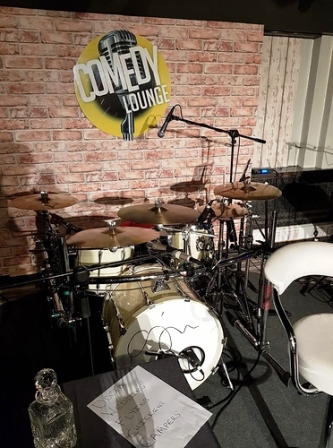 The whole area is pretty flat though and comfortably within the AZ. I walked about 500m towards the end of the first large field and set up the 20m GP there. Conditions were pretty poor, and no DX S2S occurred for me during my limited time window. 20 QSOs were made:
20m CW: 15
20m SSB: 5
S2S: 7 G6PJZ/P on G/TW-001, HA2PP/P on HA/KD-006, G4OOE/P on G/TW-004, LZ1GJ/P on LZ/RO-144, M0OAT/P on G/NP-024, S56KVJ/P on S5/BI-065 & S57MS/P on S5/RG-045
SWL: 1 CT2HOV/P on CT/BL-024
DX: 3 AC1Z on CW & KG3W on SSB and CW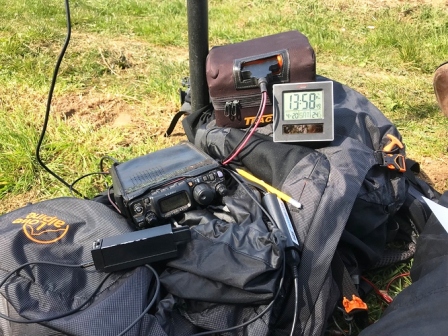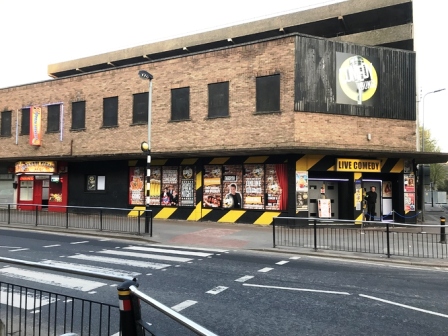 After set up and soundcheck, the band adjourned to a favourite pub of ours when we work in Hull - The Old English Gentleman, in the theatre quarter. This pub does a superb steak and ale pie and Wainwright ale. We had a very good show. Some of the musicians then drove home, but it made little sense for me to do that. So I took a room back at The Old English Gentleman and started to consider potential summits for the following day's journey across to Blackpool.
| | | | | |
| --- | --- | --- | --- | --- |
| Time | Call | Band | Mode | S2S |
| 13:21z | R2ARW | 14MHz | CW | |
| 13:26z | AC1Z | 14MHz | CW | |
| 13:27z | F5JKK | 14MHz | CW | |
| 13:33z | G6PJZ/P | 14MHz | SSB | G/TW-001 |
| 13:34z | HA2PP/P | 14MHz | CW | HA/KD-006 |
| 13:36z | G4OOE/P | 14MHz | CW | G/TW-004 |
| 13:42z | OE3KAB | 14MHz | CW | |
| 13:47z | YO6CFB | 14MHz | CW | |
| 13:47z | RW3XZ | 14MHz | CW | |
| 13:48z | OK2PDT | 14MHz | CW | |
| 13:49z | LZ2AF/P | 14MHz | CW | |
| 13:50z | 9A1AA | 14MHz | CW | |
| 13:51z | EA2IF | 14MHz | CW | |
| 13:53z | F6EWB | 14MHz | CW | |
| 14:07z | LZ1GJ/P | 14MHz | CW | LZ/RO-144 |
| 14:11z | M0OAT/P | 14MHz | SSB | G/NP-024 |
| 14:16z | KG3W | 14MHz | SSB | |
| 14:17z | S56KVJ/P | 14MHz | SSB | S5/BI-065 |
| 14:19z | S57MS/P | 14MHz | SSB | S5/RG-045 |
| 14:30z | KG3W | 14MHz | CW | |