I am a fully licensed radio amateur with callsign M1EYP (QSL card above and below). I am often heard on the Stockport (GB3MN; 145.650MHz) and Stoke-on-Trent (GB3VT; 145.725MHz) repeaters on my Yaesu FT-817. I am no longer heard as "Mr Scratchy" using 230mW from my old Standard C108 handheld 2m VHF transceiver, which got nicked on the summit of Scafell Pike G/LD-001. My other main amateur activity is doing summit activations in the SOTA - 'Summits On The Air' programme. More information in the link below, or click on my SOTA button at the foot of the page to read about my latest activations and view photographs.

As a member of the International Short Wave League, I occasionally operate the ISWL's club callsigns MX1SWL/P and GX4BJC/P, and I have also used MC1SWL/P and GC4BJC/P from Wales and MN1SWL/P and GN4BJC/P from Northern Ireland. Here are a couple of photos from my 2003 camping holiday in Essex, where I operated with the MX1SWL/P callsign, and met fellow ISWL member Herbert Yeldham G6XOU / G-20006:
My main radio interest however is listening to broadcast radio, from international short wave stations to local FM and MW radio. Particular interests are stations on both FM and SW, temporary RSL radio stations and new broadcasters. I write to the stations to collect the QSL cards and other promotional material, and report all my loggings to the British DX Club for publication in the monthly journal Communication. I am a section editor for this magazine.
I have written for Short Wave Magazine and Radio Active magazine. The full unedited version of my Radio Active article about my Radio Trips to the commemorative offshore radio events in Essex, with all photographs, illustrations and appendices, are reproduced on this site. Follow the link on the left, or at the bottom of this page.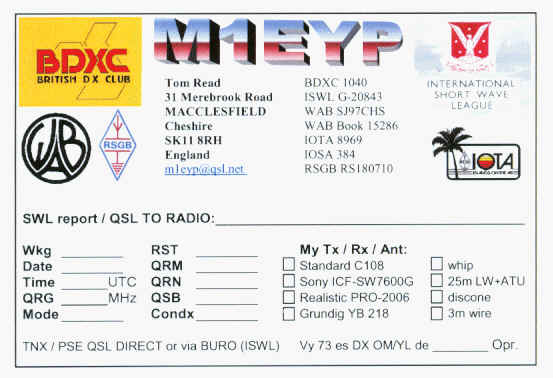 This is my old amateur QSL card, which also doubled as a SWL report card. This shows all the membership numbers of the various radio societies and awards programmes of which I am a member. Further details on any of these clubs, plus other interesting radio websites, may be obtained by clicking on the links below. Please note that for my own SOTA website, click on the button at the bottom of this page, not the link logo below.